These tips for staying active when you have young kids are so helpful! If you aren't sure how to find ways to exercise and stay fit with kids, this post is for you!
This shop has been compensated by Collective Bias, Inc. and its advertiser. All opinions are mine alone.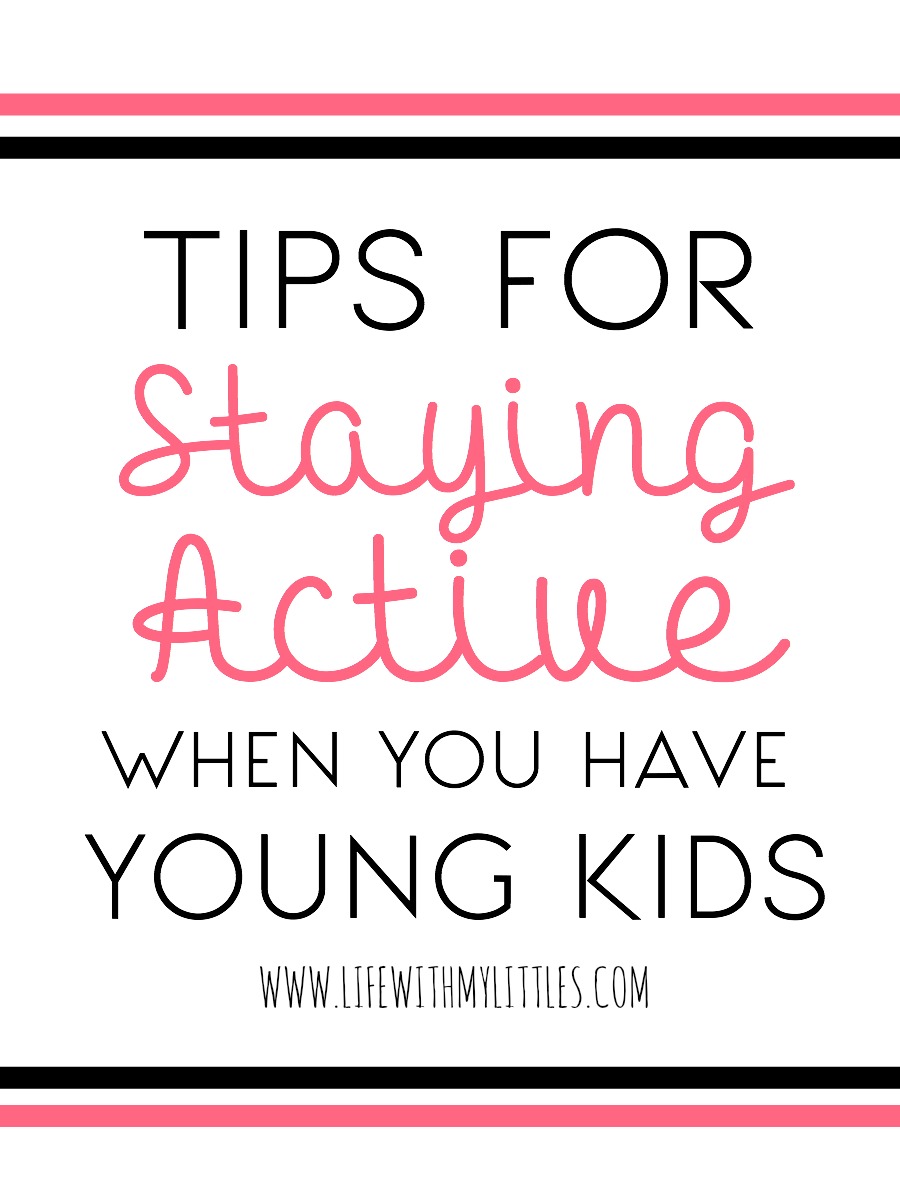 Having kids changes your life in lots of ways. I would definitely argue that having kids makes your life better and more fun, but it also makes your life harder.
One thing that has really changed for me since having kids is my ability to stay active. Before my kids were born I could go anywhere I wanted and do anything I wanted whenever I wanted. But with kids, you're pretty much on their schedule. So it got harder to maintain a healthy, active lifestyle.
But I've been a mom for almost three-and-a-half years now, and I think I've got a pretty good handle on how to stay active despite having two crazy kids around.
Today I want to share some helpful tips for staying active when you have young kids. Because honestly, I think every mom could use all the help she can get!
1. Walk anywhere you can. We have a park in our neighborhood so we love walking to it instead of driving. We also enjoy walking to get the mail every day! It's a super easy way to get some extra activity in!
2. Play dates to trampoline parks or tumbling gyms. Have you ever been to one of these places with your kids? Oh my goodness, the are a workout! We took our kids to a trampoline park a few months ago and I was exhausted by the time we were done! Such a good way to stay active and help your kids release some energy!
3. Go swimming. Even if your kids are babies, you can participate in swimming. Moving through the water while carrying a little one is a sure fire way to burn some extra calories. Even if you aren't swimming laps it's tiring!
4. Take your kids to the park. I don't know if it's just me, but I definitely can't just sit still when I take my kids to the park. Especially when they are little and you worry about them getting hurt! My kids both love going to the park and I love taking them. They have fun going down the slides, doing the swings, and even just climbing around. And like I said, I'm pretty much moving the whole time, too!
5. Invest in a good jogging stroller. If you're going to try and be more active, having a good jogging stroller is a must. I was given a chance to try out the Baby Jogger ® SummitTM X3 Single Stroller and let me tell you, it's amazing! It glides smoother than any single or double stroller I've ever tried, and it makes jogging with young kids a breeze!!
6. Try indoor workouts on YouTube. Another way to stay active when you can't go outside is to do workouts on YouTube. This is actually how I lost my baby weight after my son was born, so it's very effective! Babies will be in awe watching and toddlers love trying to do it along with you!
7. Go for walks with other moms. When we lived in Iowa, my best friend had a little boy two weeks before our little boy was born. We went for tons of walks together and it was a great way to be accountable and stay active. It also helped us both get out of the house when we had little babies!
8. Wake up early and work out or do it after your kids are in bed. If working out with your kids isn't your thing (or you have like quadruplets and it's not an option), then try doing activities before your kids wake up or after they go to bed. You'll have more time to focus on yourself and less time worrying about what your kids are doing.
9. Sign up for a gym membership. I've never done this personally, but I've heard good things about going to a gym with childcare. You can participate in classes or work out on your own. Either way, if you're paying to have one you're probably more likely to use it!
10. Explore your city. One thing that's been a lot of fun for us in our new city is exploring and getting to do all of the "touristy" activities here. We've loved checking out the zoo, the tea garden, theme parks, and downtown. And the best part is, all are active activities!
Hopefully these tips will help motivate you mamas to stay active! It's definitely possible (and fun!) to stay active and have fun when you have young kids!