Wondering how to get your kids to nap at the same time? Here's the secret! This mom has been doing it for months, and it's easier than you might think!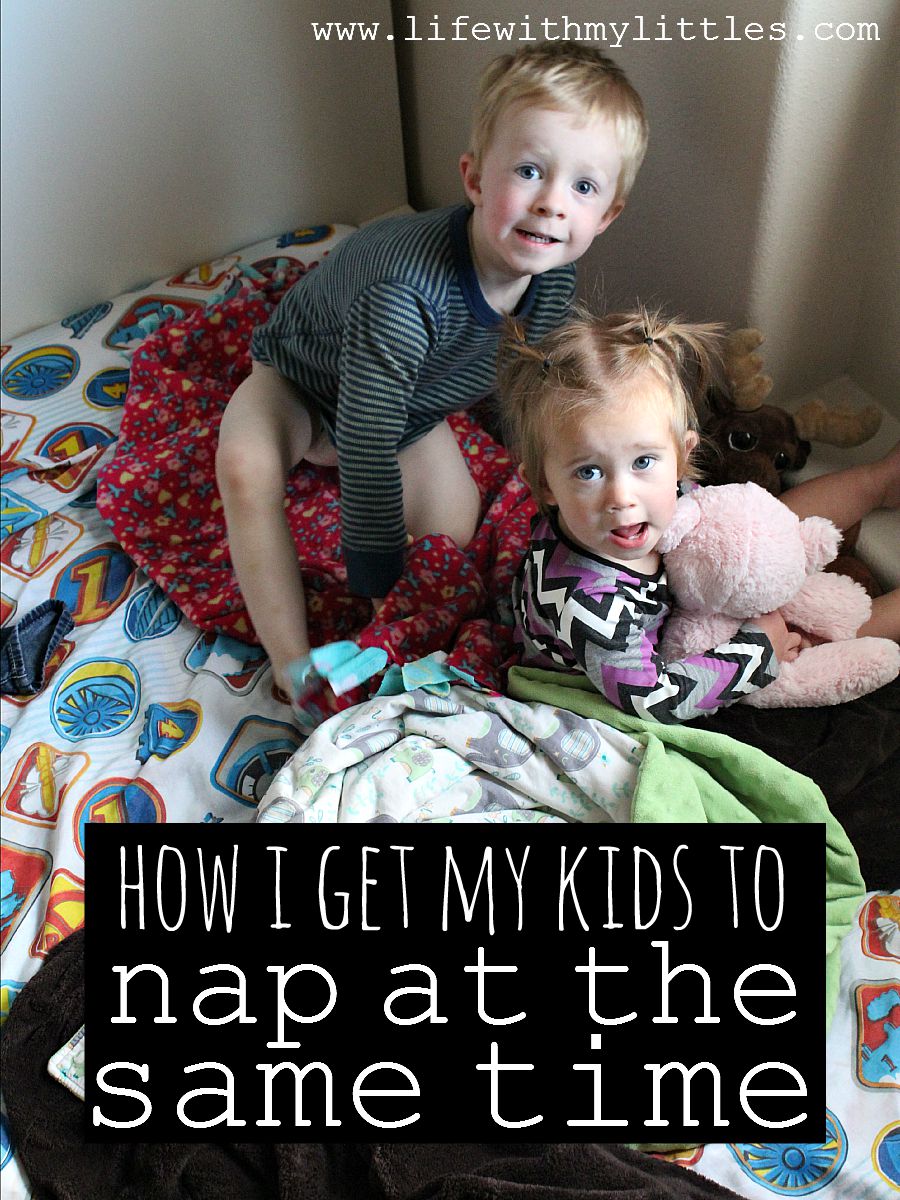 I have a secret. It's a secret that lots of moms have asked me about with jealous eyes. And I'm going to share it with you.
My kids nap at the same time every day.
Yes, it's amazing. Yes, I am able to do things that I want to do during that time. And yes, you can get it to happen at your house, too.
The first thing I have to tell you is that as soon as my daughter was on a regular nap schedule, I made my kids nap at the same time every day. That is the key. Did you get that? THE KEY! You have to make them nap at the same time.
Once my daughter was napping regularly twice a day, I just put her and my toddler son down at the same time every day. Yes, some days my son would play in his room for up to an hour before crashing, but he did eventually fall asleep.
Here's what our nap routine looked like: every day at 1:30pm, I fed my daughter a bottle and put her down for a nap. Then I read my son a book, sang a song, and put him down for a nap. Then, both of my kids would nap at the same time, for about 2 hours.
About a month ago, my daughter dropped her morning nap. I moved both beds into the same room, and just did the same thing I had been doing. I moved naptime up 30 minutes since sometimes it was hard for my daughter to make it to 1:30, but I kept the same routine, with a few minor changes. Now I feed my daughter her bottle, sing a song to both kids, and put them both in their beds for naptime.
Guys, it's really not that hard. You just have to be consistent and strong in sticking to the plan. It might take a week or even two for your kids to adjust, but you have to stick to it or it's not going to work. Sometimes your toddler will cry. Sometimes your baby will cry. Let them. They aren't going to get hurt by crying, and I promise the payoff is worth it. If I can get my kids to nap at the same time, so can you.
If you are really concerned about them, use a baby monitor (we love our Keera 2 Camera Video Monitor) to make sure they are okay. But if you keep going into their room to check on them, they'll cry because they think you'll come in. So be strong! Dont' go in!
I promise you can do this. Having your kids nap at the same time every day is like a mid-day miracle each time it happens. And you can make it happen!