Need some tips for organizing baby's closet? Here are five that will make all the difference.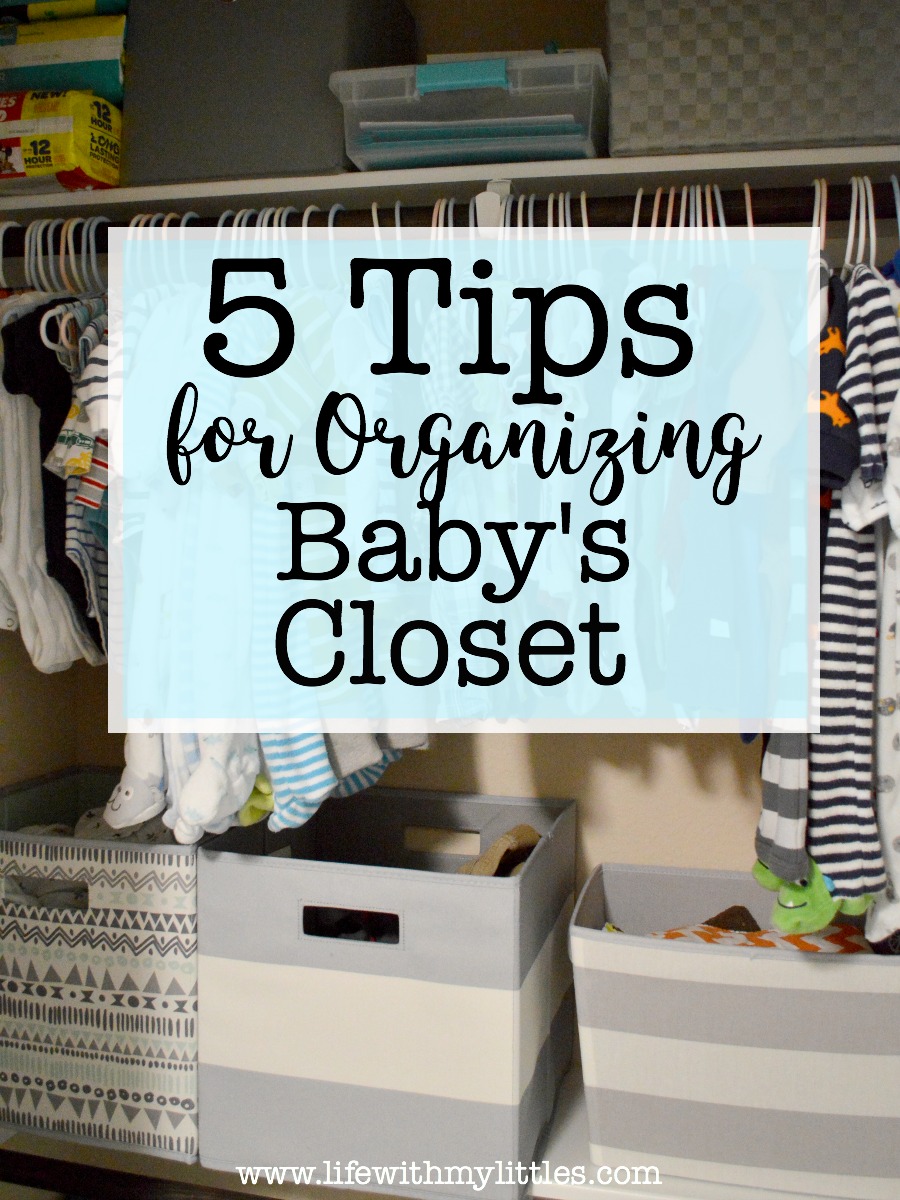 Getting ready for a new baby is exciting, whether it's your first or your third. I love getting the nursery ready, sewing a special quilt and crib sheet for my baby, and pre-washing and organizing all their tiny clothes in the closet.
But since I also had a toddler and a preschooler to take care of during my third pregnancy, some things weren't done quite as well this time around!
One thing that really took a hit was the closet. I did a pretty terrible job of organizing Little R's closet before he was born. We kept everything we used for our first two babies, and since we had a boy and a girl, I had a lot of blue and pink mismatched baskets, a lot of things in plastic bags, and a lot extra baby hangers.
Little R is now almost 4 months old, and since I just got a bunch of Little J's old clothes out of storage for him, I thought that after I washed them, I would take the time to reorganize the closet and put them away the right way!
Today I want to share the before and after of his closet, as well as some helpful tips for organizing baby's closet!
First of all, let's talk about the before. Yikes.
Besides the two metal shelves, I didn't really do much besides toss things in where they fit. It was bad. I was the only one who could ever get anything for Little R since nobody else knew where things were!
Now the after. Whew! So much better, am I right?
I invested in some bigger, matching storage boxes that Little R won't grow out of, I put things away that he had grown out of or that we weren't using (like pacifiers–that kid will not take a pacifier!), and I made sure everything had a specific place and things weren't just shoved in there where they fit. It's like a breath of fresh air compared to the first picture.
Now that you have seen the before and after, let's talk about how you can get your baby's closet organized, too! Here are five tips for organizing baby's closet.
Tips for Organizing Baby's Closet
Find a place for everything
Part of my problem was that I just put things in the closet on the shelf or next to one of the bins and said I would find a place later. I didn't. And it made the closet look very unorganized.
When you are organizing, find a place for everything and make sure you aren't just tossing things in. And make sure your husband knows where things are, too!
Put things away when you are done using them
Another big problem I had was that I kept things in the closet after we stopped using them.
We had a swaddle blanket that was too small sitting on the floor, the newborn head insert from Little R's car seat on top of a few blankets that didn't fit in the blanket box, and bottles that he wasn't using in a plastic bag on the floor. Not a good idea if you want an organized closet.
Once you are done using things, put them away, whether that be in storage or in a specific "put away later" bin.
Pre-wash baby's clothes before putting them away
Whether you are putting away new clothes from your baby shower or hand-me-downs out of storage, something I recommend doing in both my posts about things to do before your baby is born and things to do before your second baby is born is to pre-wash your baby's clothes. Dirt, excess dyes, and processing chemicals can linger on baby's clothes, and pre-washing is an important step to help protect your baby's delicate skin.
Before our first was born, I pre-washed all of his clothes with baby detergent before I hung them up, and I remember just opening his closet and smelling his clothes before he was born. It was divine.
We saved all of those clothes and since Little R is our second boy, we got to get them back out again! Unfortunately, they weren't all clean, which is understandable since they have been moved from an apartment to another apartment to another apartment and now to our house.
Anyway, I found dirt and pieces of wood from moving them so often inside the bins. Not to mention that they didn't smell very fresh.
We also were lucky to get a few new outfits for Little R at my baby shower, too, and I pre-washed them before I put them away in his newly organized closet.
Get some metal shelving if you need more space
Little R's closet is the smallest one in the house, and besides the shelves above the two closet rods, there was nowhere to put things. Getting some metal shelving made a big difference in the amount of storage space I had in his closet. Just make sure you measure your closet before you buy anything!
Use big storage boxes so you can use them for other things later
Part of the problem I had was that the storage bins I used with Little J and Little A were small and once they got bigger, they were too small to hold all of their clothes or socks or toys. I didn't want that to happen this time, so I bought some bigger fabric storage boxes to put his pants, socks, shoes, blankets, burp rags, and bibs in.
I also got a few medium-sized ones for things like extra bath soap and lotion, as well as some extra big ones for laundry and toy storage. They are super easy to pull out, grab something, and put away, and it keeps the whole closet organized.
Getting your baby's closet in order is important whether it's before your baby is born, or he's almost 4-months-old!
Hopefully these tips for organizing baby's closet will help you get things put away and in order (they certainly made a big difference in Little R's closet!).