If your breastfed baby won't take a bottle, here is a great post to help. Nine of the best bottles for breastfed babies, recommended by other moms!
This post contains affiliate links.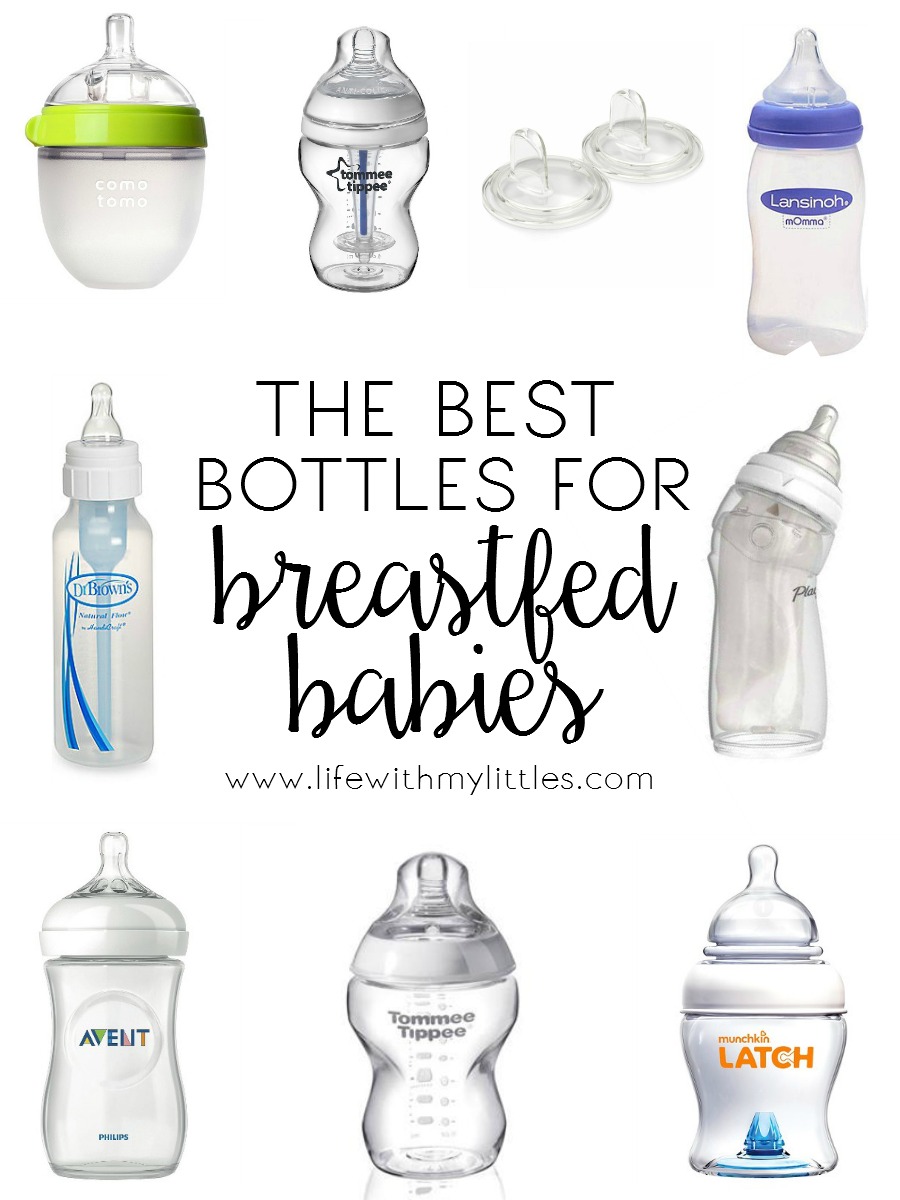 Both of my babies were rockstar breastfeeders. I never really struggled getting them to latch or anything, and I was super lucky in that regard because I know a lot of mamas have a hard time. My problem was that they loved breastfeeding so much, when it was time to supplement with formula, they wouldn't take a bottle.
I went through several bottles with each of them before I finally found ones that worked. I asked a few of my mama friends and quickly realized that this is a pretty common problem. Some breastfed babies just refuse to take a bottle!
So I did a little research and after talking to my pediatrician and several other moms, I've compiled a great list of nine of the best bottles for breastfed babies. Three of these I used personally with my babies, and the rest are ones that other moms have found worked for them and their picky breastfed babies. If you're having the same problem I had, hopefully at least one of these will help solve the problem!
mOmma by Lansinoh. These were the only bottles I could get my daughter to drink from, and they were recommended specifically by my pediatrician. They worked as soon as I tried them, and my daughter never looked back!
Tommee Tippee Closer to Nature
. These were one of two bottles that worked great for my son. The base of the nipple is wide and the nipple is super soft. Perfect for mimicking the real thing!
Comotomo
. These are the most breast-like bottle I have ever seen. They were also the first bottle my son would ever take, and that was a big deal after all the bottles we tried with him. The bottle pretty much is a hand-held boob, so you're going to have to get over the weirdness of that. But they work great!
Tommee Tippee Closer To Nature Sensitive Tummy
. My friends Melissa and Kayla both recommended these bottles and said they had no problem switching from breast to bottle and back again when they used these. Super helpful if you're still planning on breastfeeding!
Philips AVENT Natural
. Sammy from The Northern Nest recommended these. She said she especially loved that you could buy the different nipple flows. Very helpful if you're planning on using the bottles as your baby gets bigger!
Dr. Brown's Natural Flow
. At least three of my friends recommended these bottles, and I have seen several other of my friends using them before so I think they're a good one to start with. They have lots of pieces which is not super fun for cleaning, but as moms we make little sacrifices for our kids, right?!
Philips AVENT Soft Silicone Spout Replacements
. My friend Shauna told me that her lactation consultant recommended these and that after trying 12 different bottle/nipple combos, these were finally the ones that worked. They are actually soft spouts like on sippy cups (as the name suggests) but work with any AVENT bottle. These would be good to try if your baby gags on nipples!
Munchkin Latch
. My friend Rachael recommended these to me and said that they were great. She did mention that they can't go in the dishwasher though, so be aware of that before you buy them!
Playtex Nurser with Drop-Ins
. The last bottle on our list was one that my friend Kelly who also writes at She Teaches Fearlessly told me about. They are bottles with weird liners that go inside, but the bottle itself is very highly rated on the websites I saw. The liner collapses as baby drinks so there isn't air surrounding the milk like in regular bottles.
I'm hoping that you won't have to go through this whole list of bottles before you find one that works for your baby. The good thing is that there are so many companies out there who make bottles that are supposed to be natural and mimick a real breast. Don't give up if you keep trying and your baby still won't take a bottle. They'll figure it out eventually! Good luck!