This is a great list of 11 of the best swaddle blankets for babies. There are traditional swaddles, wrap swaddles, and zipper swaddles, so there's really something for every baby! A great list to check out if you are trying to find the perfect swaddle blanket for your baby!
I received free product for this post. This post contains affiliate links.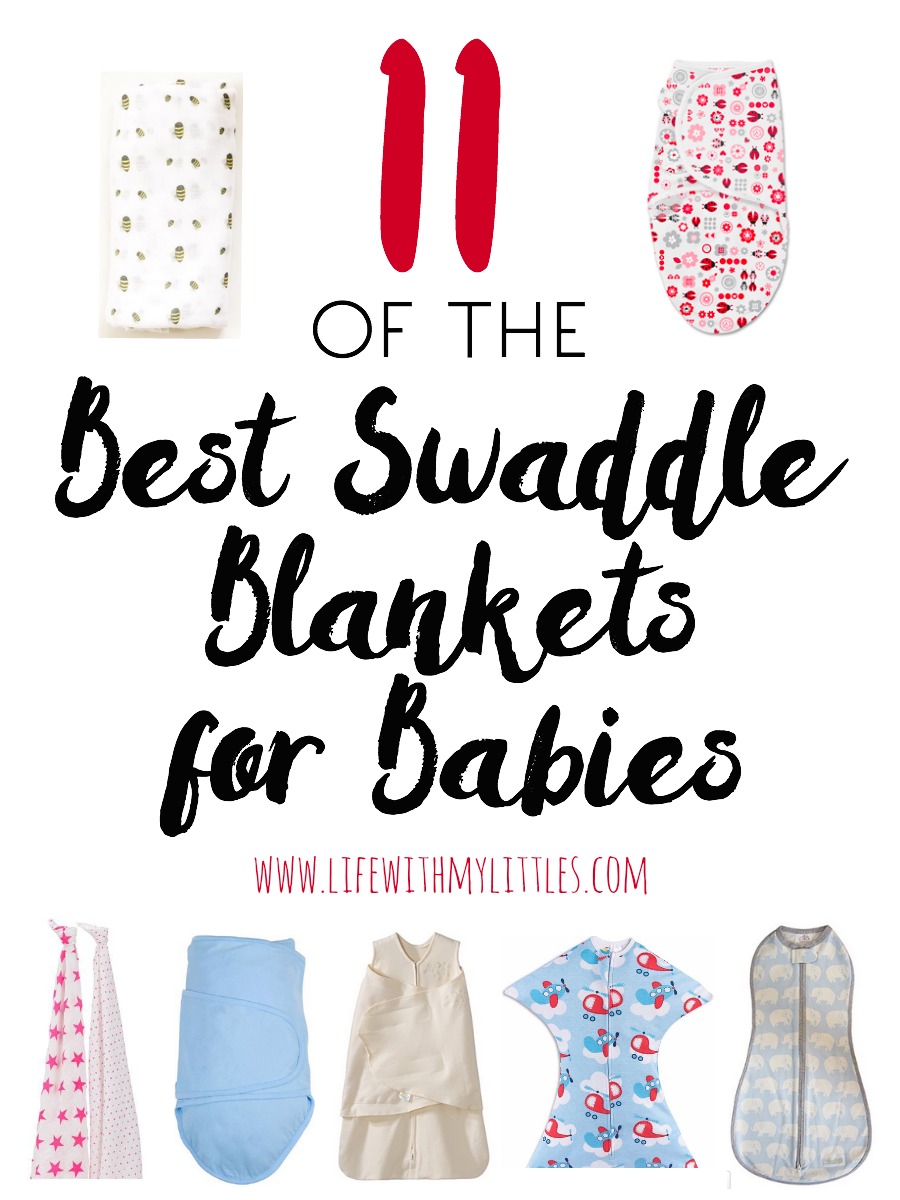 When Little J was a baby, I used one swaddle blanket the whole time he used a swaddle, and it worked great. Because that swaddle blanket worked well with him, I also used it with Little A the whole time she used a swaddle. I had no idea that there was a vast world of different kinds of swaddle blankets, probably until I was pregnant with Little R.
Even though I knew the blanket we had would still work for our new little guy, I wanted to do some research and talk to other moms to see what swaddle blankets worked for their babies. Every baby is different and what works for one baby won't for another, so I made sure to include 11 of the best swaddle blankets for babies on this list. Some of them are traditional square swaddles, some are wrap around swaddles, and some are swaddle sacks with zippers. And there are lots of different fabrics to choose from, too!
1. SwaddleDesigns Ultimate Swaddle Blanket
. This is the blanket we used for our first two babies, and it worked great. It's made of a lightweight cotton flannel and it's a large 42×42″. It's a traditional swaddle blanket and it is still in great shape after being used with two babies.
2. HALO SleepSack Swaddle
. I haven't used these personally, but I had several moms tell me how great they are. They are more of a wearable blanket and they wrap around baby to keep them snug. They are even a #1 bestseller on Amazon and have 4 1/2 stars with over 1,800 reviews. It's 100% cotton and can be used 3 ways, depending on your baby's sleep style. The zipper is also on the bottom so diaper changes are easy!
3. The Original Woombie
. I haven't tried these either, but again, they got a lot of praise from my friends when I asked about swaddles. They are basically a little sack that you put your baby in and zip up to the top. Super easy. It's a cotton/spandex blend so they are stretchy, and the zipper is two-way so again, easy diaper changes! If swaddling your baby in a traditional blanket isn't your strength, this might be the best option for you! I've also been told that they are good for babies who get out of traditional swaddles easily!
4. Milkmaid Goods Swaddle. These swaddles come in sets with matching headbands for girls and hats for boys, and they seriously have the cutest prints! Most of them are for girls, but they have several cute boy ones, too. The swaddles are made with a rayon/spandex blend and are serged around the edges. They are 42×42″, so a little smaller than some of the other swaddles, but we love ours regardless! They are perfect for newborn pictures, and the company also makes nursing ponchos, dresses, and robes in the same fabric, so you can be all matchy-matchy with your baby's blanket! The blankets are really stretchy, too, which is super nice for easy swaddling!
5. Aden + Anais Silky Soft Swaddle
. Aden + Anais has two kinds of swaddles, and I have heard amazing things about both. This one is made with bamboo and because it's pre-washed, it comes extra soft in the package. It's also a traditional square swaddle and is 47×47″.
6. Aden + Anais Classic Muslin Swaddle
. The difference between this swaddle and the silky soft Aden + Anais swaddle is that this one isn't made with bamboo. It's also pre-washed, 47×47″, and is 100% cotton. There are also TONS of adorable patterns in this line. Several friends also told me they used these as nursing covers and car seat covers because they were so big and lightweight.
7. Modern Burlap Organic Cotton Muslin Swaddle. I love these Modern Burlap swaddles because they are all black and white prints, which can help enhance baby's vision and stimulate brain development. Some blankets have patterns and then some have quotes or scriptures on them. They are seriously beautiful, and they are made with certified organic cotton muslin. They are pre-washed so they are super soft, and they are also a traditional 47×47″ square. This blanket doesn't stretch too much, so it keeps its shape well and I really like how easy it is to wrap Little R in.
8. The Miracle Blanket Swaddle
. These swaddles are more of a wrap, and they are made of a soft cotton knit so they are stretchy. It has arm flaps that wrap around so it's really easy to swaddle, even at night. It doesn't have buttons, velcro, or zippers, so it's simple and easy to use. One of my friends said this worked best for her baby from 2-6 months. They are recommended for use from newborn to 14 weeks, so keep that in mind, too.
9. Zipadee-Zip Swaddle. This was one swaddle that my friends recommended for transitioning your baby out of the swaddle. It's made from a knit cotton blend, and it is a star design, so it's definitely not a traditional swaddle. It provides "edges" so that when your baby wakes up, they can move a little but still are able to feel those edges and be comforted. They can roll and use their arms and legs safely, which is helpful when transitioning out of the swaddle, but it still keeps them snug and helps them feel like they are somewhat swaddled.
10. SwaddleMe Original Swaddle
. I got one of these in one of my Bump Boxes when I was pregnant, and it is fantastic. The 100% cotton fabric wings wrap around and use Velcro to keep baby safe and snug. They also come in different sizes so you can get the right one for your baby's age. Another good one to try if traditional swaddling is not your thing.
11. Baby Bare Essentials Bamboo Swaddle Blanket. I love these gender neutral, super soft swaddles. They are made from viscose made from bamboo (like the Aden + Anais ones) and as soon as I opened them, I knew I would love them for swaddling our little guy! They are also pre-washed and get softer with every wash (they really do!). These breathable 47×47″ square swaddles are another great option if you want something that can be used for playtime, nursing, or a car seat cover, as well as swaddling. They are a little stretchy, too, so if you like having a bit of extra stretch when you swaddle your little one, these are for you!
Thanks to all my friends for contributing to this great list! Hopefully one (or two!) of these swaddles will be perfect for your baby! I know we love the ones we've tried personally! Good luck, mamas!