These 5 tips for moving your baby to their own room are so smart! If you're planning on transitioning your baby to their crib soon, check these out!
I received free product for this post. This post contains affiliate links.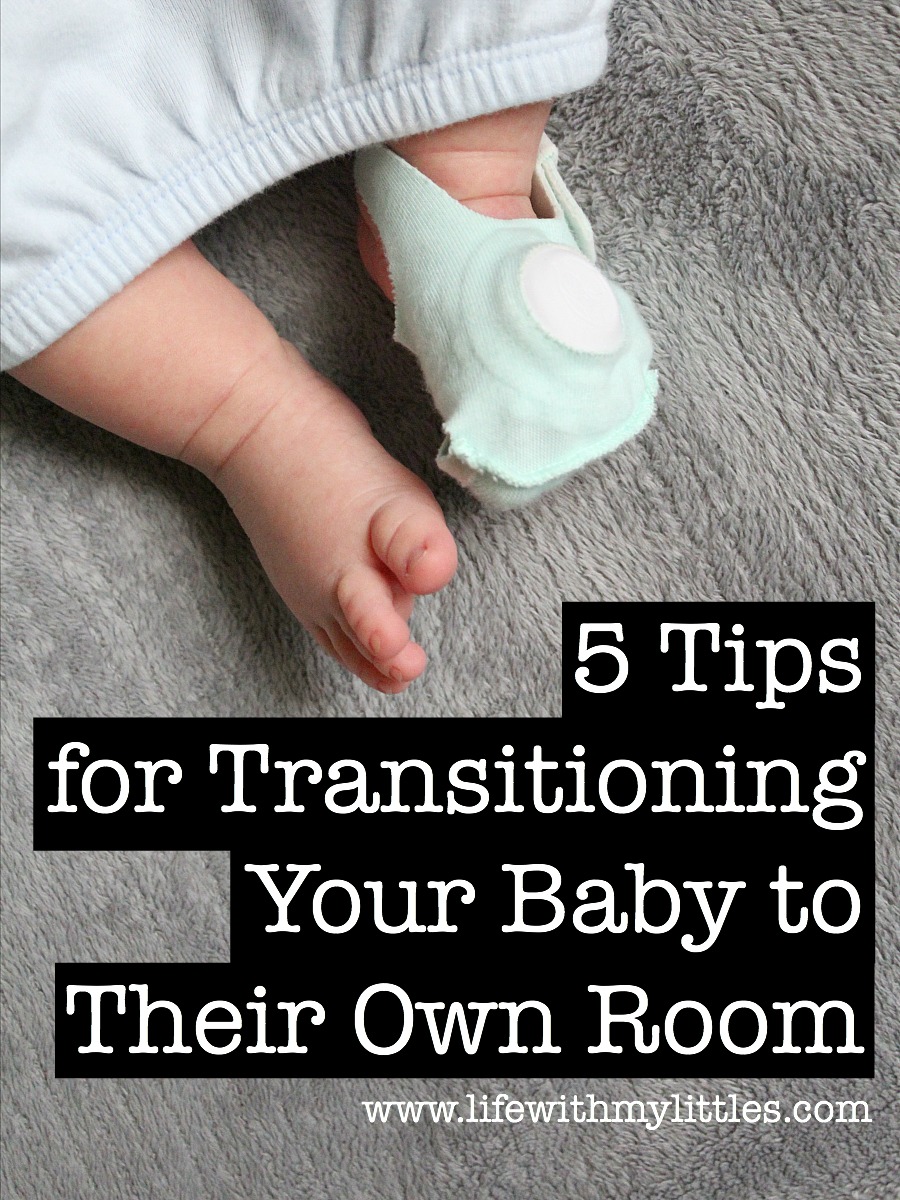 With all three of our babies, we've had them sleep in our room in a bassinet or pack n' play for the first few weeks after bringing them home from the hospital. It makes me feel better knowing that my baby is close, even if I get less sleep because of it. I know that we aren't the only ones who do this, because I've talked to lots of other moms who do exactly the same thing. We want to be right there next to the new baby, even if every single hiccup or pause in breathing makes us hop out of bed to check on them!
We had Little R in a pack n' play by the foot of our bed for the first five weeks of his little baby life. But it quickly started to feel like my husband and I weren't getting any alone time, so we decided it was time to move our baby boy to his own room. And since we've already gone through the transition with two kids, it wasn't as much of a challenge this time! Today I want to share 5 tips for moving your baby to their own room to help other new parents going through the same thing! These are simple things you can do to give yourself peace of mind, and to make the transition go as smoothly as possible.
1. Follow safe sleep practices. The number one thing you can do to give yourself peace of mind when transitioning your baby to their own room is to follow safe sleep practices. These include things like baby should be alone, flat on their back, and in their crib. There should be no loose blankets or loose items in the crib (no stuffed animals or pillows), and the crib mattress should be firm. Use a swaddle blanket to keep your baby warm, but don't let them get too warm. Use light sleepwear and keep the room temperature comfortable. Don't use pillows or wedges to prop your baby up, and consider offering a pacifier to your baby while they sleep. I know that might sound like a lot, but just be smart and remember the ABCs of safe sleep (Alone, on Back, and in Crib).
2. Use an Owlet Baby Monitor. If you haven't heard of Owlet yet, prepare to fall in love! The Owlet Baby Monitor goes on your baby's foot while he sleeps, and it tracks your baby's heart rate and oxygen and is designed to notify you if your baby's heart rate or oxygen levels fall outside of preset zones. For a new parent, having the peace of mind that you will be notified if your baby's levels drop is priceless. You don't stop worrying about that no matter how many times you've gone through the transition!
The monitor is similar to the tracks with the red light that doctors clip on your finger in the hospital to monitor vitals. It works through WiFi (it's super easy to set up!) and an app on your phone where you can view your baby's real time readings. There's also a base station that is designed to notify you with different tunes and colors. There are multiple "sock" sizes, depending on your baby's age, and the monitor slips right inside the sock and fits snugly against your baby's foot.
It's so easy to use, and it has taken away so much worry during this transition. My husband and I have both been able to relax a little and sleep better because we aren't worrying about having our baby where we can't monitor him ourselves. The Owlet Baby Monitor has easily been one of our all-time favorite baby products, and I wish we had had it with all three of our babies! I highly, highly recommend getting one! It is well worth the investment.
3. Use a video baby monitor. We also have a video baby monitor set up by our son's crib so that we can see him when he's sleeping. A video baby monitor is another way to give you peace of mind and make transitioning your baby to their own room a lot easier. As our son gets bigger and learns to roll and wiggle out of his swaddle, I can easily check on him throughout the night or throughout his naps and make sure he is safe. We love our VTech Safe&Sound VM343 Pan & Tilt Full-color Video Monitor
because we have two cameras set up (one in each of our kids' rooms) and we can monitor both rooms from one parent unit. I leave our parent unit on my nightstand next to the Owlet base station and I'm able to sleep soundly knowing that even though my son is in a different room, I can still check on him without waking him up. UPDATE: Owlet now has a video monitor, too! Check it out here.
4. Start a bedtime routine. One way to make the transition go smoothly is to start a bedtime routine so your baby starts to understand when it is bedtime. Our bedtime routine includes turning the lights down, rubbing some lotion on his arms, legs, and head, putting on a fresh diaper, his Owlet smart sock,  and PJs, swaddling him with his favorite SwaddleMe swaddle
, and feeding him in the recliner in his room. We do this every night to help signal that it's bedtime and to help him start getting sleepy. We've done similar routines with his big brother and sister, and it has always helped bedtime go better for everyone. You can create your own routine with the things we do, or add in a bedtime story, a song, or some cuddle time. Whatever you do, just keep it consistent!
5. Keep your door open. Even with the monitors we use, we still keep our bedroom door open. It gives us even more peace of mind, just in case the baby monitor runs out of battery or something. And it makes it easier to hurry to his room in case the Owlet ever did notify us that something was wrong.
Having peace of mind when you transition your baby to their own room is definitely possible with all of the amazing technology and knowledge that we have about safe sleep practices. We followed these tips and Little R's transition to his own room has gone great. My husband and I get some alone time at night, and we don't feel like we have to check on our son every five minutes. And thanks to the Owlet Baby Monitor, it's been the easiest transition to the crib yet!