These safe sleep practices are so important! If you want to know tips for safe sleep for babies, check out this post! So helpful for moms with newborns!
This post contains affiliate links.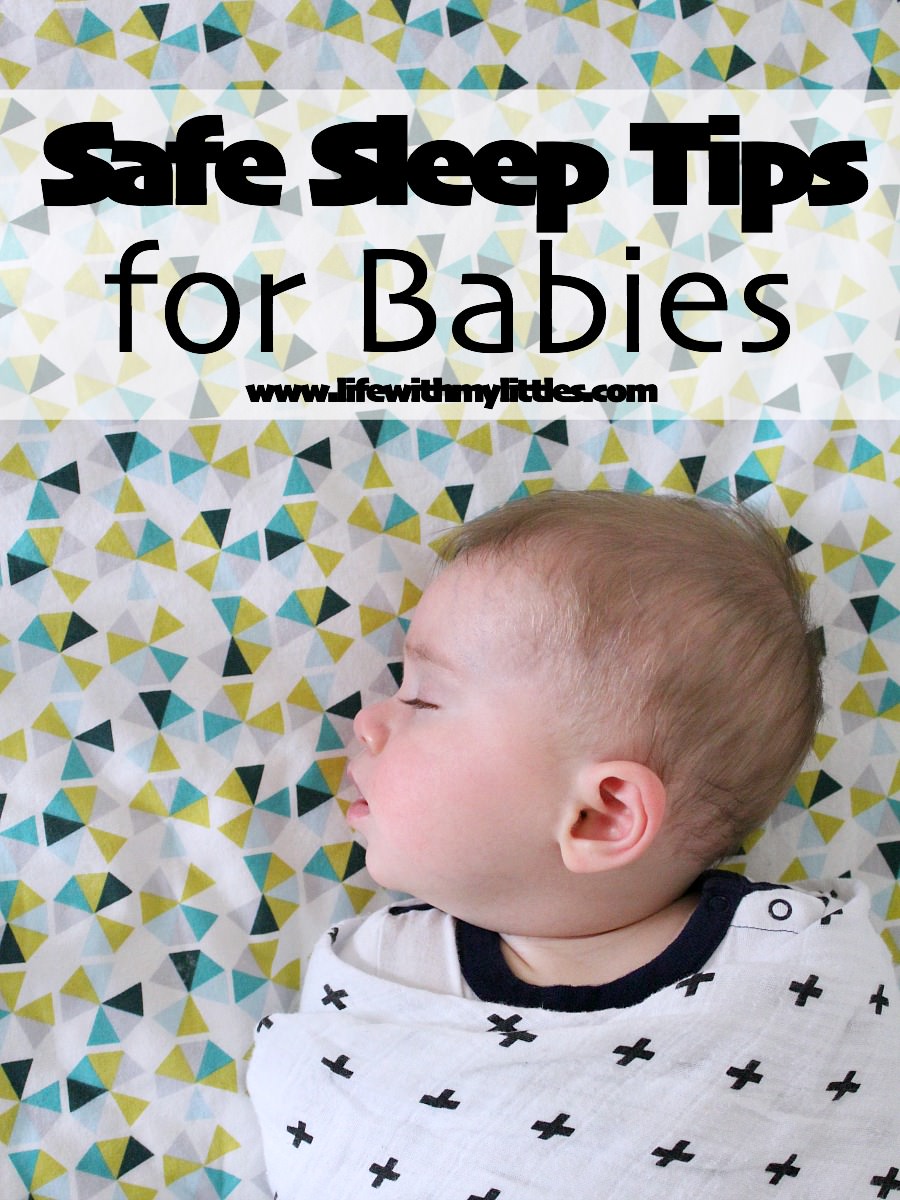 As a new mom, you do everything you can to protect your newborn. You buckle them tightly in their car seat, you keep them away from sick people, and you barely let them out of your sight, even if it means showering with them in the bathroom. One thing that has always made me anxious is making sure my baby is safe while they're asleep. And I know I'm not alone, because I've talked to lots of parents who feel the same way! Today I want to share some tips for safe sleep for babies, because even if it's your second or third baby, you can always use a refresher!
1. Baby should be ALONE. Ever heard of the ABC's of safe sleep? Well the A stands for alone. This doesn't mean that you can't have your baby in your room, it just means that you shouldn't co-sleep with your baby. We like to put our newborns in the pack n' play in our room for the first few weeks so they're close, but still sleeping safely. Then we transitioned them to their own room.
2. Baby should be on their BACK. The B stands for back, because the safest position your baby can sleep in is on their back. When I was a baby, my parents put me to sleep on my tummy. And when my first son was born, she was surprised when I said we had to put him on his back to sleep. The American Academy of Pediatrics changed that recommendation in 1992, and studies have continually proven that the rates of SIDS goes down when babies sleep on their backs. Don't freak out if your baby is older and can roll and sleeps on their tummy because of it. If they can roll from front to back and back to front, they'll be okay.
3. Baby should be in their CRIB. The C in the ABC's stands for crib, because your baby should sleep in their crib (or bassinet, or pack n' play). Not in your bed with you! Your baby's crib is the safest place for them to sleep. Again, if you want your baby to be safe, don't co-sleep!
4. Don't put loose blankets or stuffed animals in the crib. Swaddle blankets are okay because they aren't loose, but don't put a quilt over your baby or a bunch of stuffed animals in the corner. It might be cute, but it can also be a suffocation hazard.
5. Don't use bumpers. In 2011, the American Academy of Pediatrics changed their recommendations and said not to use crib bumpers anymore. They also can cause suffocation, and there is no evidence that they reduce injury (which is why parents use them in the first place). You want your baby's crib to be open and bumper-free so they don't get caught up against it and suffocate.
6. Baby should sleep on a firm surface. The mattress
should go right up to the edge of the crib with no gaps, and you should use a tightly fitted crib sheet. Don't put your baby to sleep on something soft and squishy.
7. Baby should sleep on a flat surface. Don't use wedges or pillows in your baby's crib. Babies don't need pillows until they are over a year old.
8. Don't let your baby sleep in their car seat, swing, or bouncer. I know this one is kind of hard, especially for new babies who might not fall asleep any other way. But babies can slump over and suffocate if they are asleep in these things. If your baby falls asleep in their car seat, swing, or bouncer, transition them to their crib when possible.
9. Baby should sleep in light clothes. Don't put your baby in thick fleece jammies in the summer, or even in the winter if their room gets warm. Keep their room at a comfortable temperature and make sure they don't overheat.
One thing that I have absolutely loved using and that has given my husband and I great peace of mind is our Owlet Baby Monitor. It goes on your baby's foot while he sleeps, and it tracks your baby's heart rate and oxygen and is designed to notify you if your baby's heart rate or oxygen levels fall outside of preset zones. The monitor is similar to the tracks with the red light that doctors clip on your finger in the hospital to monitor vitals. It works through WiFi (it's super easy to set up!) and an app on your phone where you can view your baby's real time readings. There's also a base station that is designed to notify you with different tunes and colors. There are multiple "sock" sizes, depending on your baby's age, and the monitor slips right inside the sock and fits snugly against your baby's foot. It's so easy to use and my husband and I have both been able to relax a little and sleep better because we don't feel like we have to constantly go check on our little guy while he sleeps. The Owlet Baby Monitor has easily been one of our all-time favorite baby products, and I wish we had had it with all three of our babies! I highly, highly recommend getting one!
Hopefully these tips for safe sleep for babies will help you get a little peace of mind and keep your baby safe while they're sleeping. Even with our third baby I still worry about him, but I know that because we do these things, he's sleeping as safely as possible!