If you love supporting mama-owned small businesses, check out this list the next time you're looking for a gift for you or someone you love!
I received free product for this post.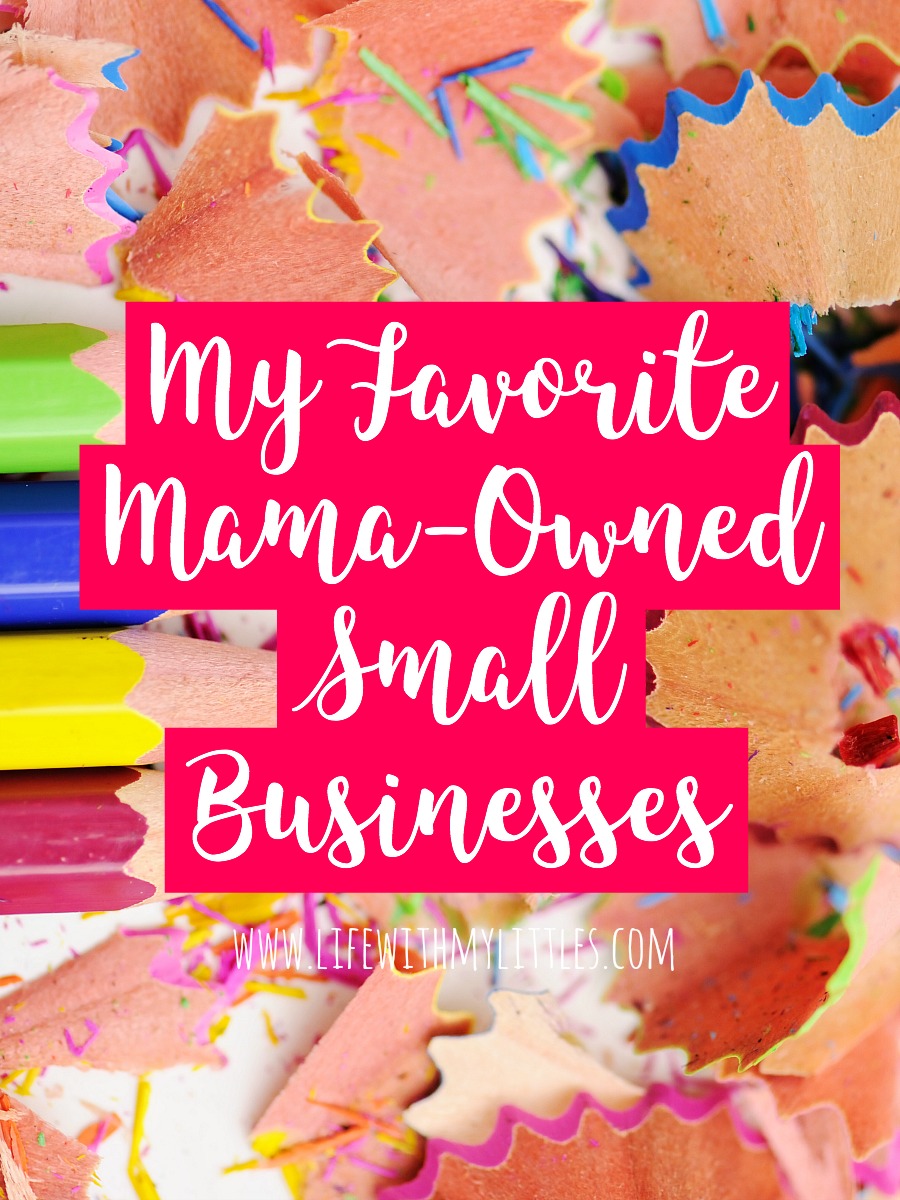 As a mama and small business owner (because yes, blogging is a business), I appreciate and try to support other mama-owned small businesses as much as I can. I know how important word-of-mouth can be in spreading their brand, and I really appreciate when I see my own friends sharing my blog posts with others.
Today I want to share the love and talk about some of my favorite mama-owned small businesses. Some of them sell baby products, and some of them sell mama products, but they all sell fantastic products! If you're looking for a baby shower gift or a gift for a new mama friend (Or yourself! No shame, girl!), look no further! These 12 small businesses are sure to please!
1. Tubby Todd. I mentioned Tubby Todd in my Mama's Monthly Faves post in January, but I really am a big fan of their products. They make bath products that are plant-based and 100% natural. They are perfect for sensitive skin, which my kids have! Plus, it is hypoallergenic and leaves my kids' skin soft and smelling clean!
2. Fawn Design. If you haven't heard of Fawn Design, you need to get on that right now. They make the most beautiful faux leather backpack diaper bags, and I was lucky enough to win one a few months ago in a giveaway! I chose the brown bag, and I love it so much! They pretty much sell out every time they restock, so make sure you get on their mailing list if you are interested in getting one!
3. Purl Lamb. This shop has been on my radar for a few years, and I finally got one of their adorable jumpers for Little R! It's super soft, the zipper zips really smoothly, and there are cute little dinosaur spikes on the hood. I got a 0-6 size and I can hardly wait to put Little R in it soon! Not only do they have jumpers, but they also sell hoodies and sweatpants for boys and girls.
4. The Mama Tribe Designs. This shop sells teething necklaces that are super cute and come in tons of styles. Obviously Little R doesn't have teeth yet, but sometimes I wear it when I nurse him and he loves holding onto the big, chunky beads. They have tons of different styles so there's really something for every mama.
5. Modern Burlap. Modern Burlap sells the most beautiful black and white swaddle blankets, and they are the perfect size, texture, and softness! We have the Swiss Cross swaddle, and it might be my favorite swaddle blanket that Little R has. They also sell quilts, bibs, burp cloths, changing pad covers, sheets, and hooded towels. I love the adorable patterns and prints they have, and you can even get a calendar printed on your blanket to represent your baby's birth month!
6. Ryan and Rose. I first heard about Ryan and Rose on the Pregnancy Perfect podcast (like so many of my favorite shops!). Lindsey started her shop after she couldn't find any cute, high-quality pacifier clips. They sell so many adorable styles and I love that they are called Cutie Clips! If you've never tried a pacifier clip before, I highly recommend one, because it's amazing not having to be constantly losing your baby's pacifier!
7. Happy Baby Carriers. I got my first Happy Wrap when I was pregnant with Little A, and used it a lot when she was born. Their wraps come in lots of adorable colors and patterns, and they fit babies up to 25 lbs. They also just released new Happy Baby Carriers, and I would love to try one out because they look so soft and comfy! They support babies up to 45 lbs., and you can even nurse in them.
8. Made By Mary. So a few years ago I got an initial disc necklace that I loved, but the chain was really weak and after getting it fixed twice and having it break again, I just stopped wearing it. Then a few months ago I decided to ask my mom friends if they knew of any places to get durable, stylish initial disc necklaces, and I had at least six friends recommend Made By Mary. I checked out their site and immediately knew I wanted my necklace from them. I actually ordered one as soon as we officially named Little R! And they have so much more than just initial disc necklaces, too. I also love their bar necklaces and think I might want a date bar one with our anniversary on it for our anniversary this year! If you're in the market for the perfect necklace, go check them out!
9. MaLyn Logic. I mentioned her shop in my Christmas gift idea post last year, but I really am a big fan of the clothes she sells! She sells super cute graphic tees, and then recently also started selling other cute tops, dresses, and bottoms. And of course there's jewelry, too, because who doesn't love to dress up a graphic tee with a bold necklace? I have two of her tees, and I love them both!
10. Loved by Hannah and Eli. Another shop that has been on my radar for a few years, their adorable bear-themed clothes are my fave. I have the pink glitter "Mama Bear" shirt and it's super soft and extra comfy. They have shirts and sweaters for mamas, papas, and baby bears, and they have a few shirts that aren't bear-themed, like this cute "Perfectly Imperfect" tee. If you like graphic tees, add one of these to your wishlist!
11. Scribble & Jot. Another mama-owned company I've mentioned on my blog before, Scribble & Jot sells the CUTEST coptic stitch notebooks. They are all handmade and you can even request custom orders. I have four notebooks (I know, I just love them!), and I use three of them for memory journals for my kids. If you're looking for the perfect line-free notebook, you need one of these!
12. Little Pretties. Last but not least, Little Pretties sells the cutest little bracelets for mamas and little girls alike. I got a few for Little A for Christmas a few years ago, and she still loves wearing them. The owner actually went to high school with my husband, so I can vouch for her and say she's awesome 🙂 I love both the wrap bracelets and the stacking bracelets, and she just released zig zag chain bracelets that you should for sure check out!
Well there you have it! Twelve of my favorite mama-owned small businesses. Next time you're looking for a gift for you or someone you love, check them out! Supporting small businesses is the way to go!