Eleven ideas for preserving memories for kids, from photo books to memory journals. There's something here for every mama!
This post contains affiliate links.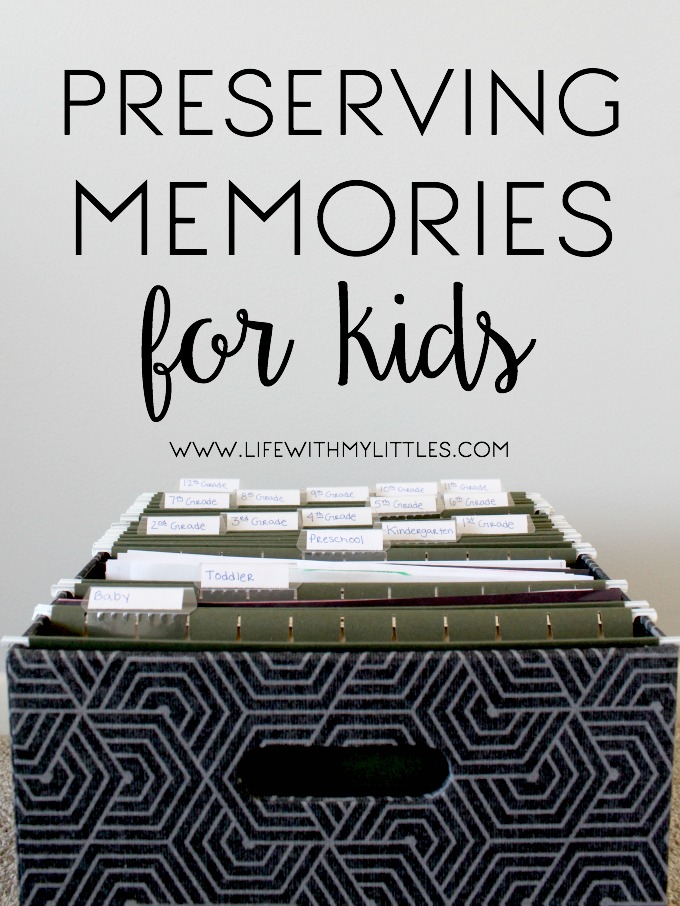 I'm a pretty sentimental person. I have always loved taking pictures of my life, I have journals dating back to elementary school and middle school, and I have a giant "memory box" in the form of a giant plastic storage bin where I've saved cards, mementos, and special things from my past. So it only makes sense that I want to preserve these kinds of things for my kids, too.
But if we're being honest, it's hard! As mothers, we're already super busy cleaning bathrooms and doing laundry and making dinner, and in our free time, we probably would rather put our feet up and watch Netflix than go back and fill out our five-year-old's baby book we never finished.
Today I want to share several easy options for preserving memories for kids!
First of all, let me just say that putting together a photo book, organizing photos and artwork, and even just filling out a baby book is a lot of work. I listened to a great podcast from Coffee and Crumbs a few weeks ago and one of the best things they talked about was that you don't have to do the big stuff right now. Sure, it would be great to go back and make photo books for every year you've been married right now (my current goal), but that's a huge time commitment. Like I said, moms are B-U-S-Y, and you might not have time right now to take on a huge project like that. So start small. Do a little bit at a time, and don't stress about it. Sure that 40 page photo book might be beautiful, but if you cried over it, hated making it, and had an anxiety attack trying to put it all together, it's not worth it. So start small. Even if all you take away from this post right now is a little note in your phone with ideas you want to try one day, that's great. You don't need to do everything all at once, okay?
Alrighty! Here are ideas for preserving memories for kids:
Traditional baby books. I have one of these for each of my kids, and they are great for documenting the beginning of your child's life. I love recording all the milestones and memories, and they usually have places for photos and keepsakes, too. One drawback is that they usually don't provide more than one or two pages for details past the first year, and they only go up to your child's fifth birthday,. If you're looking for something that will work for your child's whole life, this isn't it. (I have this baby book for my oldest son and this baby book
for my daughter).
Birthday books. I haven't done this myself, but I think it's a great idea. Basically, you make yearly photo books for your kids! It's nice because it's a special thing you do for each of your kids and they don't have to share with anyone else. Plus, it's a nice way to get those thousands of pictures that you take each year in print form! I like how personal these are, and that you can include captions and little stories based on the layout you choose. It does take a lot of work though, especially if you have several kids! You can try Shutterfly for a cheaper option, Blurb for an in-between option, or Artifact Uprising for a more high-end option.
Yearly photo books. If you like the idea of the birthday books but would only prefer to do one per year for your whole family, this is a good option! Again, you can include pictures and text, and it's a good way to get all those pictures off of your computer and in print form. Plus they make great coffee table books or decorations!
File with papers. One thing that I had on my 1001 in 101 list was to organize all the papers I've collected from my kids. We used to do a lot of little painting and coloring projects, and as my son has started preschool, the papers I've saved have just started piling up. So I did some research on different ways to organize your kids' papers, and came up with something super simple and easy. I got a file box for each of my kids, filled it with hanging file folders, and marked each with either a stage (baby, toddler, preschool) or a grade (K-12). Now I have a designated place to put things we make together, things they bring home from school, and eventually, report cards and special papers they write. It was really easy to do and it is so much more organized than what I was doing before! You can get a simple cardboard box, a decorative box, or even a waterproof plastic box. Plus there are tons of cute file options. I just went for the basic green hanging files (because I'm cheap), but you can get creative with these if you want.
Event books. Did you go on a vacation to Disneyland or on a road trip across the country? Doing a photo book just about that event is a good way to document it in a physical way. My husband's aunt made photo books for everyone for our last family reunion and our kids LOVE looking at it!
Social media photo books. I think everyone has heard of Chatbooks by now, but I love our Chatbooks. I have a series that features pictures of my kids together, and they love looking at these, too. If you use Instagram they are incredibly easy to set up, and Chatbooks basically does the work for you. Plus they are really cheap, which is a big bonus since some photo books are pricey. I also like that they are small and simple, and you can include captions and dates, or not if you don't want them. They are the lazy mom's way of preserving memories for kids. And also maybe the smart mom's way.
Memory box. Okay so I've actually kept my own memory box since high school, so I am a big advocate of this one. Basically it's a place to save mementos that you can't keep in a photo book or baby book. I've started them for each of my kids, and theirs have things like baby bracelets and hats, special holiday keepsakes, sunglasses from the 2017 eclipse, and personalized crayons from the Mall of America. My personal box has things like my favorite stuffed animal, Beanie Babies, journals, medals from races, and little pins I collected in high school. It can really be a place to save anything you think your kids might value in the future. One thing I think is important to make a note of is that you don't need to save every little thing in here. If you think your kid won't care about seeing it when they are 20, don't save it. They probably won't care about the very first rock they picked up and brought inside the house. Try to be a good mix of practical and sentimental on this one, because that box can get really big really fast if you aren't. You can start with something small like this
when your kids are young, and eventually move to something like this
as they grow and you collect more.
0-5 books. A step up from the traditional baby book, but one that lets you include more than just one page for each year after the first is a book dedicated to your child's first five years. We have a Ruby Love baby book for our youngest and while the basic book does just have a page or two for the second-sixth years, you can get extra pages (holidays, siblings, baptism or blessing, or even the second year or years 3-5). They even have pages for school ages if you decide you want to include those and continue the book past the first five years. I've seen other options for 0-5 books too, but Ruby Love is my favorite.
Email account. This is a cool one that I thought sounded super easy and requires very little maintenance or upkeep, other than writing emails. Basically, you set up an email account for your child that you'll eventually turn over to them. Until the day you turn it over to them, you write emails and send them to that email address. You can write about funny things they do, milestones, good or hard days, or even just a small moment you had with them that made an impact on you. And since it's email, you can easily send photo or video attachments, too. I like it because we all have email on our phones and it's so easy to just write a quick email and hit send as soon as something happens. Plus all your emails and notes and thoughts will be sorted chronologically!
Memory journal. This is something I started doing when my daughter was just a few months old. It's similar to the email account, but it's just a handwritten journal that you write in to your child and then give them when they graduate or get married. I wrote more about them here, but I now have one for each of my children and I love writing in them. I get my journals from Scribble & Jot. My friend Dana makes gorgeous coptic stitch notebooks by hand, and they come in lots of sizes and colors, lined or unlined, and they lay flat, which I love. They are seriously amazing and I highly recommend checking them out. And don't think that just because your child is a few years old you can't start one of these. I started my oldest son's when he was almost two and I don't think that makes it any less special. Dana recently started making notebooks that are meant specifically for baby journals, and she has a bunch of new gender neutral and adorable baby and kid prints coming soon! And from now until the end of June you can get 15% off your order with code LWML15, so make sure you go check out her shop because I love, love, love my journals I've gotten from her.
Art project photo book. This is one on my to-do list as my kids' papers start stacking up more. Basically instead of keeping all the drawings and crafts and art projects your kids do, you scan them or take pictures of them and then print them in a photo book! This post is kind of the inspiration here, but I think it's a great way to minimize the papers you're keeping and preserve them in a meaningful, easy to enjoy way. Because as cute as some of those things your kids make at school are, you're more likely to revisit them if they're in an easy-to-access photo book than stored away individually in a file.
Also a quick note: make sure that until you actually go ahead and make one of these, you're backing up pictures you have online or on an external hard drive. I use iCloud storage because I have a Mac and it's easy, but when I had a PC I used an external hard drive and that worked great, too.
Well there you have it! Eleven easy ways for preserving memories for kids. I think it's important to preserve memories for kids, but try not to go overboard here. You don't need to do every single one of these (or even more than just a few). Whatever you do, make sure you pick something that will be meaningful to you and your kids now and in twenty years!