Being a new mom is exhausting, and sometimes you forget to pamper yourself! Here's a great gift list of things you can give to pamper a new mom in the rough postpartum period.
I received free product in exchange for this post.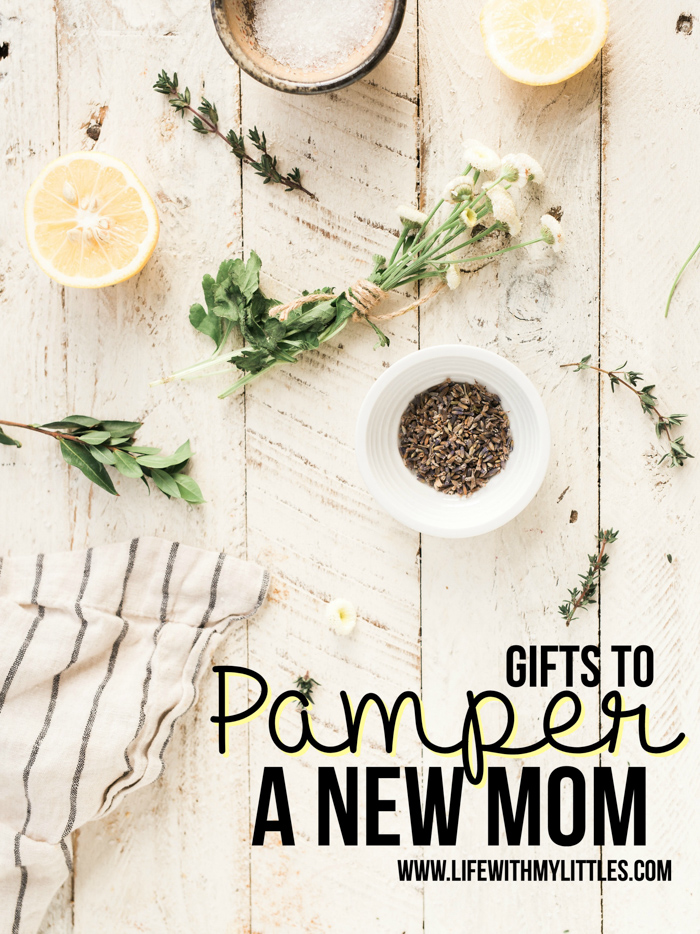 After giving birth, you might feel like you've been hit by a train. Even if you had a smooth delivery, those first few weeks and months of postpartum are rough.
The births of my three kids all went great, but I still felt exhausted, overwhelmed, sore, and like a hot mess when I got home from the hospital.
Newborns need everything done for them, and it's a lot of work to feed them and change them and help them sleep. Oftentimes, new moms forget to take care of themselves while they're learning (or re-learning!) to do everything it takes to care for their new baby!
I have a few posts revolving around gifts to bring a new mom, including one featuring books to give new moms, and another full of useful gifts new moms actually want. Today I am adding to this list, because new moms seriously deserve all the gifts because childbirth is ridiculous.
Today, I want to share gifts you can give to pamper a new mom, focus on her, and remind her how special and loved she is, too!
Gifts to Pamper a New Mom
Simple, Personal Jewelry
I know jewelry can seem like a difficult thing to buy a woman, but every woman loves a simple jewelry piece she can wear every day and feel a little fancier.
I recently discovered the company Rellery, and they make the most beautiful, personal jewelry pieces.
You can get meaningful necklaces, bracelets, and rings personalized with names, dates, or sayings, or choose from a variety of dainty but strong necklaces, bracelets, rings, and earrings.
Each piece is made with high-quality precious metals so they'll last, and the chains are designed with tight links so little hands won't break them when they pull. My three-year-old has pulled on the chain of my Double Heart Necklace several times and hasn't done anything to it (and he thinks he's the Hulk, so that's saying something!).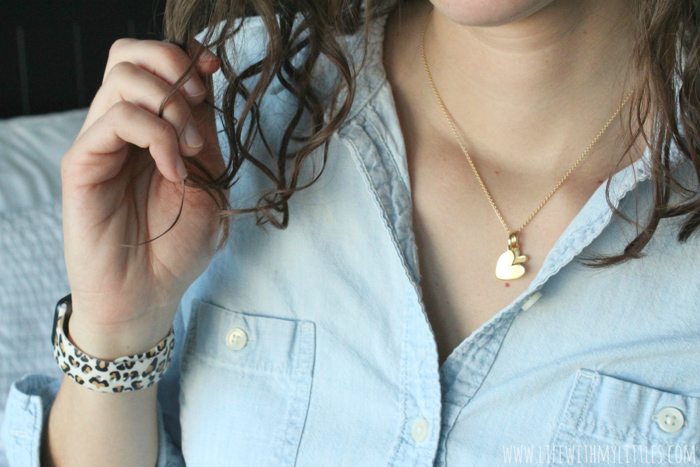 Rellery jewelry is also ethically made and sold directly to the buyer (no middleman!). About 75% of all orders are made-to-order in their own studio! So you can feel good about buying it, and feel good when you wear it!
I have both the Double Heart Necklace and the Signet Ring. I wanted to leave the hearts on my necklace without any personalization, because I just love the idea that the big heart is me and the little heart can be any of my three kids.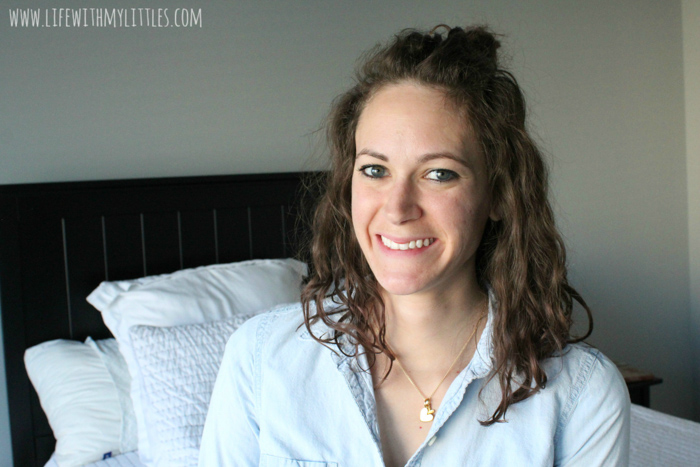 I did go with personalization on my ring (which I LOVE), because I see it a lot and it reminds me of my kids. Not like I'm away from them very often, but when I am, I have that sweet reminder.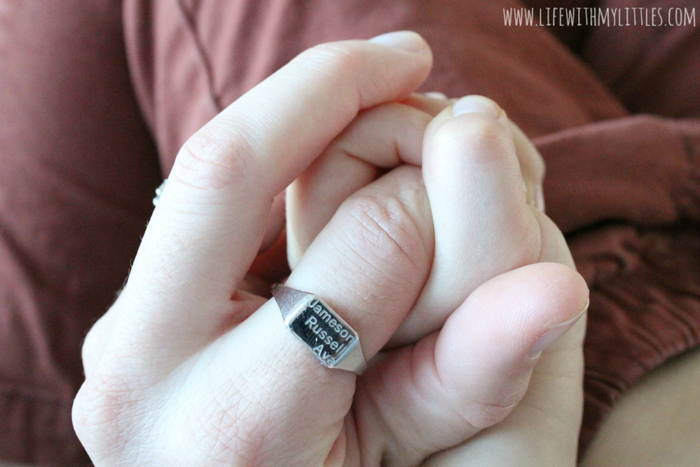 High-quality, personalized (or not-personalized!) jewelry is a great gift to pamper a new mom, whether that's your daughter, sister, wife, or best friend. Pick something that will be meaningful to her and watch her face light up when she opens the box!
Spa Treatment
That could be a massage, a pedicure, a manicure, a facial, or any other spa treatment that will give her a break and help her feel refreshed again. And of course, it has to come with the condition that you watch her baby and any other kids she has!
Gift Card for Coffee/Soda
Mamas love their caffeine, am I right? So give her a gift card to her favorite coffee shop! If she doesn't drink coffee (or is trying to limit herself), get her a gift card to a soda shop or gas station (bring on the fountain drinks!). Talk about a treat!
Home Relaxation Kit
I wasn't sure what to call this, but basically, just put together a little basket or box with some bubble bath, a bath bomb or two, a nice smelling candle, some home face masks, and a salt or sugar scrub. She can get some much-needed relaxation while baby sleeps!
Something Cozy
Slippers, fuzzy socks, new pajama pants (which, let's face it, she'll probably wear all day), basically anything cozy that will help her feel comfortable while she's at home.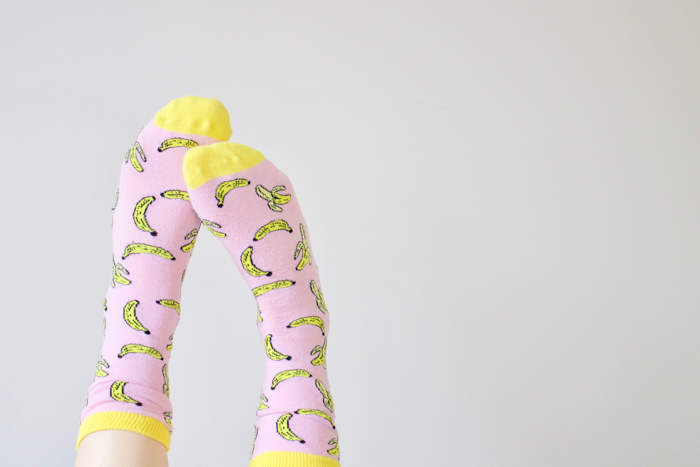 Food Delivery Gift Card
This could be a gift card for a food delivery service, or it could be a gift card to her favorite pizza place or fast food restaurant. Sometimes it can be so hard to cook when you're caring for a newborn, so make life easier for her and help her treat herself at the same time!
Flowers
Is there a woman out there who doesn't love flowers? You can drop off a bouquet on her doorstep, or if you're in the camp who thinks that's a waste because they'll just die, drop off a potted plant! Orchids are great low-maintenance plants that will brighten up the new mama's home.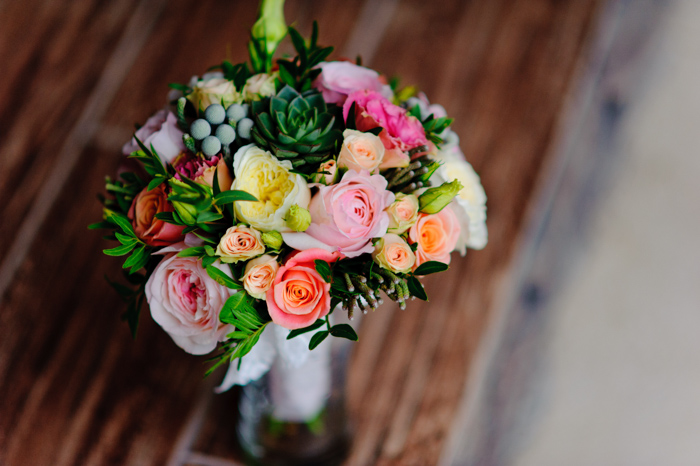 Water Bottle
Drinking water is super important when you're nursing (trust me!), so make it easier for her by gifting her a new water bottle! You can get one in her favorite color or even personalize your water bottle with some fun vinyl.
Dry Shampoo
Showering with a newborn sometimes doesn't happen. Okay, showering with a newborn often doesn't happen. So gift her some dry shampoo so she won't feel grungy when those showers don't happen! My favorite is R+Co Death Valley Dry Shampoo. It smells amazing and never leaves any white residue like some dry shampoos. Talk about pampering!
There are lots of ways to pamper a new mom, and there's always something you can gift her to help her feel loved and cared for. Make sure you take care of the new mamas around you, because it can feel so lonely and isolating to be stuck at home with a newborn, and that's completely the opposite of what new mamas need!