These eleven books to give new moms are such beautiful, wonderful stories that are sure to mean a lot to any new (or more experienced) parent! I dare you to get through this list of books without crying! If you're trying to find a book to give a pregnant mama at her baby shower, pick one of these!
This post contains affiliate links.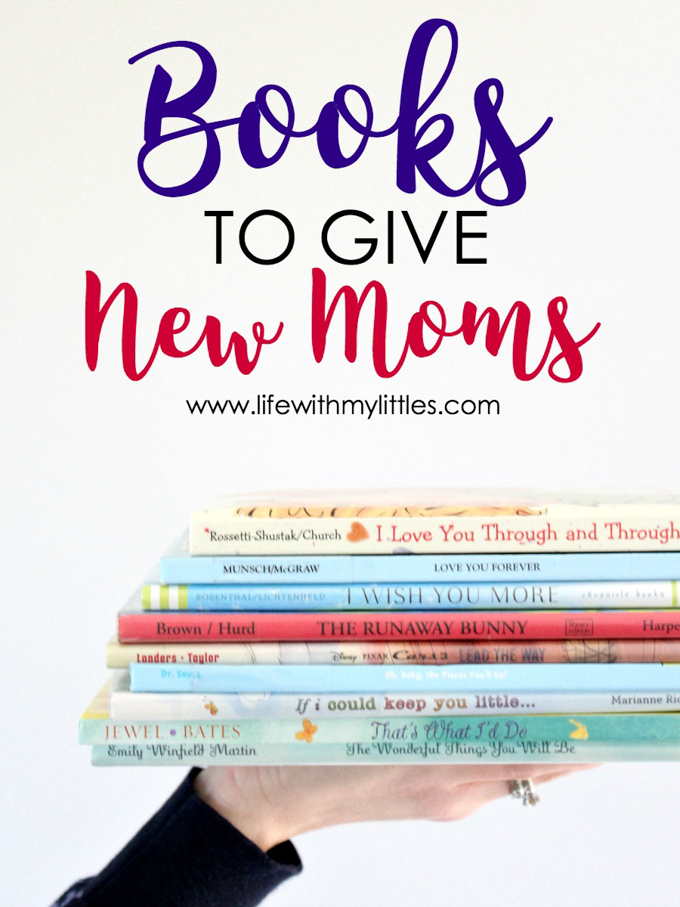 I've always loved reading, so naturally, I love reading to my kids. Over the last six years, we've collected quite the home library. We have a lot of classic books (like Chicka Chicka Boom Boom and Little Blue Truck) that are fun to read to kids, and we have a lot of educational books (about colors, numbers, animal sounds, and letters) that help teach kids important things about the world around them. But my favorite books to read to my kids are the ones that really mean something. I'm talking about books that make me tear up because of their heartfelt messages. The books that were written for parents to read to their kids to help show them how much they love them.
Today, I wanted to share a list of books to give new moms that are emotional, sentimental, meaningful, and universal. I dare you to get through these books without tearing up or having your voice break. I actually teared up several times while trying to write this post because of how incredible these books are (also, I'm a softie)! Any of these eleven books would be great books to give new moms:
That's What I'd Do
by Jewel. I got this at my very first baby shower when I was pregnant with my first baby. My sister's friend gave it to me, and when I read it to my son for the first time, I bawled. It's all about the great lengths we'd go to for our kids, and it's beautiful. There's a part at the end that says "You are a treasure, better than gold, and best of all, you're the kind I can hold." I get choked up every time.
Lead the Way
by Ace Landers. I was bawling in the bookstore when I picked up this book. It uses the storylines of Cars and Cars 3 to show how important it is to have someone guiding you and helping you learn how to navigate through life. My kids love that it has characters from the Cars movies, and I love the important lessons it teaches. I actually teared up in several parts of this book because for me, it was talking about how parents teach their children and then how those children go on to teach their own children. Gosh, I love it so much!
I Love You Through and Through
by Bernadette Rossetti-Shustak. I got this book from a good friend at my baby shower for my third baby. It's a simple book that would be great for babies and toddlers (because it's short and sweet!), but the message is so sweet! It says things like "I love your…" and then talks about all the different parts of babies that a parent loves. It's a good one if you don't want a total cry fest on your hands, but still want something heartfelt.
I Wish You More
by Amy Krouse Rosenthal. This one might be my favorite of all of these (the Cars one is a close second). It's so, so sweet, and next time someone I know is having a baby I am definitely getting this for them. As the name implies, it's about all the different wishes we have for our kids. It has simple sentences and each line has a deeper meaning. I just love it. As a new parent, it's everything you want for your baby.
The Wonderful Things You Will Be
by Emily Winfield Martin. We checked this out from the library because it has insane reviews on Amazon, and guys, it's incredible. I cried when I tried to read the first page, so that's a good indicator of how special this one is. It's about all the wonderful things our kids have the potential to become, and it really is such a great book to give a pregnant or new mama!
The Runaway Bunny
by Margaret Wise Brown. This one was written in 1942, and it's still so good! It's about a little bunny who wants to keep running away and turning into different things to get away from his mama bunny, and all the ways that she follows him. The pictures are beautiful, and if you're looking for one that's a classic, I recommend this one!
Guess How Much I Love You
by Sam McBratney. My mother-in-law gave this to my oldest son, and he still loves reading it. It's about a little bunny and his mommy, and the little bunny keeps telling his mom how much he loves her, and the mommy bunny keeps topping him. I like it because it shows that a parent's love is so deep and even stronger than kids can comprehend.
Love You Forever
by Robert Munsch. It was first written in 1986, so chances are it was read to you as a child, unless you're a grandparent looking at this for your grandchild, and in that case, maybe not! It's the story of a mother and a son and there's a song that she sings him during different stages of his life. At the end, the mom is super old and the son sings the song to her, and then he goes home and sings the song to his own child. I'm tearing up just writing this, guys. It's so sweet.
Let Me Hold You Longer
by Karen Kingsbury. Our library didn't have this one so I actually haven't read it, but I've heard GREAT things about it. It's about cherishing your child's firsts as well as their lasts. Parenthood goes by so fast, and this book is about enjoying every moment. Seriously, just reading the description made me tear up.
If I Could Keep You Little
by Marianne Richmond. Another one that I cried on the first page, this one has such a great message, and I love the illustrations. It's about how as parents, we want to keep our kids little, but if we did, we wouldn't get to see our children learn and grow and succeed. There were lots of pages in it that I could relate to at the stage of my life I'm in with my kids, so this one was especially good, in my opinion!
Oh, Baby, the Places You'll Go!
by Tish Rabe. My sister recommended this one to me and said she "bawled her eyes out." I'm not a fan of Dr. Seuss books, so I didn't like this one, but she's a fourth grade teacher so she loves them. It's a book that's meant to be read to your baby while you're pregnant, but it would work for after they're born, too. It basically talks about all the different things your baby might do, but with Dr. Seuss characters (like meeting the Once-ler, the Grinch, and Horton). Again, not my cup of tea (made-up words are dumb), but if you like Dr. Seuss, it's a good one.
If you've got a baby shower coming up or you're visiting a new mama friend, any of these books to give new moms are sure to make a great gift! Assuming of course you don't buy them and want to keep them for yourself (no judgement if you do because I have already added a few of these to my wish list!)! And if you need other ideas for baby shower gifts, check out this post!