How to temporarily dip-dye your hair with Kool-Aid. Get the perfect ombre or colorful streak for summer with this fast and temporary hair coloring trick!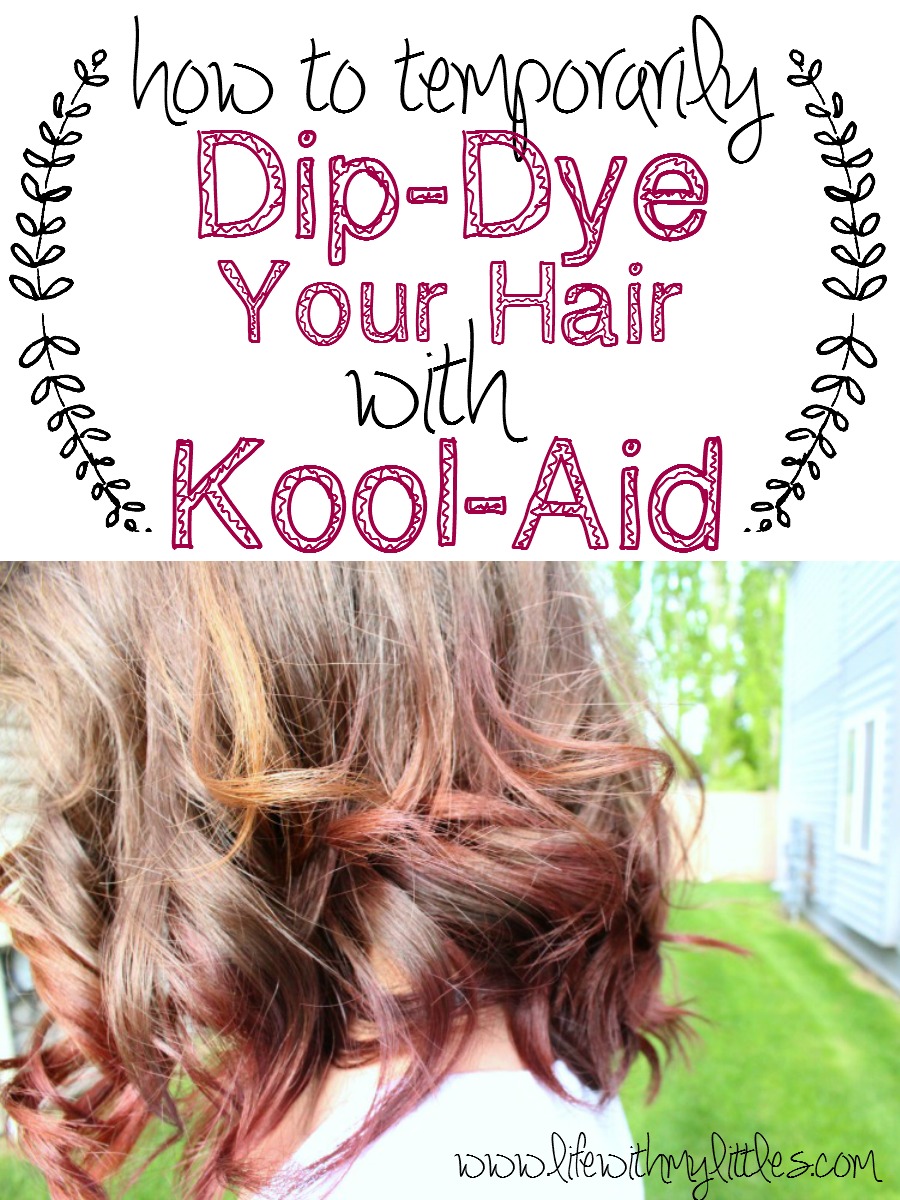 When I was in sixth grade, I had my first experience with dyeing my hair. It was temporary blue hair coloring, and ever since that day, I have loved changing my hair color. There were a few years in high school where I would change my hair every few weeks. I have had super short hair, I have had super long hair. My hair is naturally brown, but I have had red hair, blonde hair, dark, dark brown hair, purple hair, and unfortunately, my hair has been yellowish and greenish after a few failed dyeing attempts. Needless to say, experimenting with changing my hair is one of my favorite things to do.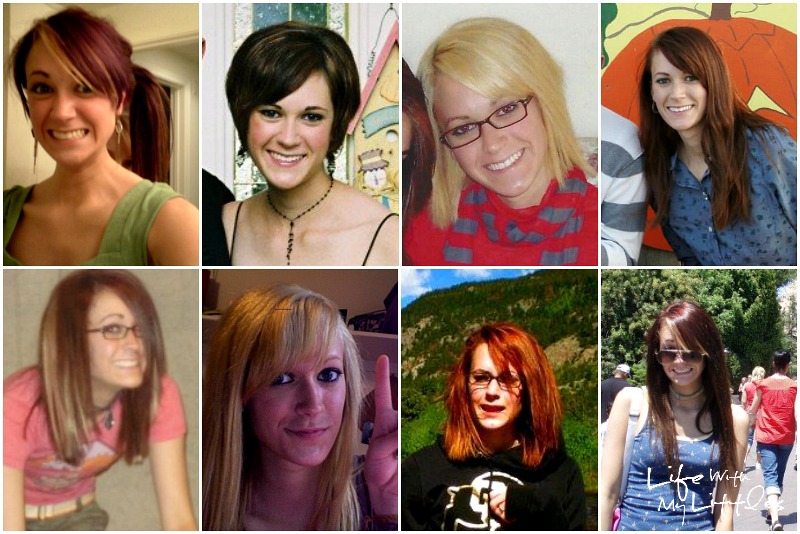 When the ombre trend first started, I knew that was what I wanted to do with my hair. But I was worried about it not turning out well and being stuck with weird hair. And it's pretty socially unacceptable for moms to have weird hair. So for the last few years, I have accepted the fact that my hair is now mom hair (albeit cute mom hair) and have stuck to coloring my hair normal colors. Until now.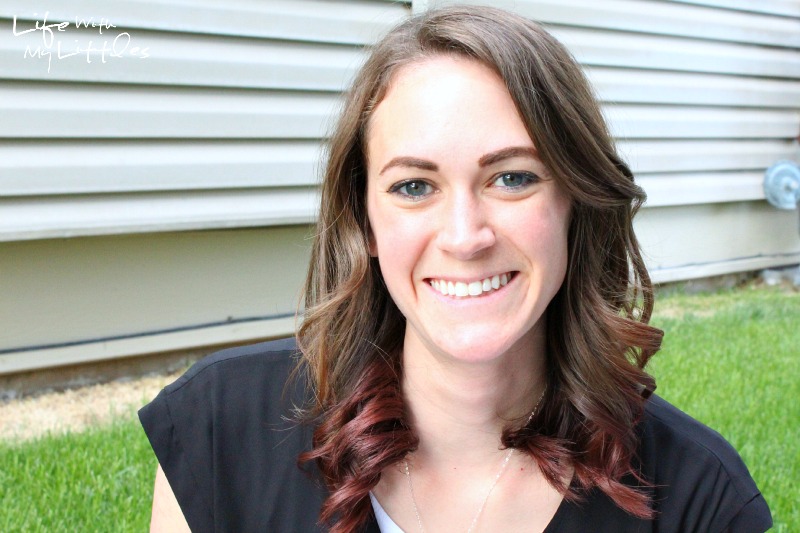 Last month I figured out how you can dip-dye your hair with Kool-Aid. I did it and it turned out amazing!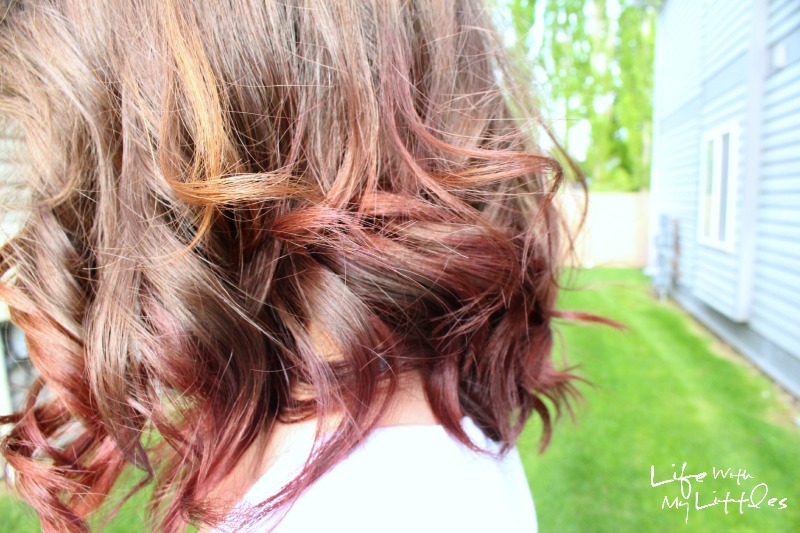 It was so easy, super inexpensive, and since it's temporary, it's the perfect way for moms (or kids during the summer) to express their creative side without completely committing to something crazy. I had my sister-in-law come help me (thanks, Kylee!) and I am so happy with the results. Plus, there are so many different flavors of Kool-Aid that you can really do whatever you want! I grabbed mine at Walmart for only 20 cents a package.
It's is so simple, and I am super excited to show you how to dip-dye your hair with Kool-Aid. It only takes 30 minutes, so you can easily do it any time of the day!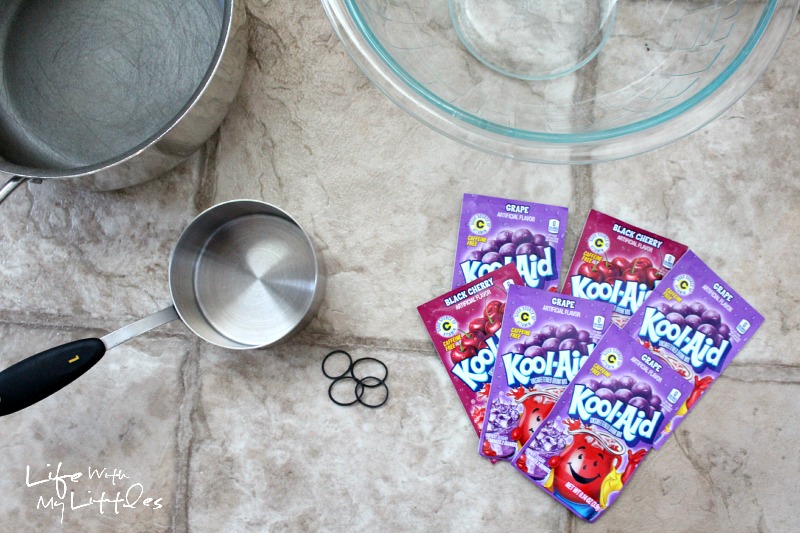 All you need are 2 cups of water, a pot, a heatproof bowl, four hair ties, and six packets of Kool-Aid mix in the color(s) you want to do. Here's what to do:
1. After brushing your hair out, split your hair into four equal parts.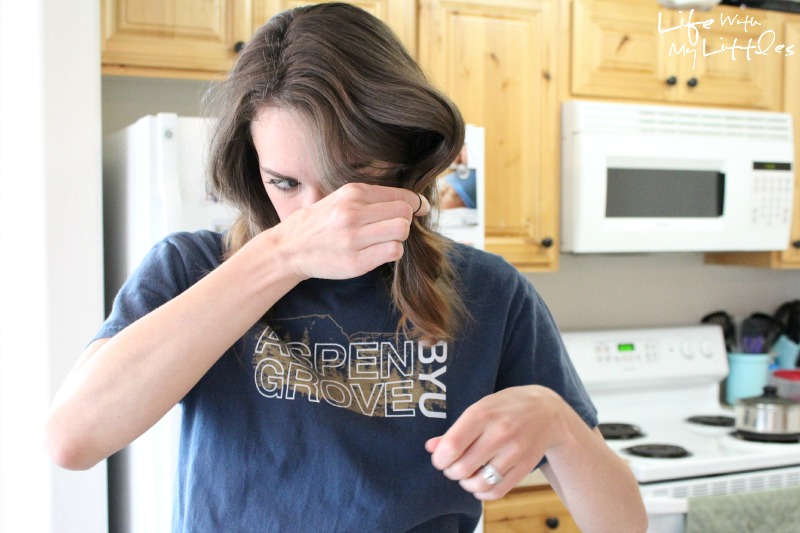 2. Secure each section of hair with a hair tie at the top of where you want the color to go.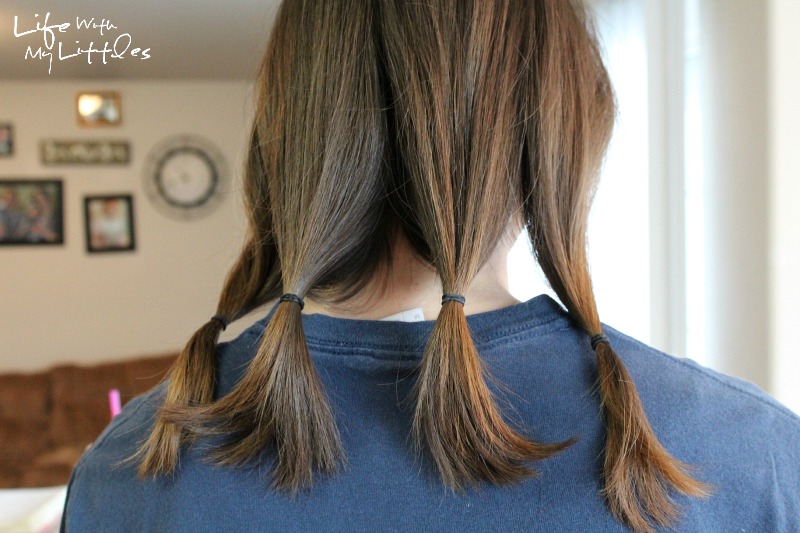 3. Boil 2 cups of water and add in 6 packets of sugar free Kool-Aid. I did four packs of grape and two packs of black cherry.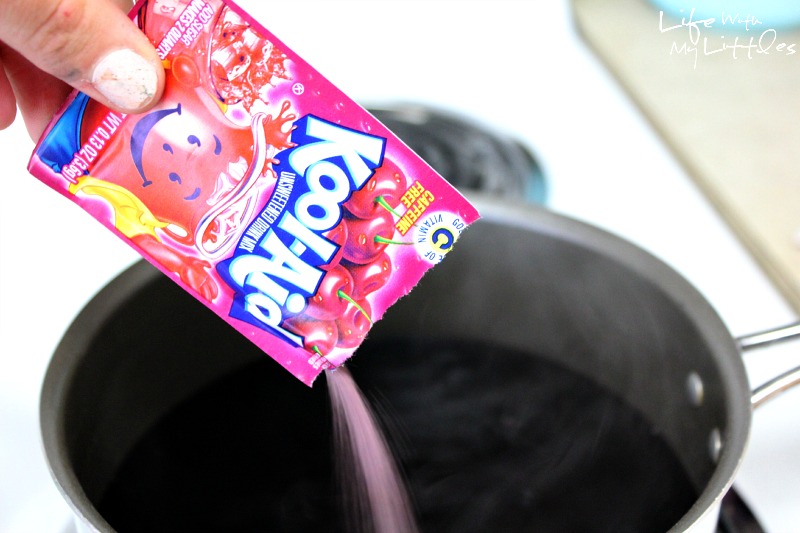 4. Pour into a heatproof bowl.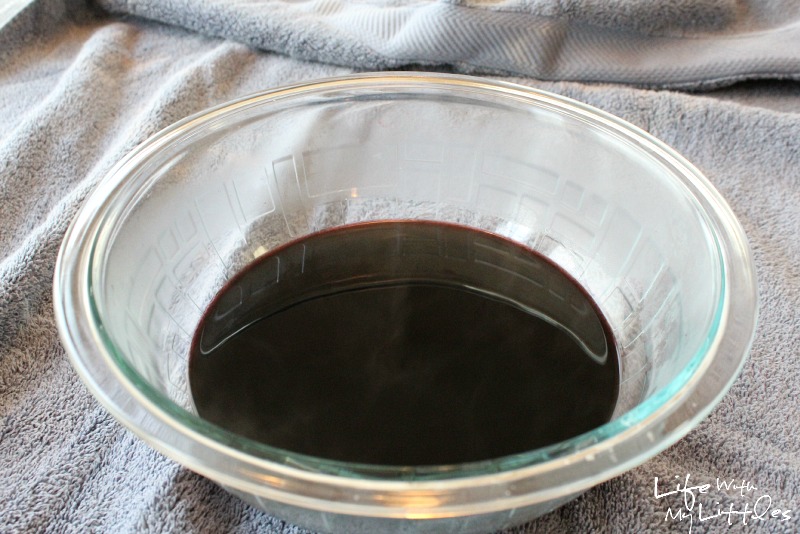 5. Sit with the ends of your hair in the bowl for 30 minutes.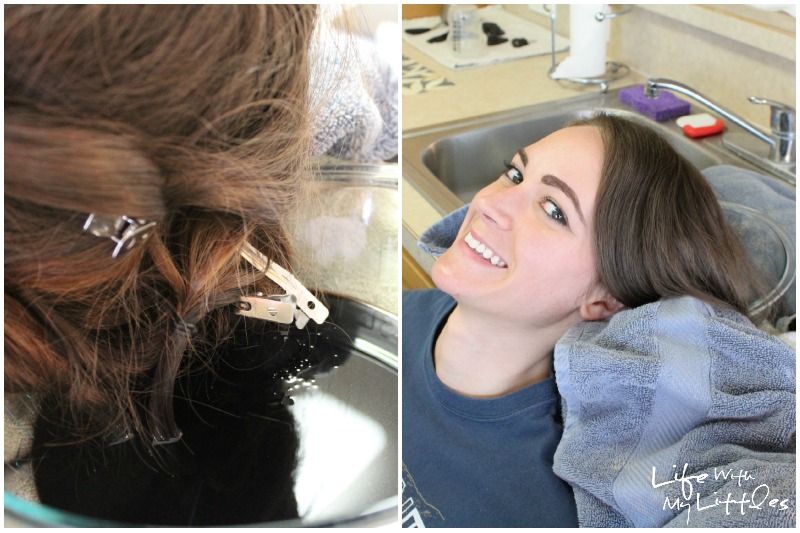 6. After 30 minutes, pat your hair with an old towel and then let air dry.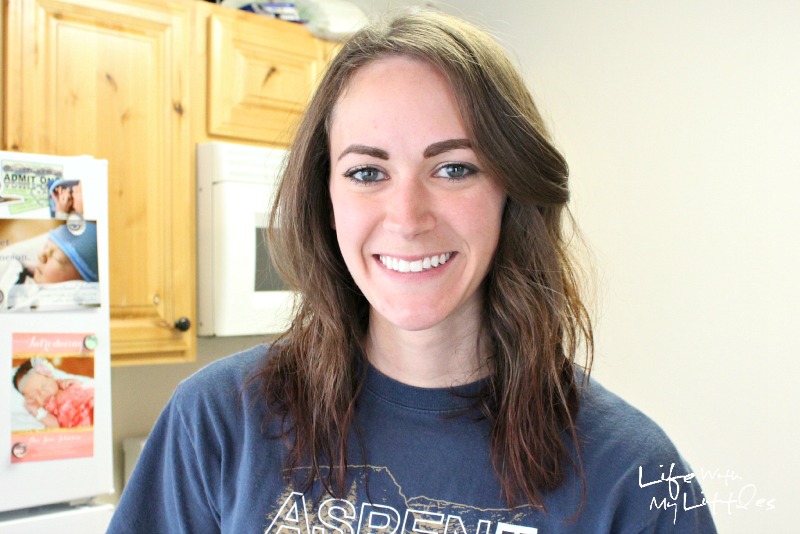 7. Rinse your hair (don't shampoo!).
8. Style your hair as usual.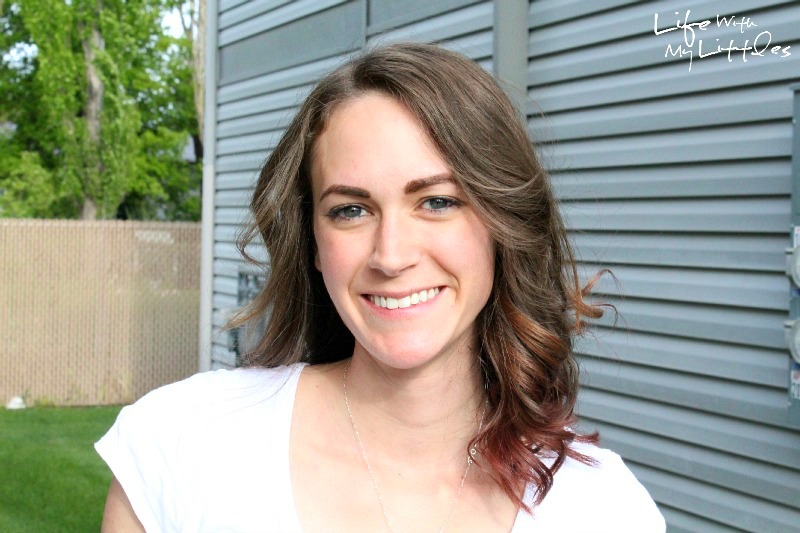 Here are some other helpful tips for Kool-Aid dip-dyeing success:
*Wait a day or two to wash your hair.
*Wear an old shirt and use old towels around the bowl (especially if you put the bowl on a table while your hair soaks).
*If your hair is lighter, the color will be more vibrant.
*If you hair is longer, you can probably sit with the bowl in front of you to dip your hair.
*If your hair is shorter (like me), you will need to lean back into the bowl. Make sure your neck is supported!
*Have someone else help you get the hairties even, especially in the back. You don't want to have uneven ombre!
*Works best on hair that hasn't been washed in a day, but that doesn't have product in it.
*Try dip-dyeing different strands of your hair for colorful streaks.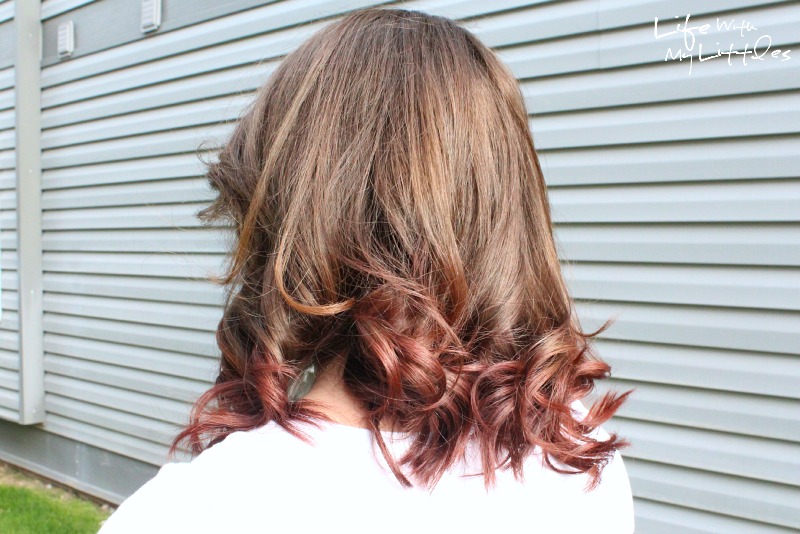 I love how my hair turned out. It's not super vibrant since my hair is darker, but it's subtlety makes it perfect for a mom of two! And I actually love it more than what my hair looked like before!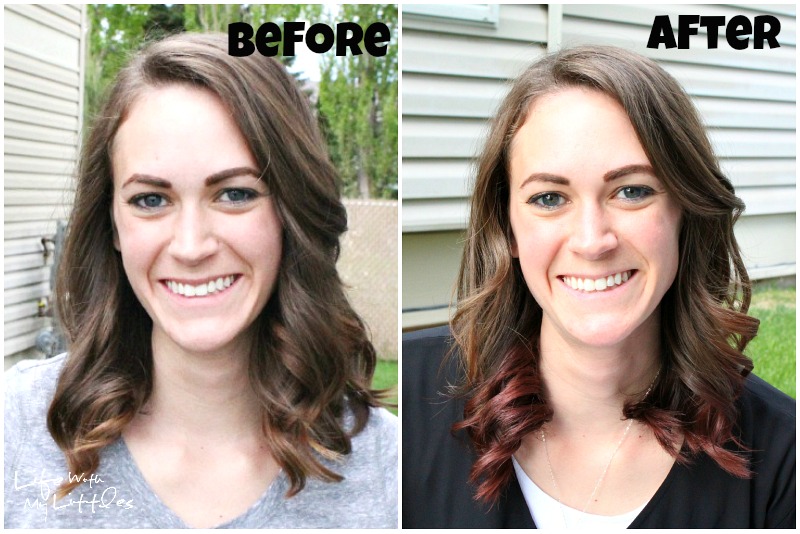 Dip-dyeing your hair with Kool-Aid is the perfect summer activity for moms and kids on summer vacation. It's a great way to experiment with different colors, try out something new, or even just change up your hair for a few weeks!