Tips for cooking with a toddler. How to cook with a toddler to make it fun, easy, and safe for both of you!
Recently my toddler has really taken an interest in what I do in the kitchen. Almost every time I cook or bake, Little J pulls up a chair and stands at the counter with me. I love letting him help, and it makes him happy to be able to help me, too. I want my kids to know how to cook on their own, and getting them started as early as possible is fine with me!
It can definitely be difficult when you are trying to cook with a toddler, but it can be really fun and rewarding, too! And you can help them develop an early love of cooking, which will definitely pay off for both of you! Here are some tips I have found to make it easier to cook with a toddler.
1. Wash your toddler's hands first. Guaranteed he is going to stick his cute little fingers in everything he can, especially once he figures out you are making something sweet! And since you never know where little toddler hands have been, make sure you wash his hands first.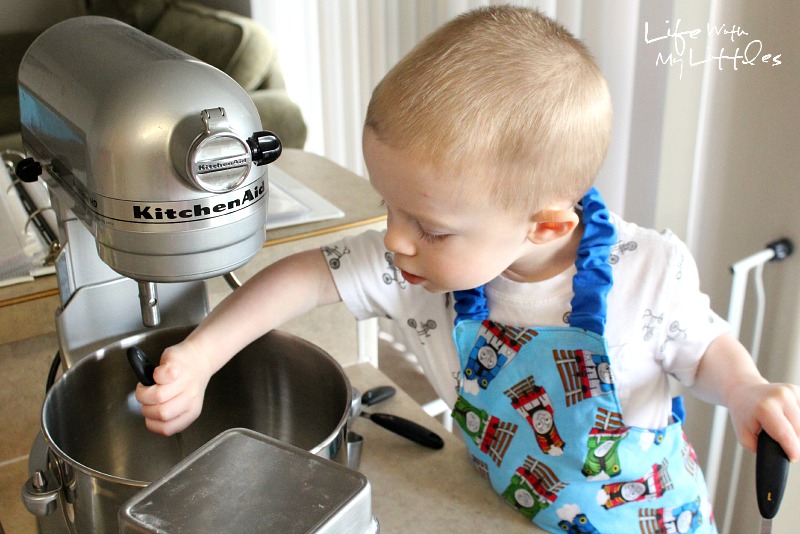 2. Wear an apron. You are going to make a mess, and if you are like me, you probably already have to change enough kids' clothes throughout the day. So protect his little clothes with an apron! I made a super easy little apron for my son just for cooking and baking with me (you can get the free pattern and tutorial here). I even let him pick out the fabric, which is pretty apparent by the fact that it's a Thomas and Friends apron! And wearing an apron gets him excited and lets him know it's time to cook! Plus, they look so darn cute!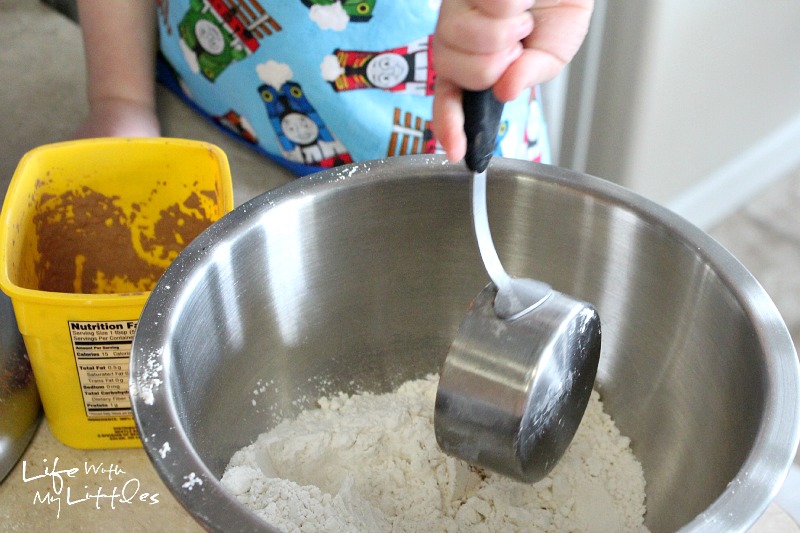 3. Pull a chair up or a step stool. Depending on how tall your toddler is, grab a chair or step stool for him to stand on next to the counter. It's not safe to let them sit on the counter (not like I have the counter space in our apartment anyway), and a chair or step stool will help him see what's going on and be able to help.
4. Show him first. If you are just started to cook with your toddler, you are definitely going to want to show him how to do things before you let him go at it. Show him to do something slow, or how to carefully scoop sugar. If you just let him at it, you are sure to make a mess and mess up your recipe!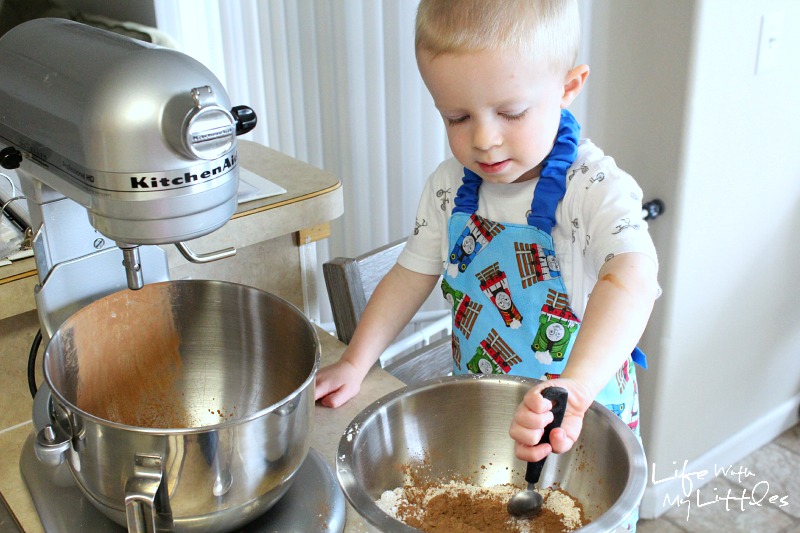 5. Explain what you are doing so they understand. Toddlers pick up on a lot more than you might think. So talk them through what you are doing. Tell them that you are going to add sugar so your recipe is sweet, or flour because it helps your recipe get thick and stick together. Tell him what things are so he can start learning the difference and one day, grab things for you!
6. Let him do simple things. Things like pushing a button to start the mixer or stirring the batter or even dumping out the measuring cup into the bowl are things toddlers will love to do and that are simple enough that they can do without both of you getting frustrated. When you are cooking with a toddler, you want to make sure you let him participate so he has fun and learns to like cooking. Nobody likes just standing there and watching while someone else does something! And if it's something more complicated, you can let him put his hand on your hand so he starts to understand what he needs to do when he's big enough that he can.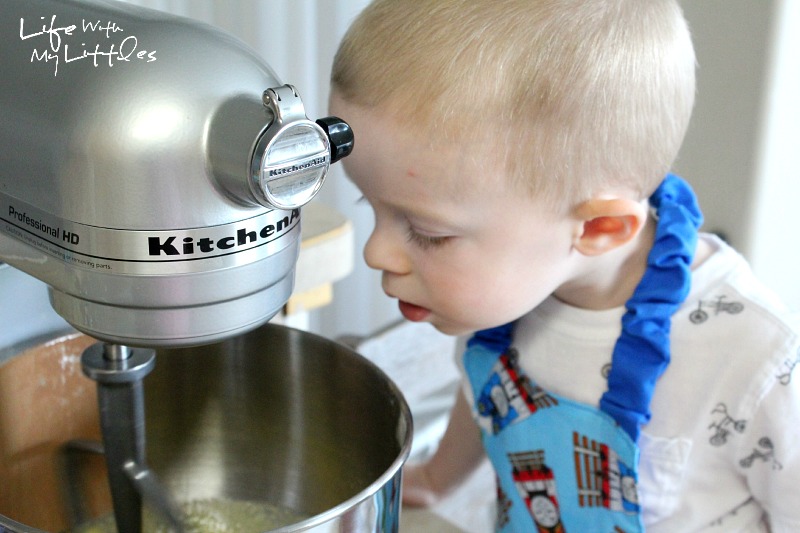 7. Don't let him near hot things. I feel like this is a duh, but just make sure that when you are opening the oven or cooking at the stove that your toddler cannot get right up there and burn himself. We have a gate at the entrance to our kitchen and I always make Little J stand behind it when I open the oven. And I don't let him help me cook on the stove yet since I can guarantee that he'd probably burn himself. So just be smart and don't let your toddler near something hot.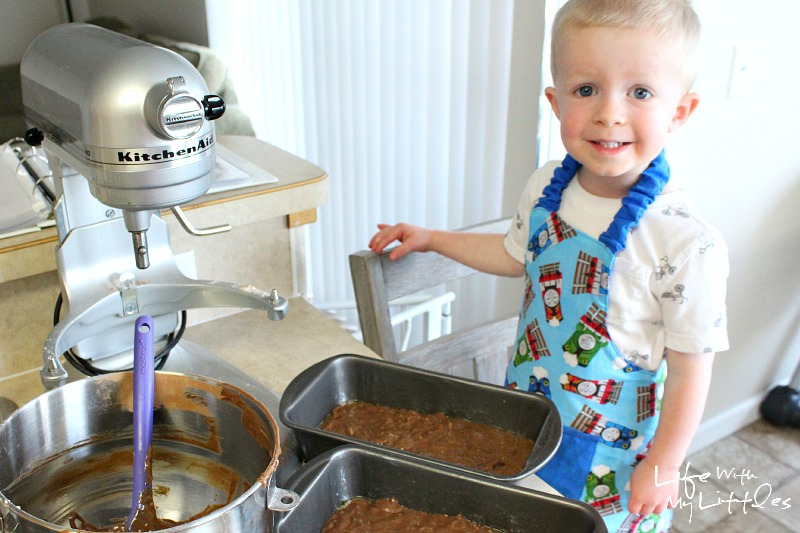 It has been so fun for me to get to help Little J learn to cook, and I think that the earlier your child learns how to help, the sooner he will be interested in learning how to make something for himself, and hopefully, you can help him develop a life-long love of cooking!