These are great tips on home to build a home library for your kids that they'll actually use! A must-read for parents of little ones!
This is a sponsored conversation written by me on behalf of Kellogg's. The opinions and text are all mine.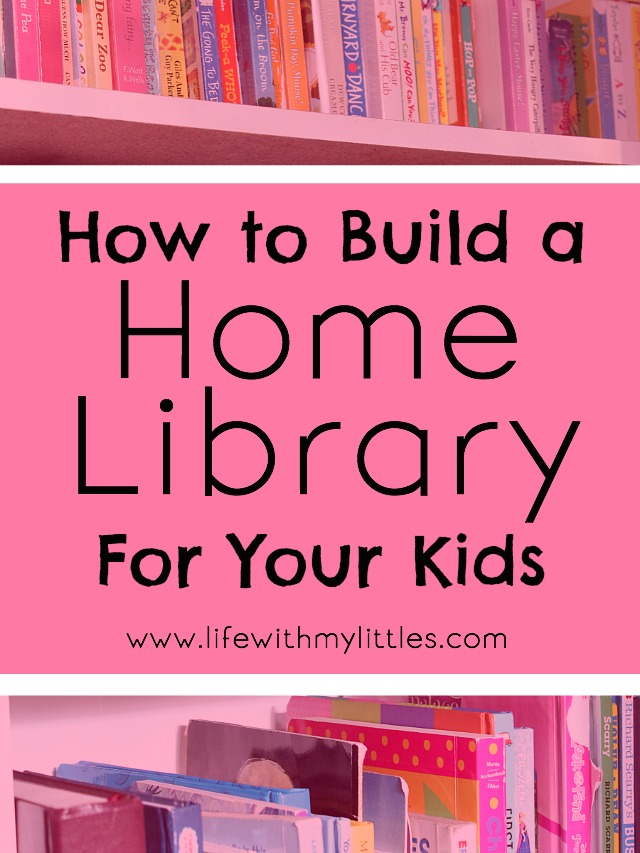 I have loved reading my entire life, so it's no surprise that I love reading with my kids. We have an entire bookcase packed with all kinds of different books for them, and I love when they grab books off of it on their own and bring them to me to read. Our oldest is now four, and it has taken over four years to build our home library to where it is now. I'm pretty proud of it, and it gets a lot of use!
It's super important to read with your kids, no matter their age. I read to my baby, my toddler, and my preschooler, and each of them get something different out of it. Since you can't read to your kids without books, today I want to talk about how to build a home library for your kids!
1. Start before they are born. When I had a baby shower for my first baby, in the invitation my mom included a little note asking for guests to bring books instead of cards. Guests wrote little notes inside of the book covers, and I was able to get a jump start on our home library with some of my friends' favorite childhood books!
2. Ask for books as gifts. With birthdays and holidays, kids get a lot of toys, and a lot of those toys they play with for a week or two and then don't ever touch again. One great thing to ask for instead is books! I love when my family give my kids books because I know that we can enjoy them for years, and even multiple children can enjoy them.
3. Collect a wide variety of books. In order to build a home library that your children will always be able to enjoy, try not to focus on getting only one kind of book. Collect books of different genres, lengths, types (board, picture, chapter), and reading levels. My oldest hasn't started to read yet, but we have a few beginning reader books in our library so that when he does, we have books he can start with and he'll be able to discover the right book at the right time!
4. Take advantage of the Fantastic Scholastic Book Giveaway Program. Kellogg's currently has an amazing promotion where you can purchase qualifying products at Walmart and get free Scholastic books! Time is running out to stock up your library with free Scholastic books, but you can still participate in the program for another month! One box equals one book, and it's super easy to redeem, especially if you're already used uploading receipts and sending them through other rewards programs like IBOTTA or EBates. There are only three steps! First, buy a participating Kellogg's product, second send a picture of the receipt via text (to 89332 with keyword BOOK) or email (to book@kfr.com), and then last, you get a free book credit to redeem for a free book of your choice at www.KFR.com/FreeScholasticBook! There are over 80 full-length Scholastic titles for beginning readers to teens, and you can collect up to 90 titles to build your home library. It's so easy to buy, send, and get a free Scholastic book, and it's such a simple way to build up your home library and get rewarded for things you're probably already buying! You have to purchase products by 9/30/17, send the receipt by 10/30/17, and redeem your credits by 11/30/17, so make sure you get to Walmart in the next month to participate in the program!
5. Collect books from the dollar store, thrift stores, and yard sales. Other great places to find books are at the dollar store, thrift stores, and yard sales. You can find books in great condition for low prices, and it's a great way to let your kids pick out several books at once! Encourage them to choose books that inspire them and that they'll want to read over and over again. The books my kids like to read the most are the ones they choose themselves, so going somewhere where you can let them pick out a few is awesome!
It's so important to make reading a happy habit at home, and to read aloud together, no matter how old your children are. Having a home library spurs a child to stay in school three years longer than a child without access to books. And don't forget to keep your library in a place where your kids can access it! It's not going to do any good if your kids can't get to their books! It's not hard to build a home library for your kids, especially with the help of the Fantastic Scholastic Book Giveaway Program. Make sure you head to Walmart in the next month and get your participating Kellogg's products!
This is a sponsored conversation written by me on behalf of Kellogg's. The opinions and text are all mine.