This breastfeeding survival kit is full of things to help make breastfeeding easier and more comfortable for new mamas! A great baby shower gift idea!
This post contains affiliate links.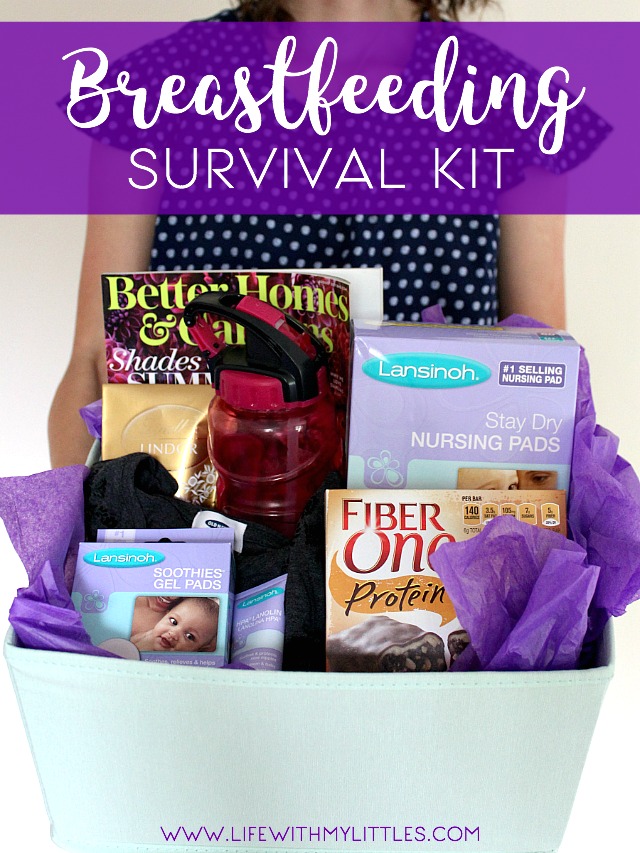 As a first-time mom, learning how to breastfeed is hard. It can be painful, uncomfortable, and feel awkward at first, even when you're doing it right. And you have to re-learn how to do it as a second-time and even third-time mom.
Now that I've successfully breastfed three babies (and am still nursing my third), I feel like I've got a pretty good handle on how to make it a little easier. Today I want to share a helpful breastfeeding survival kit! If you've got a baby shower coming up, this makes a wonderful gift for a new mama!
Here's what's inside:
1. Gel nursing pads. These things are amazing as a new breastfeeding mama. They're kind of like gel cold packs for your breasts, and they feel great on sore nipples. Lansinoh
makes some amazing ones, and Medela
makes some, too. Either way, these will be very appreciated by a mama just starting to breastfeed.
2. Lanolin. When you're just beginning to breastfeed, your nipples are going to get dry, red, and chapped. It is as bad as it sounds. Lanolin is a handy little cream that you rub on your nipple to help soothe and protect it. I've always used the Lansinoh
kind, but there are lots of different kinds (Bamboobies
makes a lanolin-free lubricant, too!).
3. Disposable nursing pads. Whether she is planning on using disposable or washable pads, having some of both on hand is a great idea, especially for a new mom whose supply is still adjusting. You don't want to be in public and start leaking! I've used Babies R Us pads in the past, but my current favorites are Lansinoh
ones. Medela
, Avent
, and Bamboobies
make them, too.
4. Chocolate. One of the best things I've ever gotten at my baby showers was chocolate. Being a new mom is hard work, and you deserve to reward yourself a little. So put some Lindor Truffles
or chocolate covered pretzels
in your breastfeeding survival kit so she can enjoy a little treat while she's nursing. And it is 100% okay to hide that chocolate from the rest of the family, too! No shame! (You could even bake her up some lactation cookies with chocolate in them!)
5. A high-protein snack. Yes, chocolate is great, but it doesn't provide a lot of nutrition (unfortunately). Toss in some high-protein granola bars like these
or if she's allergic to nuts (like me), try a box of these
. Either way, it can help give her an energy boost!
6. Water bottle. Drinking water when you're breastfeeding is mega important (says the girl who got kidney stones three weeks after her baby was born because she wasn't drinking enough). So get her a new water bottle to help remind her! I know I always drink more water when I carry some around with me! I have a Camelbak Eddy bottle
, but I also have my eye on one of these YETI ramblers
.
7. A comfy tee. I'm not a fan of nursing tops where you have some hidden pocket or opening somewhere. When I'm breastfeeding, I'm all about ease and comfort, so I love comfy tees I can just pull up. I love the graphic tees from MaLyn Logic because they are super soft and comfy, but I also really like Old Navy tees (I just got this one last week!).
8. A magazine. Having something to read is always nice when breastfeeding. You could try a celebrity gossip magazine like People, one all about babies (Pregnancy and Newborn Magazine is one of my favorites), or something more domestic like Good Housekeeping or Better Homes and Gardens. Just no health and fitness ones, okay? She doesn't need that right after having a baby!
This breastfeeding survival kit will for sure help make learning (or re-learning) how to breastfeed just a little bit easier. And if you need some more helpful breastfeeding tips, check out these posts: