This skinny chocolate zucchini bread is healthy, delicious, moist, and has 2 whole zucchinis! You could easily pass this recipe off as chocolate cake!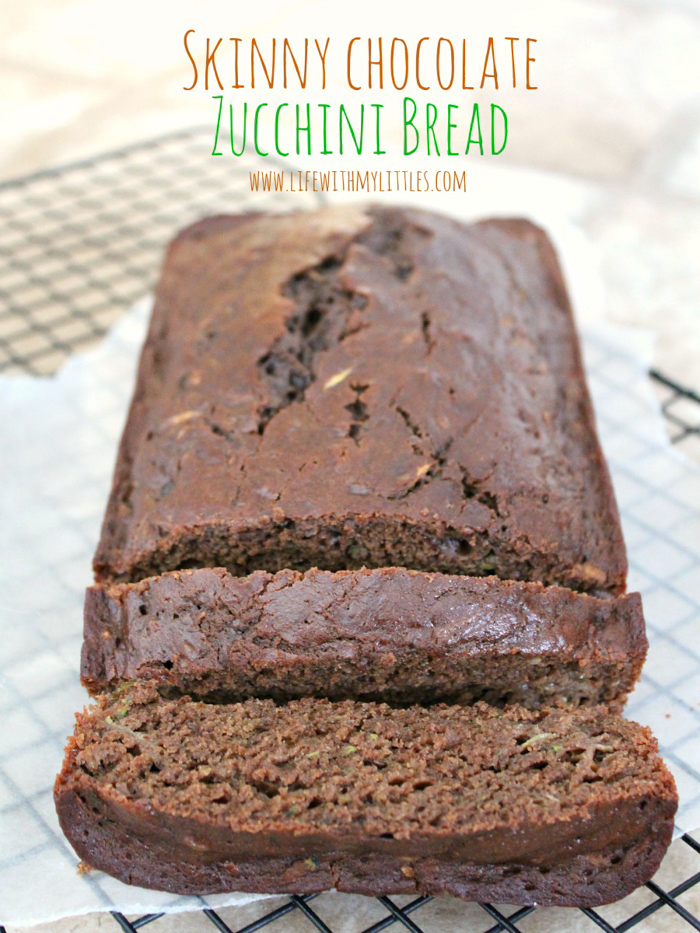 I love this time of the year because of all the vegetables that are in season. Sweet corn, peas, and lots and lots of zucchini. You really don't have to do much and your garden will be overflowing with zucchini. And if you don't have a garden, you can usually find a local farmer's market to take advantage of. Usually they are better and cheaper than going to the store for your produce.
Inspired by the delicious looking zucchinis I saw at the store, I decided to try a recipe for chocolate chocolate chip zucchini bread. It was really more of a chocolate chocolate chip zucchini brownie muffin, because it was chewy and rich like a brownie but had more of a muffin consistency. Unfortunately for me, we're trying to be healthier. Fortunately for you, this inspired me to try and healthify the recipe. After several trials and taste-tests, here is the delicious result–Skinny Chocolate Zucchini Bread!
So I had a lot of fun changing up this recipe. I'll be honest and tell you it was the first time I have ever modified a recipe. My kitchen got very messy and my friends got very full. But oh, was it worth it. I even got to use my real Mexican vanilla. This recipe is moist on the inside with a crunchy crust on top. The original recipe I made had 318 calories per slice, and this one has 172 calories per slice (assuming you make 2 loaves and cut each into 8 pieces). If you want to add the cocoa nibs they are a bit more, but I didn't particularly like them in the taste-tests, so they got left out of my final bread. Plus they are expensive and sort of difficult to find, but if you want that added crunch, then go for it.
My favorite thing about this recipe is that I used a MONSTER zucchini that I got at the farmer's market last weekend. And when I say monster, I mean MONSTER!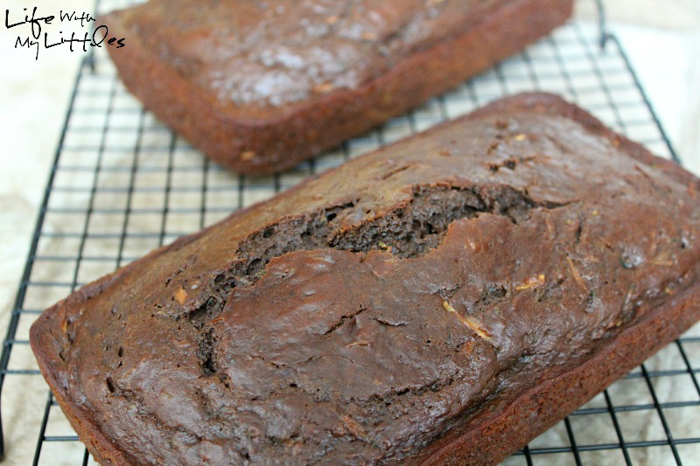 This recipe seriously tastes more like cake than bread. I think if you put chocolate frosting on it, it would be like cake. But that would negate the point of making this recipe skinny, so let's skip that for now!
Yield:

2 loaves
Skinny Chocolate Zucchini Bread
Total Time:
1 hour
5 minutes
This skinny chocolate zucchini bread is healthy, delicious, moist, and has 2 whole zucchinis! You could easily pass this recipe off as chocolate cake!
Ingredients
2½ cups all-purpose flour
½ cup cocoa
1 tsp. baking soda
½ tsp. baking powder
1 tsp. salt
¾ c. sugar
¼ c. & 2 Tbsp. Truvia Baking Blend
¾ c. Egg Beaters
½ c. canola oil
¼ c. & 2 Tbsp. plain Greek yogurt
2 tsp. vanilla
2 packed cups grated zucchini (usually about 2 regular sized zucchinis)
¼ c. cocoa nibs (optional, if you're into that)
Instructions
Preheat oven to 350 degrees. Spray either 2 regular size loaf pans, or 4 mini loaf pans, with nonstick spray.
Stir together flour, cocoa, baking soda, baking powder, and salt.
In separate bowl, beat the sugar, Truvia, canola oil, and Egg Beaters until light and fluffy.
Add the Greek yogurt and vanilla. Add to the dry ingredients, along with the zucchini and cocoa nibs (optional). Stir until just combined, and pour into loaf pans.
Bake for 40-45 minutes (for the four small pans) or 50-55 minutes (for the big pans). You want the tops to be cracked and when you stick a knife into the middle, it should come out clean.
Enjoy your delicious low-calorie chocolate treat!!