These raspberry cheesecake brownies are so easy, and so divine. Thick chocolate chunk brownies topped with homemade cheesecake and fresh raspberries! Everyone will be begging you for the recipe!
This shop has been compensated by Collective Bias, Inc. and its advertiser. All opinions are mine alone.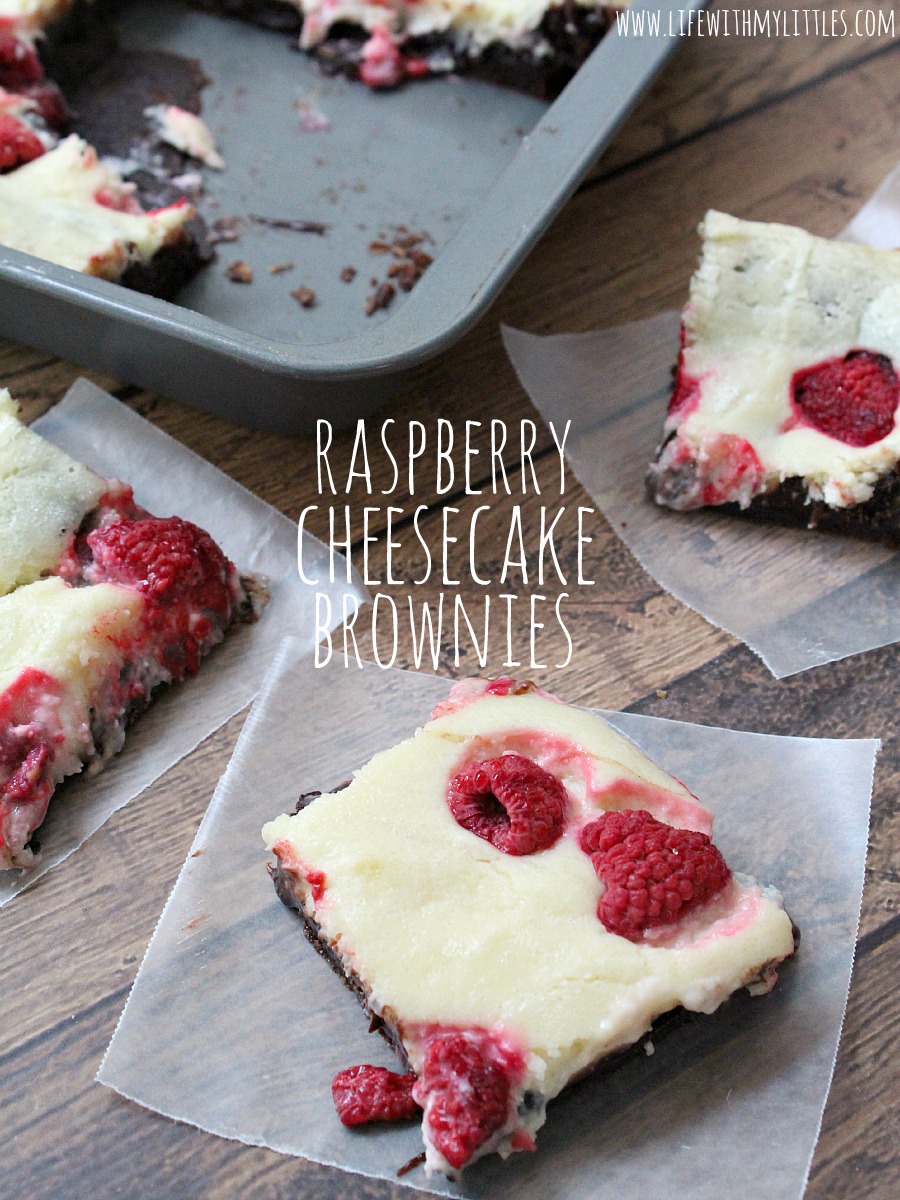 In college, I wanted to start a bakery called El Dorado Cookies. I started coming up with recipes, and one of my favorites was a delicious raspberry cheesecake brownie. A thick brownie layer topped with cheesecake and fresh raspberries. Does it get much better?
Now I'm not planning on starting a bakery any time soon, but I still love baking delicious treats for my family and neighbors. And I like knowing what goes into my treats. Sometimes boxed cake mixes with all their artificial ingredients aren't my favorite. And sometimes they don't taste homemade.
I decided to grab a box of brownie mix and try them with my raspberry cheesecake brownies! Guys, it was incredible.
The rich chocolatey brownies blended perfectly with the creamy cheesecake and tart raspberries. And because I didn't have to do it all from scratch, I was able to save time in the kitchen but still get that from-scratch taste. Isn't that what busy moms dream about? Plus, if you've ever made brownies from scratch you'll know it takes a lot of work! So hooray for skipping that step!
To make these little bites of heaven, first prepare two packages of brownie mix according to package directions. Then spread into the bottom of a greased and floured 13×9″ pan.
Then beat your cream cheese and sugar. When it's combined, add in your lemon juice, egg, and vanilla. Beat in the flour and spread evenly over the brownie layer.
Top with raspberries and sprinkle with sugar.
Bake at 350 degrees for35-40 minutes. Let them cool in the pan and then chill in the fridge for 4 hours.
Raspberry Cheesecake Brownies
Ingredients
2 boxes Pillsbury Purely Simple Chocolate Chunk Brownie Mix
⅔ c. oil
⅓ c. water
2 eggs
8 oz. package of cream cheese, softened
⅔ c. sugar
2 tsp. lemon juice
1 egg
½ tsp. vanilla
2 Tbsp. flour
1½ c. fresh raspberries, washed and dried
1 Tbsp. sugar
Instructions
Preheat oven to 350 degrees. Grease and flour a 9x13" baking pan.
Prepare brownie mix according to package directions, mixing two boxes of brownie mix with ⅔ c. oil, ⅓ c. water, and 2 eggs. Spread in bottom of pan and set aside.
Beat the cream cheese and sugar until combined.
Beat in lemon juice, egg, and vanilla, until combined.
Beat in flour.
Spread evenly over brownie layer in the pan.
Top with raspberries and sprinkle with sugar.
Bake for 35-40 minutes, or until top is puffed and golden and the edges start to brown.
Cool in pan and chill, covered, for 4 hours.
Serve.
These brownies definitely need to be at the top of your "to-bake" list. I promise you won't regret it.