These moist, sweet, raspberry muffins have the most perfect, crunchy streusel topping. Bake some up for the one you love or just eat them all yourself!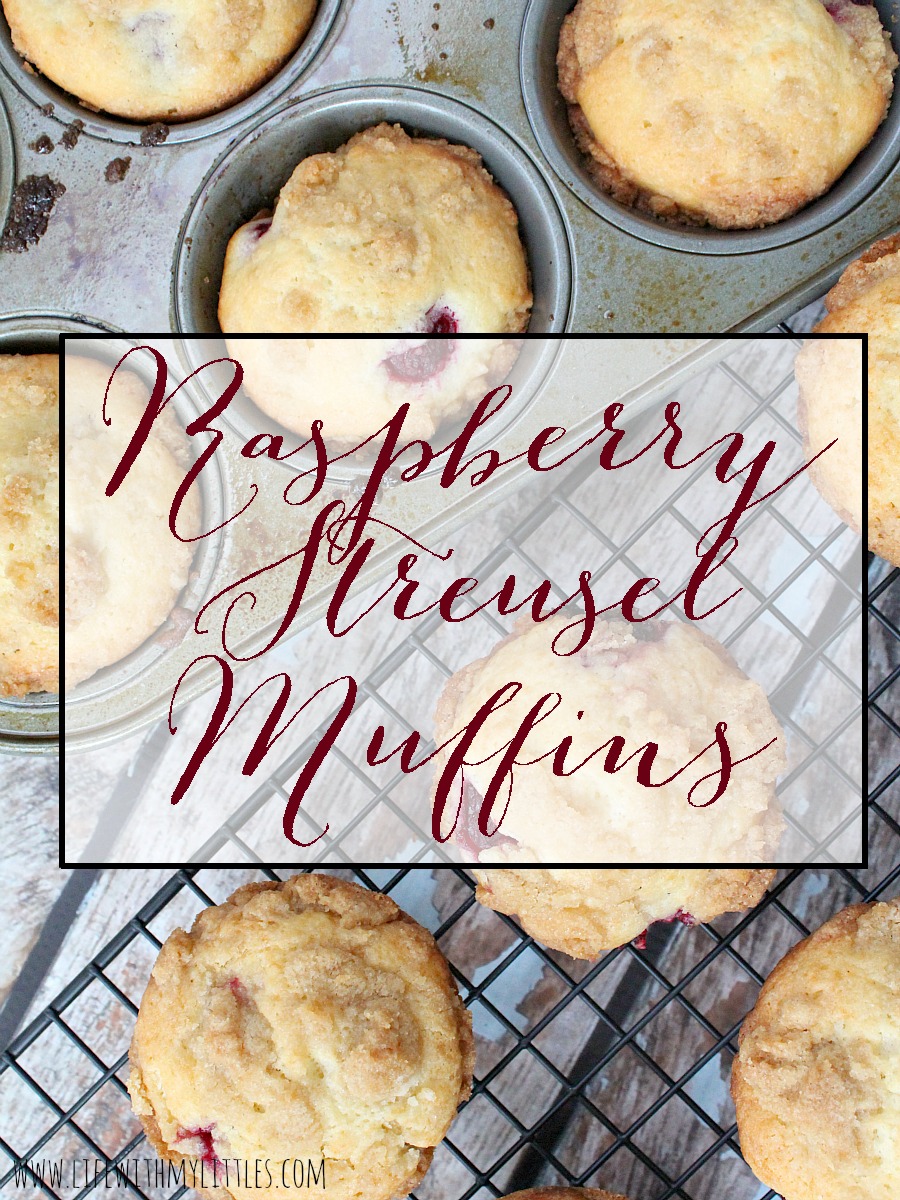 I have always loved sweets, but it wasn't until my senior year of high school that I really got into baking. My best friend and I actually filmed a cooking show in my kitchen once because we loved baking so much (no, you cannot see it, it was awful).
When I was in college I took an introductory cooking class, and that's where I first tasted this recipe. Unfortunately, when our group made these delicious muffins, we also had to share them with the whole class. In other words, I only got half of a muffin and was left completely unsatisfied.
Luckily the recipe was super simple and I already had all the ingredients at home, so I was able to go make some just for me after class was over. Needless to say, this recipe was one of the few that made it into my recipe book after the class was over. And also one of the only recipes I replicated as soon as class was over. It's that good.
I thought they would be perfect to share with you since Valentine's Day is right around the corner! Raspberries are red/pink so that works, right? If not, just make them anyway and after tasting them, you'll agree they're perfect for Valentine's Day (and every other day of the year because they are that good).
After eating about three (I'm not going to definitively state how many I immediately ate) I thought about channeling Red Riding Hood and packing them up in a basket to share. Instead, I ate another one. Don't judge. Eventually I did go take some to friends, but I for sure saved some for me. So just go bake some of your own. They take less than an hour and you'll be stuffing your face with raspberry muffins, too.

Streusel Raspberry Muffins
Recipe type:
Breakfast/Dessert
Ingredients
Muffins
1 cup milk
3 cups flour
1 cup sugar
4 tsp. baking powder
1 cup butter, melted
2 eggs, beaten
2 cups frozen raspberries
Streusel Topping
½ cup flour
½ cup brown sugar
¼ cup melted butter
Instructions
Spray muffin tin with nonstick spray, or put muffin liners in.
Combine streusel flour and brown sugar. Add melted butter and stir until it resembles crumbs.
Combine dry muffin ingredients in a large bowl.
Combine milk, butter, and eggs in a small bowl.
Pour wet ingredients into flour mixture and stir just enough to combine.
Fill 12 muffin cups ⅓ full with batter.
Put 4 raspberries in each cup and spoon the rest of the batter over the raspberries so they are ⅔ full.
Sprinkle ½ streusel onto batter.
Bake at 375 for 25 to 30 minutes.
Happy Valentine's Day!