How to Fly With a Baby: Tips to make everyone's trip more enjoyable and stress-free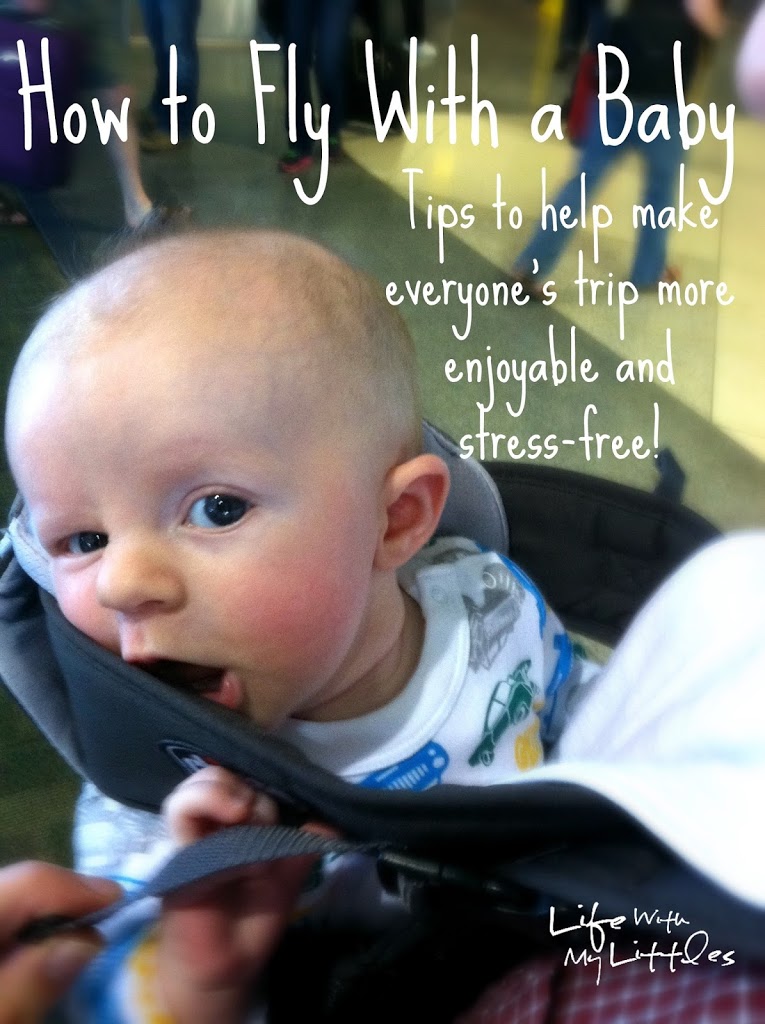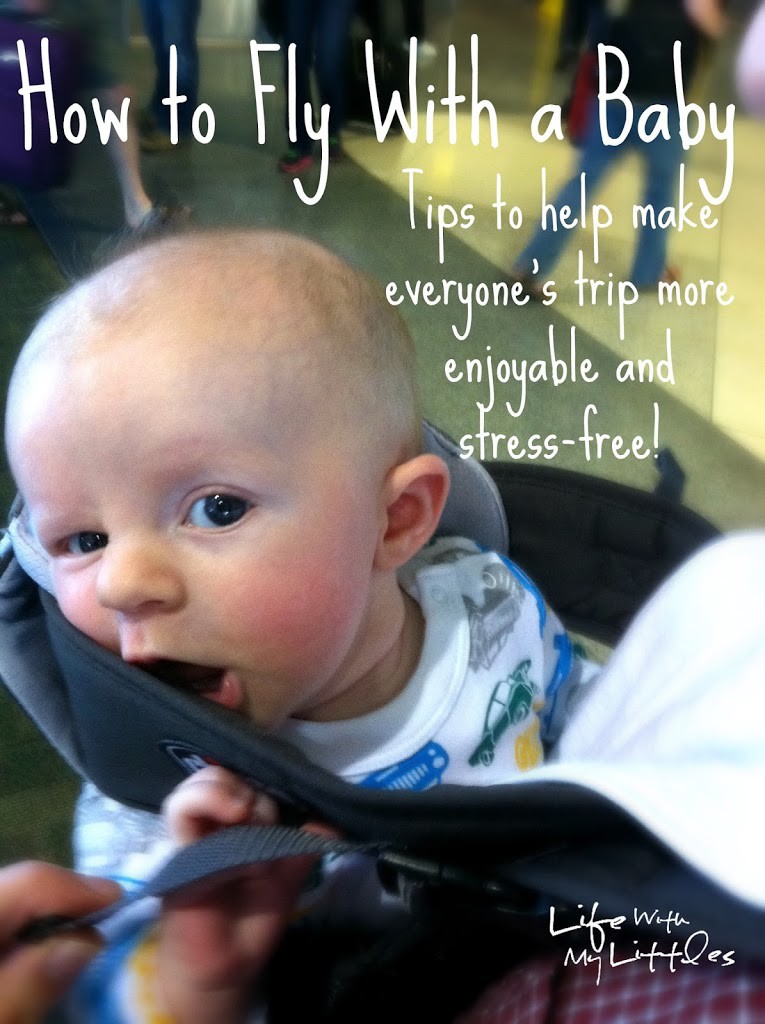 Let me just start off by saying that Little J flew on 8 different planes before he was even 5-months-old. He only cried once, and it was for about five minutes. So yes, I think I am pretty much an expert on how to fly with a baby (and my baby is fantastic).
Before we flew, however, I was terrified. Little J was almost 3-months-old, but had never traveled. I was so worried that he would hate it and everyone around us would hate us and it would just be miserable. But I talked to several moms who had already flown with their babies (and one who had flown with a baby and a dog without her husband), and I got a lot of good advice. So now I will share my good advice and tips with you so that when you fly with your little one, it will be more enjoyable and stress-free.
1. Stock the diaper bag. Babies need a lot of stuff. And it is important to have a lot of options ready in case your baby gets fussy. You also want to be prepared for (pretty much) everything so you don't have a disaster 35,000 feet in the air. Make sure you have extra outfits in case of blowouts, toys or books for your baby to look at and play with, a blanket in case your plane is cold or your air vent is permanently stuck on full blast and pointing right at you, and extra diapers and wipes, because you just never know what might happen. If your baby is bigger, make sure you bring some snacks for him, too.
2. Sanitize. Have you ever noticed that in movies where there is a killer disease that takes out everyone alive, it always starts at an airport? Airports are germy. Planes are germy. Have a supply of sanitizing wipes and hand sanitizer ready to go. Am I a germaphobe? Yes. But you will be too when you are at the airport and you don't know who is sick or who sat in the seat before you, or who touched what door handle. You don't want to risk getting sick or even worse, your baby getting sick, especially while on vacation. Wipe down things your baby will touch, and wash your hands when you can. Trust me.
3. PACIFIER. This is one of the most important things when it comes to a happy baby on takeoff and landing. You know how people chew gum on planes so their ears don't pop? Well babies can suck on a pacifier and it will help with the pressure change so their ears don't pop. We gave Little J a pacifier for every takeoff and landing, and we never had a problem. Really, the only time he cried on all eight planes he's been on was when it was past his bedtime and he was really tired. And we were able to give him his pacifier once he calmed down and he was okay again. The pacifier is key. Your seat-mates will definitely thank you on this one.
4. Have a bottle ready. Depending on the length of your plane ride, you will want to have a bottle ready, or if you prefer, have a nursing cover. Personally, I wanted to give Little J a bottle because with the armrests down, you really don't have much room and if you've noticed, you need your elbows out when you are trying to nurse your baby. We got lucky and only had to use the bottle once because of timing, but it was really nice to have a bottle ready so that when he got hungry on the plane, we were able to feed him quickly and not worry about him screaming. And the flight attendants were very helpful about getting warm water to make the bottle, too. We took advantage of the family boarding and when we got on, I let the flight attendants know that I might need access to the hot water while on board. They were all very nice about it, and when we did need it, they helped us out.
5. Have a back-up plan. First of all, we do not let Little J watch TV. I think he's probably watched a television screen for less than 30 minutes his whole life, and he's almost 6-months-old. But for those times that we are in the car and nothing is working and we can't stop and get him out (aka roadtrips), we have found that putting a video or movie on the iPad is a great back-up plan. He has seen a few clips of Winnie the Pooh, The Hobbit, The Hunger Games, and of course, Harry Potter. You don't have to have your back-up plan be movies on an iPad, but for us, when he would not sit still on the plane and didn't want to play with any of his books or toys, a quick clip of a movie worked wonders. And I didn't really feel bad about it because it was a one-time thing!
6. Sell your baby. I obviously don't mean sell your baby for money, but as you are waiting to get on the plane or as you are getting on the plane and passing people who have already boarded, turn your baby around and let him smile at people. Make him cute and show him off. People will be more inclined to sit through a baby's cries if they think he is cute. And while this tip isn't really something that will help your baby travel better, it will certainly help the passengers on your plane feel a little better (unless they are weird and don't love babies, but you don't want to please those people anyway).
7. Bring a big blanket. This is especially important if you have a layover, but it can be helpful before you board your plane, too. A big blanket is perfect for your baby to lay on, roll around on, or even sit on while you are waiting. You are going to have to hold your baby the entire flight, so let him have some space and be free while you can. We have had layovers every time we've flown, and letting Little J have his own space and be able to move has helped him stay happy on the planes when he can't have that space. Also, if you do have a layover, find a space away from other people (if you can) so that you can stretch out more. You need some space, too! And look to see if the airport you are at has a secret second floor. We like layovers in Denver because the concourses have a small place upstairs where people don't usually go. Also, my dad was the architect who designed those concourses, so way to go, Dad. Little J thanks you for giving him some space.
8. Bring a chest carrier. Some babies don't like these, but if your baby does, a chest carrier is really nice because then you don't have to worry about holding onto your baby and trying to remember to hold and manage all of your carry-ons at the same time.This also lets your baby not have to be in the car seat while you walk around the airport. Little J likes being in his carrier because he can a)chew on the sides and b)look around at all the people. It might take up precious space in your carry-on luggage, but trust me, it is worth it.
9. Help yourself when your baby sleeps. If your baby is going to be an angel and fall asleep on the plane (Little J has slept for take-off and landing almost every time), then you will need to remember to put the arm rests down, and to put something soft underneath your arm while your baby sleeps in your arms. Why? Your arm will fall asleep, too, and you will be in pain. This tip comes mostly from personal experience, and there's a big difference between holding your baby without an armrest or cushion and holding your baby using an armrest and a cushion. But really, it's up to you.
10. Relax! Remember, you are never going to see these people again, so if your baby does happen to cry for your entire flight, it's okay! I'm sure a lot of people on your plane either have had kids or have kids, and they totally understand that sometimes there just isn't anything you can do. Babies aren't really built for flying, so if you've tried everything you can think of and your baby is still crying, it's okay. Just apologize to the people around you and don't worry about it. Everything will be fine once you get off the plane and get to where you are going. It's not the end of the world if your baby doesn't fly well. Maybe they will be better when they are a few months older. It really just depends on the baby.
Those are just a few tips that have helped the Mister and I as we've flown with our Little J. I hope they help you and I hope your baby flies well. If you have any other tips, please leave a comment below and share!