35+ advent calendar activities ideas for the whole family! Especially great for families with toddlers or young kids. Enough fun to last you all December!
This post contains affiliate links.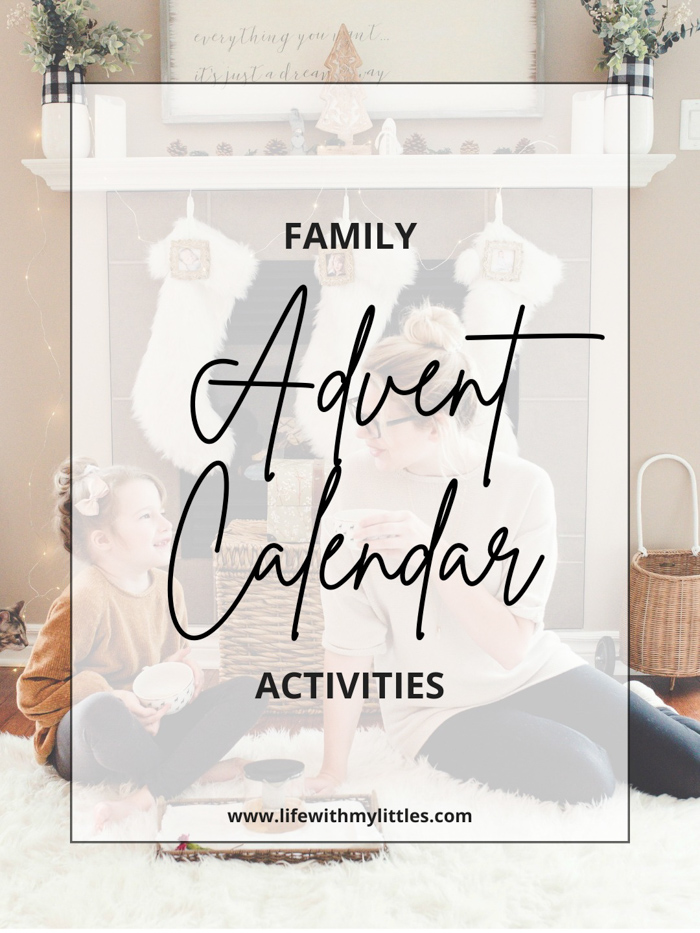 If you love getting into the Christmas spirit, an advent calendar is the perfect tradition for you. Last year we started doing an advent calendar to count down Christmas, and I think I enjoyed it more than my toddler did! This year, we have two toddlers, so I am even more excited to do some fun Christmas-related activities together.
I wanted to be a little more thoughtful and come up with some good activities for our advent calendar that I made last year. I like having an actual calendar to put our activities in as opposed to just picking from a jar, because then you can schedule things for specific nights (like if there's a Christmas special on TV or doing a special Christmas Eve tradition on Christmas Eve).
Anyway, I made a list of 38 activities, so you can decide which ones work best for you. Some of them are general and can be done more than once (like watch a Christmas movie, there are so many!), but most are pretty specific.
I do recommend keeping a master list of your activities before you put them all in your calendar so that you know what is coming up and can plan accordingly. Anyway, here are my ideas!
Advent Calendar Activities for the Whole Family
1. Make and decorate gingerbread houses
2. On Christmas Eve, open up presents with new Christmas PJs and read "The Night Before Christmas
"
3. Drive around at night and look at Christmas lights in the neighborhood.
4. Watch a Christmas movie (like Elf
, The Santa Clause
, Home Alone
, How The Grinch Stole Christmas
, or The Polar Express
)
5. Read a Christmas book (there are a million!)
6. Drink hot chocolate with homemade marshmallows
7. Make and deliver cookies to people
8. Deliver a giving jar
9. Visit Santa
10. Act out the nativity
11. Read the Christmas story in the scriptures (Luke 1:1-20)
12. Take a Christmas train ride
13. Take a carriage ride
14. Write a letter to or draw a picture for Santa (or Jesus)
15. Make birdseed ornaments (just put peanut butter and birdseed on pinecones and hang them outside!)
16. Go caroling
17. Put up the tree (best for the first day of your advent calendar)
18. Make paper snowflakes
19. Go ice skating
20. Go sledding
21. Donate toys or clothes to a shelter
22. Make or buy an ornament
23. Make Christmas candy and deliver it to your neighbors (we love these caramels)
24. Build a snowman
25. Have snowman pancakes for dinner
26. Color Christmas pictures
27. Make a paper chain (maybe to count down the days until Christmas)
28. Make marshmallow snowmen
29. Learn a new Christmas song (perfect for little kids!)
30. Go to a Christmas party
31. Make cards for grandparents
32. Make orange and clove pomanders
33. Make a snowglobe
34. Make reindeer handprints
35. Make Christmas suncatchers
36. Make snow ice cream
37. Make paper plate Christmas trees
38. Watch a Christmas special on TV
Now there are tons more fun things you can do with your family to get into the Christmas season, but hopefully you like enough of these to fill up your advent calendar! And if you want to put in some special treats for a few days, go for it! My son loved white chocolate peppermint truffles last year!
Merry Christmas!