How to hide a baby bump: tips on what to wear to hide your baby bump when you're still trying to keep it a secret! So helpful!
This post is sponsored by PinkBlush.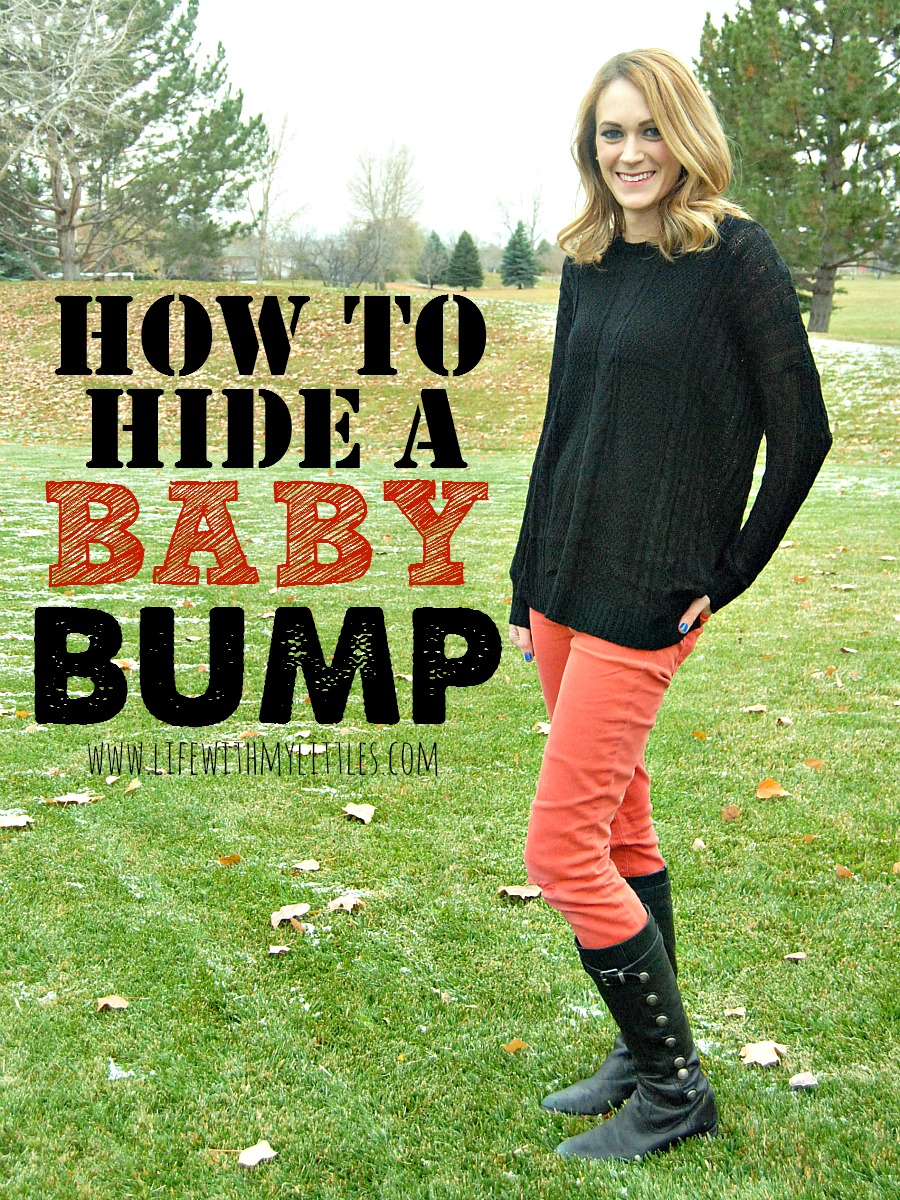 If you are one of those people who don't like to share their pregnancy until after the first trimester, you are probably going to encounter the problem of trying to hide a baby bump. It might be small, or it might be a little more bumpin', but either way, hiding it is going to be key to keeping your special news a secret.
Now before I go any further, let me clarify that I AM NOT PREGNANT. You're going to have to wait a while before we go down that road again.
But since I have hid a baby bump with both of my pregnancies until we decided to share, I do know what I'm talking about. Whether it's a little bit of bloating, or a legit baby bump, you're going to want to dress so you can hide it. And since you probably won't be wanting (or needing) to buy maternity clothes yet, I have some tips on how to keep that sweet little bump from giving you away with clothes from the adorable women's online boutique, PinkBlush (PLUS A GIVEAWAY!!).
1. Loose tops. Obviously if you're bumpin' out, you're not going to want to wear tight shirts. Luckily loose-fitting tops are in style right now, so people probably won't question your wardrobe choices. I love this cable knit oversized sweater because it has a lot of room at the bottom, and bonus, it's super comfy, too.
2. Sweaters. Open sweaters, button-up sweaters, long fringe-style sweaters, or pullover sweaters. They are perfect for looking cute and hiding any bump you may be growing.
3. Layers. The more layers, the better. They'll hide your bump without anyone questioning your motives. Especially because everyone wears layers in the fall and winter! This striped fringe hem flowy knit cardigan keeps me warm and is perfect for layering to distract from any baby bumps.
4. Poncho. ShopPinkBlush has some adorable ponchos that would be perfect for hiding a baby bump. Plus it's pretty much like wearing a blanket, and how can you say no to that!?
5. Loose dresses. I love this plaid flannel dress from PinkBlush, and bonus, it is loose enough to hide a growing belly. And if you add a skinny belt above your belly later on in pregnancy, it makes a cute maternity dress, too! PinkBlush has tons of cute dresses for women, so you definitely should check that out STAT.
6. Divert attention elsewhere. Do you have some adorable ankle booties people always compliment? Or maybe a bold statement necklace? Anything to draw the eye away from your midsection.
7. Tuck in button-up shirts. If you tuck in your shirts, you'll get a little bit of a poof at the bottom where they hang over the top. A very sneaky way to hide a baby bump.
8. Patterns. Patterns are going to make it hard to see any bump you might have, so pattern it up! Stripes, polka-dots, flowers, or plaid, it will all work. PinkBlush actually has a gorgeous floral maxi dress that I want for Christmas. You should definitely check it out!
9. Black. Everyone knows black makes you look skinnier, so wearing black to hide your baby bump is going to work wonderfully.
The more of these tips that you can combine the better. And if you're one of those people who wants to avoid buying maternity clothes as long as possible, then you can use most of these tips and wear your regular clothes through the second trimester!
And now for the best part of the post, the giveaway! PinkBlush is giving away a $25 gift card to one lucky Life With My Littles reader! To enter, head on over to my Instagram page. The contest goes from noon MST today-noon on Friday. All you have to do is follow me, follow @ShopPinkBlush, and then like the photo. And for extra entries, you can tag up to three friends! Super easy, and a great way to get some of your holiday shopping done, am I right? Check out the giveaway here.
Good luck hiding your baby bump, good luck in the giveaway, and don't forget to check out PinkBlush! And a special thanks to my friend Bailee for taking my photos!