Great tips on how to teach your child to pray. It might seem like a daunting task, but these tips will definitely help! It's never too early to start! And I love the book she includes!
I received free product in exchange for this post.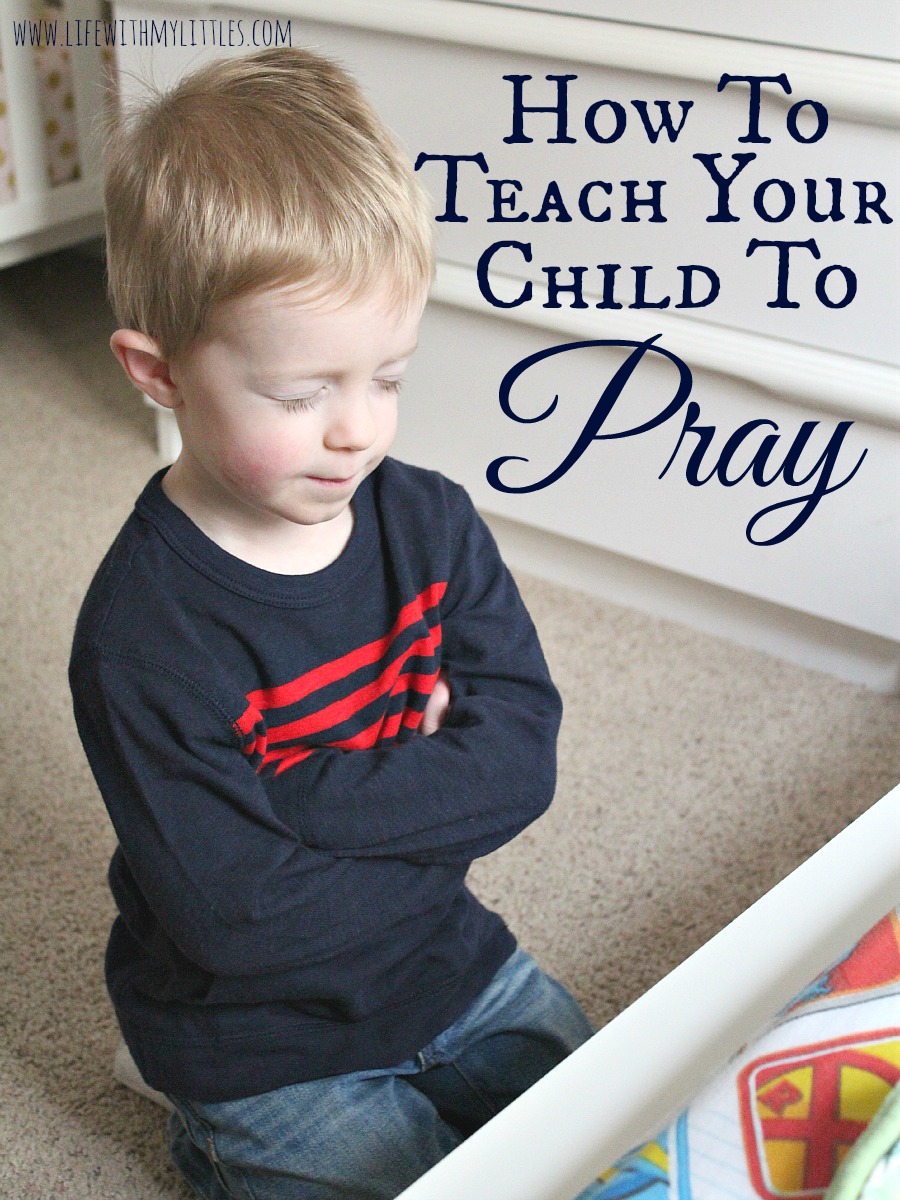 The first time my son ever folded his arms when we said family prayer melted my little heart. As members of The Church of Jesus Christ of Latter-day Saints, we try to say family prayers every night before bed. And when he saw us folding our arms and he crossed his, too, I was so proud.
Teaching your child to pray can seem like a daunting task, but it's really not. There are lots of little things you can do to teach them how, when, and why we pray. And the sooner you start, the better off you'll be!
1. Let your child see you pray. Obviously, if you aren't praying, your child isn't going to have an example to look to. Being an example is one of the best ways you can get your child interested in prayer. I guarantee they'll ask you what you're doing if they don't know, and it's a great way to spark up a conversation where you can teach him about prayer. So if you need to say a prayer during the day, let your child watch. It's a great learning experience!
2. Pray with him. We like to let our son pray (when he is in a good mood!). Since he is still little, we usually have to help him a little bit. Tell him the words, and then let him add some of his own. Little J's prayers usually include long lists of things he's grateful for. "Thank you for milk, and for this cereal, and for that picture, and for my birthday, and for my mom, and for my dad….." You get the idea. But letting them say prayers while you help is going to help them gain confidence and one day they won't need help any more.
3. Pray in the morning, at meals, and before bed. The more you pray, the faster your child is going to learn. So bless your food before you eat, and start and end your days with family prayers. Your child will start to learn when we pray, and listening to your prayers will help teach him what to say when he prays on his own.
4. Talk about prayer. Tell him what you pray for, why you're praying, and that you know Heavenly Father will hear you and answer your prayers. Tell him why we pray, and when your prayers get answered, point it out to him. My dad had a seizure last Christmas, and even though Little J was only 21 months, he said a prayer for my dad while we were playing. It was the sweetest thing, and when my dad got better, we talked about how his prayer had helped him. Don't be afraid to talk about it with him, because if he doesn't talk about it with you, he probably won't talk about it with anyone else.
5. Read books about prayer. My favorite book about prayer is called "I Can Pray Every Day" by Catherine Christensen. It is the sweetest book, it has beautiful pictures, and it talks about all the different times we can pray. I have loved reading it to Little J, and even to Little A. She's only 14 months, but like I said it's never to early to start teaching your children.
The book talks about all the different times you can pray, and things you can say in your prayers. It's perfect for kids learning how to pray, and it's perfect for kids who have been praying for years, too. The pictures are simple, but they fit the story perfectly. The book teaches a powerful lesson about prayer.
"I Can Pray Every Day" goes through praying in the morning and evenings, with your family, to help people, to do hard things, and praying wherever you are (even the pool!). The simple rhyme also talks about blessing your food, saying thanks for things, and asking for forgiveness. It covers so many different things that you can pray about, and it's a great way to spark a discussion about prayer with your kids, no matter how young they are.
The book ends by talking about how Heavenly Father hears our prayers and how he cares for us. I love the sweet spirit we feel when we read this book together, and I know that it is helping teach my children how, why, and where we pray.
Teaching your child how to pray is not hard. You're probably already doing most of these things anyway! I know that if we teach important principles like prayer to our children when they are young, they will stay with them for the rest of their lives, and we'll have to worry a little bit less as parents. Good luck teaching your little person how to pray, and remember, praying for help yourself definitely won't hurt!