Declutter challenge printable available for free download. Refresh your home and get rid of the clutter on your own schedule with this easy-to-follow checklist!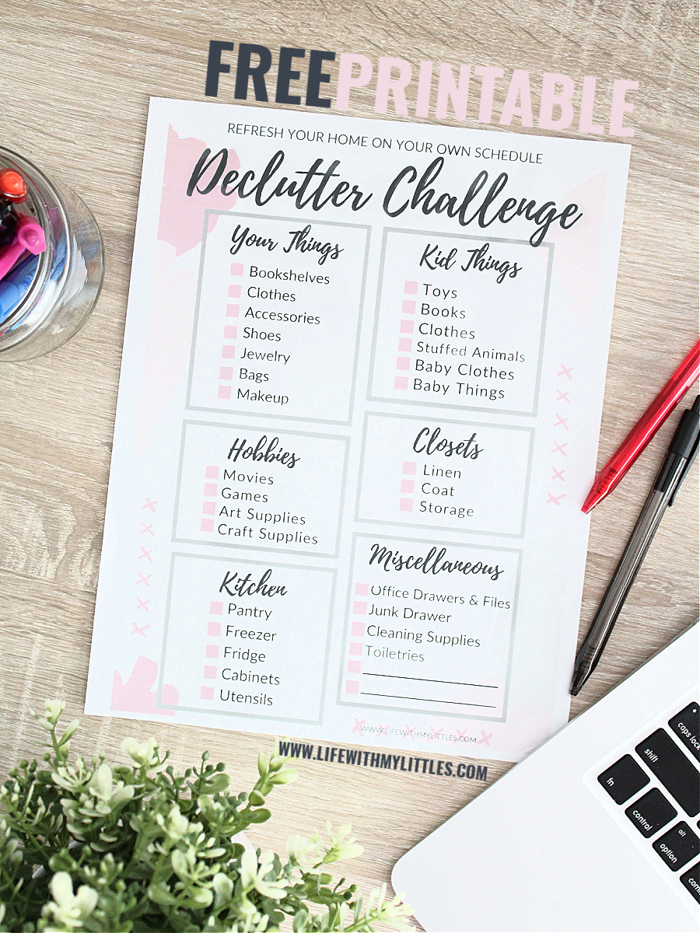 Over the last few weeks, I've been busy going through all of our old baby things. We've amassed a lot of stuff after having three kids, and most of it, we're never going to use again. I've been donating and selling clothes, high chairs, bouncers, and baby monitors, and it's been incredibly satisfying!
As I've been getting rid of things, I've caught the decluttering bug. In addition to all of our baby things, I got the urge to go through everything we don't use or need anymore and get rid of even more stuff!
I've done declutter challenges in the past (especially before moving!), and I've found that it's really helpful to have a list of things to go through before getting started. So I decided to make my own!
It turned out so well and has been so helpful, that I wanted to share it with you! My declutter challenge printable has six categories, each broken down into different locations or things to declutter, with two extra lines to add in anything else you may want to declutter around your home.
Some of the things on the list may take a day, and some may take three or four days, so I didn't assign a time frame for this challenge. You can refresh your home on your own schedule. That might mean 30 days, that might mean a few months. Whatever is best for you!
Here's what's on the printable:
Declutter Challenge Printable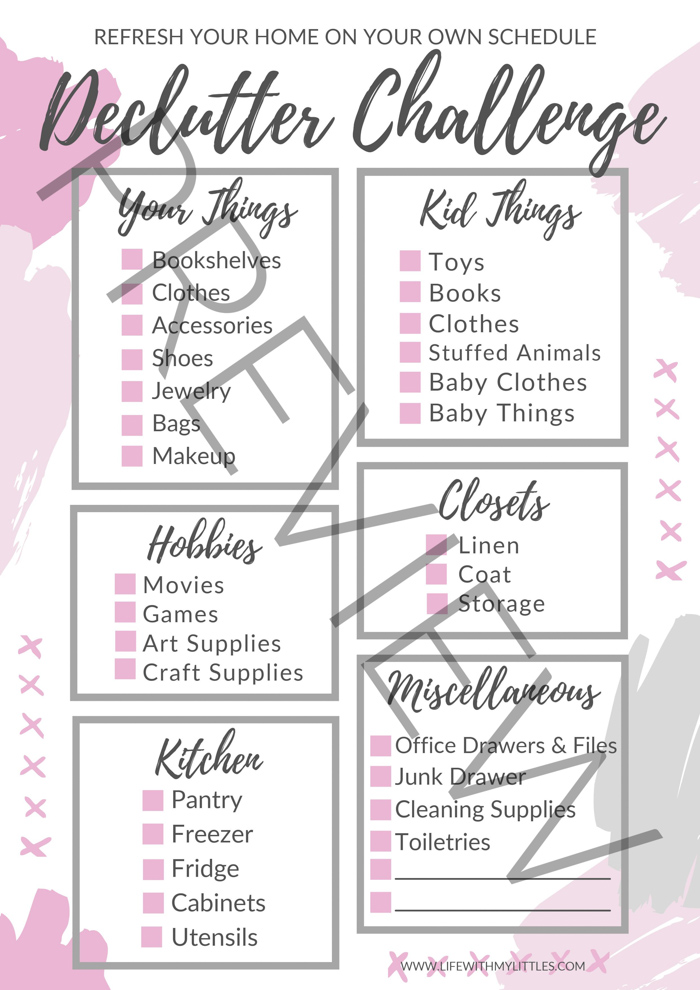 Your Things
This section includes bookshelves, clothes, accessories, shoes, jewelry, bags, and makeup.
Hobbies
Here you can go through your movies, games, art supplies, and craft supplies. This one might take me a while because I have a whole closet full of crafting things!
Kitchen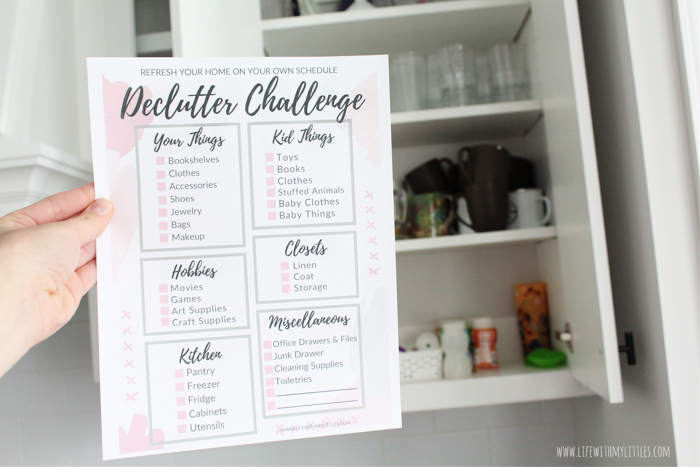 Look through your pantry, freezer, fridge, cabinets, and utensils. Get rid of things that are expired, that you never use, or that you may have multiples of (you don't need three spatulas, mama).
Kid Things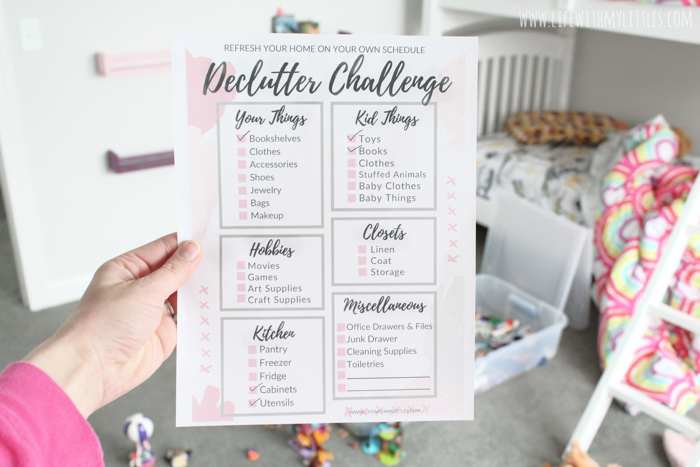 The best and easiest category to go through! Toys, books, clothes, stuffed animals, baby clothes, and baby things. And yes, it's okay to save a few sentimental pieces.
Closets
Look through your linen closet, coat closet, and any storage closets you may have.
Miscellaneous
I had to add a miscellaneous category because there were a few more areas I wanted to declutter that didn't really fit into any of the other categories. They include office drawers and files, junk drawer, cleaning supplies, toiletries, and two blank spaces.
To download and print your free declutter challenge printable, just click below!
You can even share this printable with your friends and see who can get rid of the most stuff!
I hope this printable can help anyone else who has caught the decluttering bug (or who just needs to refresh their home) get their things in order. There's so much peace in having less stuff, and if my printable can help someone else achieve that, then I'll be happy!
Happy decluttering, mamas!