This is the ultimate Cricut gift guide! Gift Bundles for Cricut Joy, Cricut Explore Air 2, Cricut Maker, and accessories! If you've got a crafter in your life, you'll find a gift for them here!
This post is sponsored by Cricut and contains affiliate links.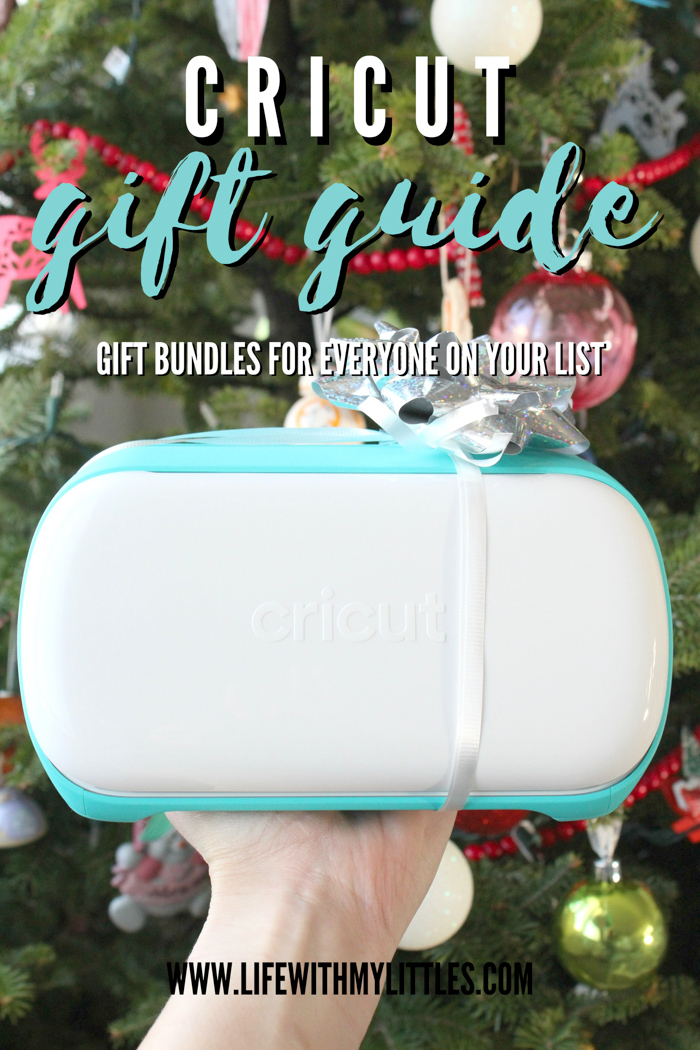 I remember when I was in high school and my mom got the original Cricut machine. She was big into scrapbooking, and it could cut out so many fun shapes and letters. I loved sneaking downstairs and cutting out my own shapes and letters.
When I was in college, I got my first Cricut machine, a Cricut Mini. It worked by using Cricut Craft Room on my computer, and I loved using it to create. One of my favorite things I used it to make was a key-hanger that we hung in our entryway the first few years we were married.
Unfortunately, when Cricut changed over to Cricut Design Space, they stopped updating Cricut Craft Room, and my Cricut Mini became obsolete. For a few years, I didn't have my own Cricut machine. I had to rely on the kindness of friends when I got an urge to create. It was a rough time.
In 2018 I bought a Cricut Explore Air 2, and this year, I got a Cricut Joy. As a result, my creativity has flown free! I use my Cricut machines all the time! I've made shirts, bags, home decor, door mats, labels, and party decorations. I've even helped friends create their own projects during girls' nights!
As Cricut has grown as a company, the machines it has come up with have improved impressively. Not only can you cut paper, but depending on your machine, you can cut leather, chipboard, fabric, felt, and vinyl, not to mention drawing with pens and markers! Cricut also now has the EasyPress to make creating beautiful projects even easier. You can even use your own fonts or upload your own designs on Cricut Design Space. I honestly don't think there's much you can't create with a Cricut machine!
With Cricut, the possibilities are literally endless! And that's why Cricut machines make great Christmas gifts! I've used a lot of different Cricut machines and products, and today I want to share a few holiday gift bundles for the creative person in your life!
Cricut Gift Guide
Cricut Joy Bundle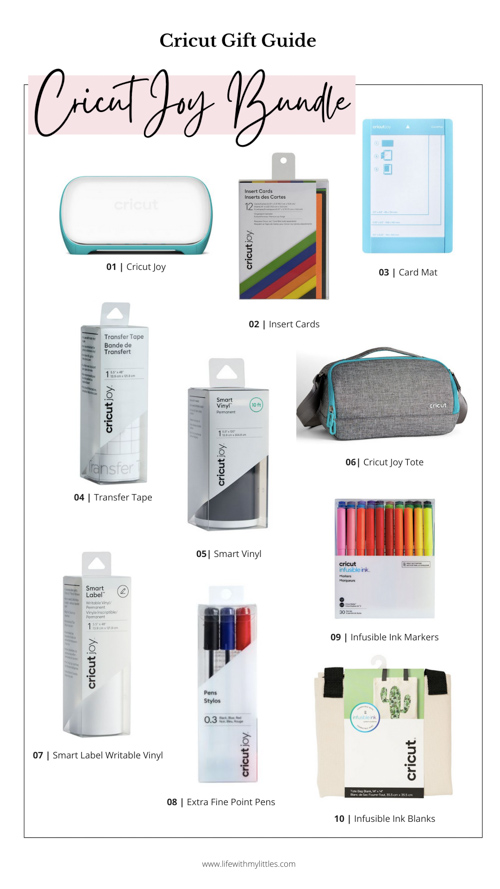 The Cricut Joy is Cricut's newest machine, and it's also their smallest! This bundle is great for someone who doesn't have a lot of storage space, but still has a lot of creativity! It has a few features that are unique to it, like Infusible Ink, that bonds to projects instead of just sitting on top, and Smart Materials, that don't need a cutting mat.
The Cricut Joy cuts 50+ materials, can draw or write any shape, works with Bluetooth, and can cut designs up to four feet long, or make repeated cuts up to 20 feet long! It's a tiny machine that packs a big punch!
Forget the days of cutting out your own cards. With these amazing pre-cut insert cards, all you have to do is design, load into your Cricut Joy, and sign your name!
If you plan on making custom cards with your machine, I highly recommend adding this to your bundle! This makes card making SUPER easy and fast!
If you plan on transferring vinyl to anything, I highly recommend transfer tape. I didn't know it existed until I got my Joy, and it's a game-changer!
This amazing 10′ roll of permanent vinyl doesn't come in a lot of colors, but I love that it's so long and will last forever! Plus I can make cuts up to four feet long when I use it!
I got this little tote bag to store my Cricut Joy in, and it's so handy! It also fits pens and the cord for the Joy, so when I want to use my Joy all I have to do is grab my tote and bring it upstairs!
I LOVE this writable vinyl! I used it to make school supply labels for my kids this year, and honestly, you could probably use it to make labels for anything! Plus, it's one of the Smart materials, so no mat!
Use these little guys to write on your writable vinyl, address envelopes, write on cards, or draw pictures!
These markers are amazing, and so much fun! Include these in your gift bundle and the recipient will fall in love with Infusible Ink!
I personally love the Tote Bag Blanks, but Cricut also makes several other blanks that are compatible with Infusible Ink (like shirts for everyone in the family, coasters, pillow covers, and even cosmetic bags).
Cricut Explore Air 2 Bundle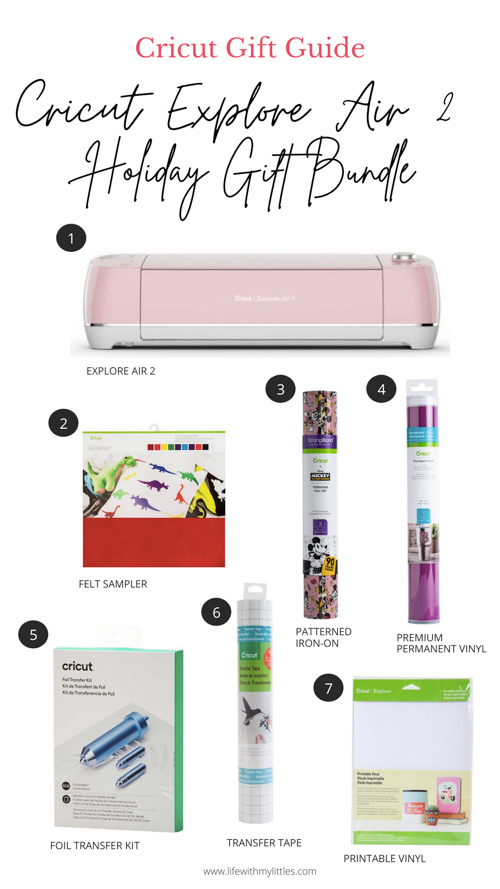 The Cricut Explore Air 2 is perfect for serious makers who are constantly coming up with big projects. It's a fast-cutting machine that cuts up 100 different materials–everything from cardstock, vinyl, and iron-on to a range of specialty materials.
You can make shirts, custom stickers, labels, cards, and pretty much any paper craft you can imagine! The Cricut Explore Air 2 is a crafter's dream!
I used this felt to create a felted word art sign in my kids' school room, and it turned out so well! Let me tell you, using a Cricut to cut felt makes it SO MUCH EASIER! If you've ever wanted to make a quiet book, it's never been easier!
Cricut makes so many cute sheets of patterned iron-on, from Disney characters to designer patterns, they have it all (even leopard print!). You can create some seriously fun things with this!
Cricut's premium permanent vinyl comes in over 40 colors, so you can either pick a favorite color, or choose a sampler with a few colors.
Foil transfer sheets are the newest material from Cricut, and they can make some pretty fabulous projects! To use the foil sheets, you need this foil transfer kit, and it comes with some sheets to try out. I haven't tried them myself yet, but I have friends who have and they look awesome!
This is another material I haven't tried out yet, but I REALLY WANT TO! Imagine all the stickers you could make!!
Like I said before, if you're transferring designs, you'll need some transfer tape!
Cricut Maker Bundle
The Cricut Maker is the machine that does the most, so if you know someone who runs an Etsy shop or business out of their home, this would make an incredible gift!
Not only does it cut all the basic materials (paper, cardstock, vinyl, iron-on), but it can cut leather, chipboard, fabric, and stamp material. Guys. It can cut over 300 different materials. That's just madness! I think if you get a Cricut Maker you can just throw your scissors away forever!
Side note, the Maker comes with a rotary cutter and FabricGrip mat for cutting fabric,
To cut thicker things like magnet, chipboard, foam, stamp material, and cardboard, you're going to want some of these bad boys!
If you want to make wall art or keepsake cards, aluminum is a great option! You can also make dog tags, monograms, and engraved jewelry with this.
What use is your aluminum if you can't engrave it!?
You can make so many cool, unique things with leather! Imagine a personalized luggage tag made of leather!
Another cool material the Maker can cut is chipboard. Can you imagine making your own puzzle!?
I have these (you can use them on the Explore, too) and they write beautifully!
This one's a must-have for all three machines 🙂 It's just so versatile!
Again, versatile! Every bundle needs some!
You get it 🙂
Materials and Accessories Bundle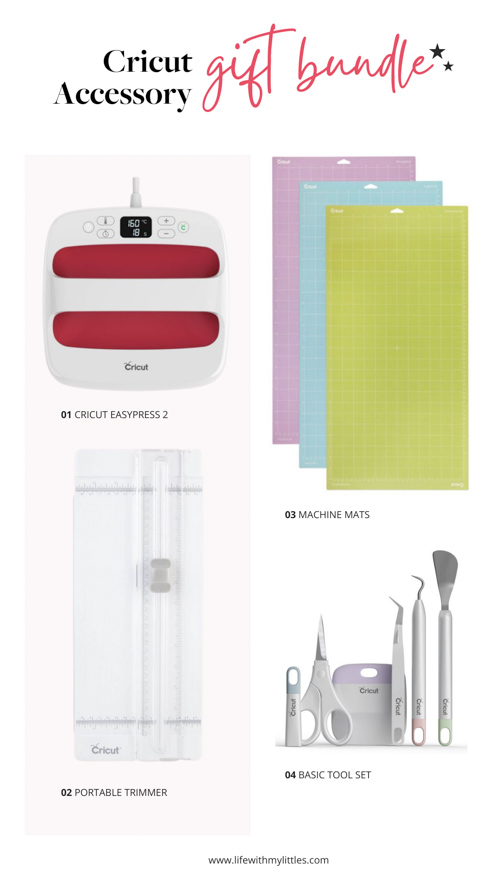 Maybe you're gifting to someone who already has a Cricut machine they love. Here are a few things you can gift them to help make their creative dreams come true!
Forget about trying to transfer a design with an iron! The EasyPress makes it SO much easier! The Cricut website has a helpful heat guide chart showing what temperature it should be on for what material and for how long. You just heat, hold, and remove! Voila!
If you're cutting cardstock or vinyl to a certain size before your Cricut cuts it, this is super handy (and makes for a lot straighter edges!).
Depending on how often you use your machine, your mats will eventually lose some of their stickiness, and that's a recipe for disaster. So include some extra mats in your gift bundle, and you won't have to worry about that!
Having these tools makes weeding and applying designs so much easier.
Gifting Cricut machines and gift bundles this holiday is a great way to show friends and family that you care, and you support their creative endeavors! There are literally millions of projects you can make with Cricut, so the possibilities are endless! Choose a gift from this Cricut gift guide and you'll have one happy maker!
Merry Christmas, mamas!