What is Disney World like during COVID-19? Here's a great post with all the information you need to know if you travel to Disney World in 2021.
This post contains affiliate links.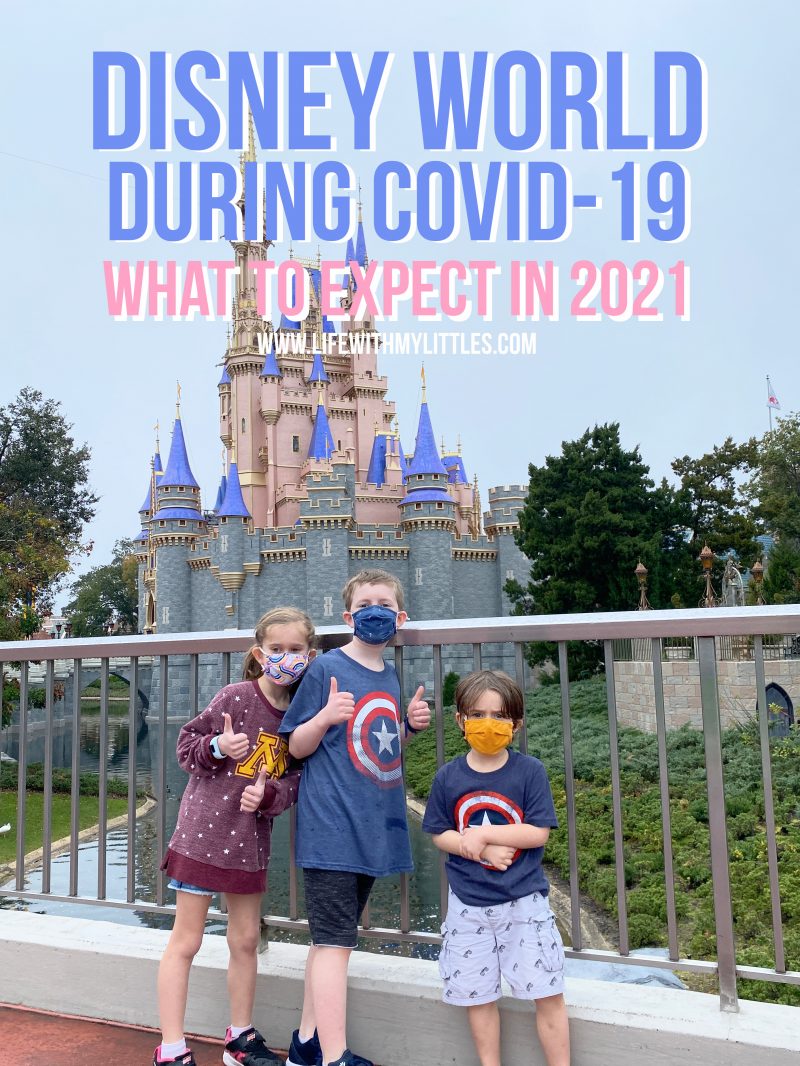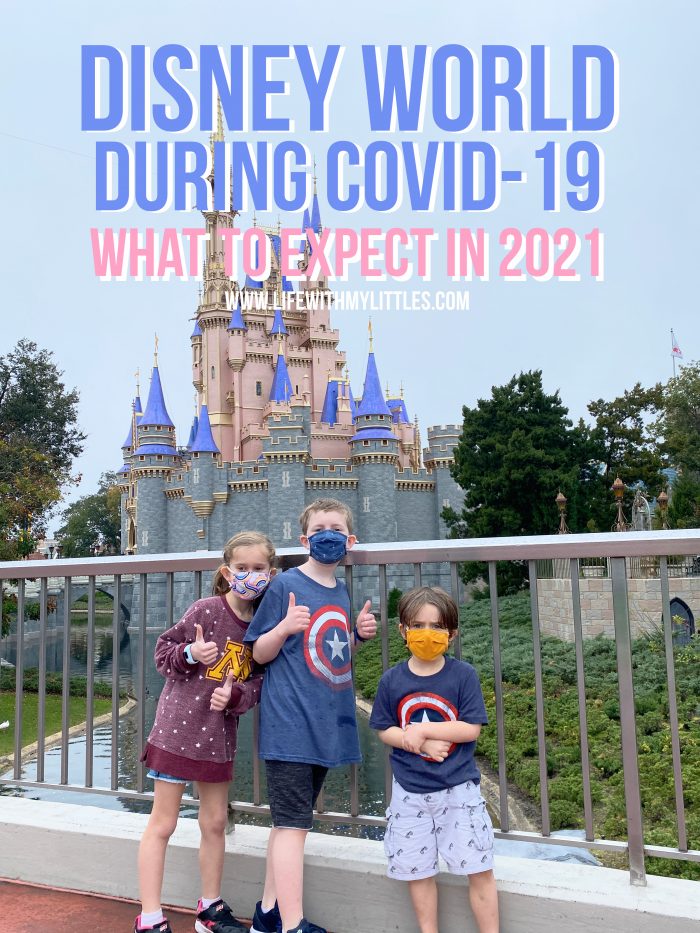 Last week we took a trip down to Florida and spent three days at Disney World. I was hesitant to visit during the pandemic, but when your husband offers to take a trip to Walt's Place, you don't turn him down!
Several people I know are going to Disney World in the next few weeks and months so I thought it would be helpful to write a post answering the question "What is Disney World like during COVID-19?".
Whether you're going to Disney World without kids, or you've got your little ones in tow, this post is for you!
There were several things that would've been helpful to know that were kind of a surprise to me when we got there. And of course, there were obvious things that I expected, like temperature screenings before entering the park.
Here's a helpful list of everything I could think of that made Disney World different during the pandemic.
What is Disney World like during COVID-19?
You have to choose what park you're visiting each day through the app or website. They call it the Disney Park Pass System. All the parks were open on all three days, so I didn't really have a problem with this.
Temperature screenings before entering security at each park.
Park Hoppers are only available after 2pm. For the first part of the day, you have to stay at the park you reserved.
No Fast Passes. This was a huge bummer, because we always use it for the big rides and it saves us a lot of time waiting in line. Because there are currently no Fast Passes in use, we had to wait in lines up to an hour long. Boo.
There's extra spacing in lines, which means markers on the ground every six feet that tell you where to stand. In places where the lines curve too close to be six-feet-apart, there markers are spaced even further apart.
This makes the lines extra long, even with the reduced capacity. Lots of the lines wrap around outside of their regular queues, and there are cast members out holding signs for the ends of these long lines.
You have to wear masks at all times, except when eating or drinking while stationary. And yes, even during pictures. This actually wasn't a big deal for me, except for when I got hot. Also, I started breaking out along my mask line.
Some dining locations require you to order on the mobile app before coming inside or up to the counter.
Some also require you to make a reservation. If it's a sit-down place, I highly recommend making reservations far in advance. We booked our trip three days before we left and weren't able to get reservations for any restaurants inside the park.
There are no character meetings or character dining right now. If meeting characters is a big part of Disney for you and your kids, this is going to be a bummer. Especially if there's one character in particular that your child wants to meet. We were only able to see a fraction of the characters we normally do in the parks.
There are however, random parades/drive-bys with one-four characters. Unfortunately, they aren't listed on an schedule, so you just sort of have to stumble upon them. We were able to catch the end of a three-car drive-by with Donald, Minnie, and Mickey at the front. Seeing Mickey for those ten seconds he drove by was my three-year-old's favorite part of the trip.
Most shows are cancelled. I think the Frozen Sing-Along Celebration was the only one still happening.
The parks also close a little earlier (it ranges between 5pm and 8pm), and there aren't any fireworks shows. There is one nighttime water parade, but it's only viewable from a few resorts, so we didn't get to see it.
No Extra Magic Hours. They suspended it when they opened Disney World last summer, say it's not going to return.
A lot of dining places are closed. So if you have your heart set on a particular treat, you may not be able to get it.
Queues have plastic dividers between rows that are close together. This happens a lot on the loading zones for rides.
On that note, some rides have plastic dividers between rows on the actual cars/boats/space ships you ride. Most of the dividers are fine and didn't bother me, but the did make it hard to see on the Frozen Ever After ride and the Kilimanjaro Safari.
Most rides don't fill completely to allow for social distancing. For example, Splash Mountain, Pirates of the Caribbean, and Jungle Cruise all had open seats in the rides.
There are lots of hand sanitizer stations and audio reminders to wash your hands. I appreciated all the hand sanitizer stations, especially in lines and at the end of rides. My kids love touching those queue barriers that like a million other people also touch.
Disney World still felt busy to me, even with reduced capacity, and I'm mostly basing that on how packed the stroller parking spots were. They were packed. We also went at the end of January, which I feel like should be a pretty non-busy time.
Our trip to Disney World was still a lot of fun and I definitely don't regret going during the pandemic. My kids had a great trip and enjoyed going to Disney World for the first time. My husband, not so much, but then again he never really enjoys theme parks that much.
If you do want to go to Disney World right now, make sure you check out Get Away Today for their great deals on travel packages! You can even get $10 off with code LITTLES!