Currently May 2017: What's going on this month for Life With My Littles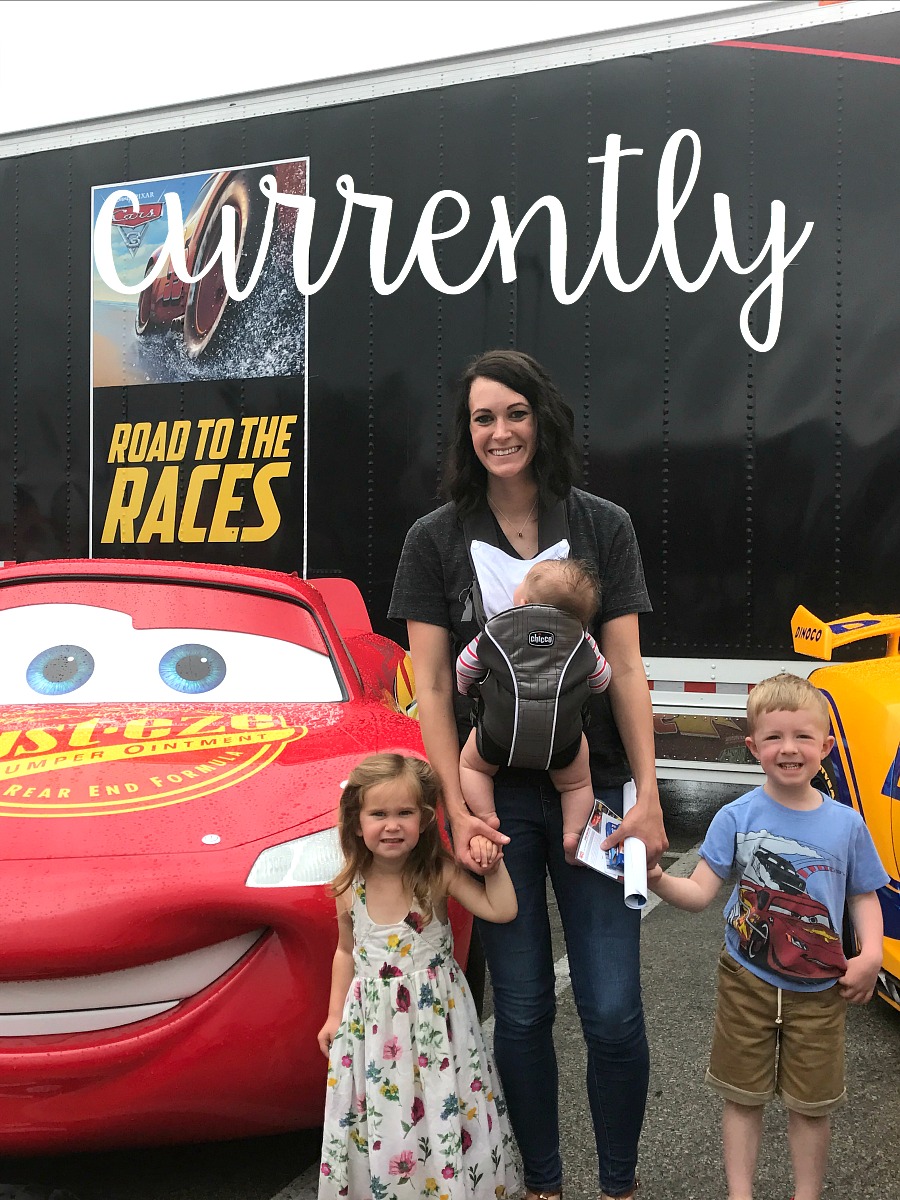 I can hardly believe it's already May! April was such a fun month for us. My husband had every weekend off, which after March's schedule, was so nice! Little J started t-ball, we got to go to the Cars 3 Road to the Races Tour (which made us even more excited for the movie, if that's possible), we had our #DisneyKids Preschool Playdate, Little A and I went to Disney on Ice, and my husband had his third week off of intern year so we got to visit my parents in Colorado and bless Little R while we were there. We also got to celebrate Easter and our seventh wedding anniversary, and I cut and colored my hair! Little R also laughed for the first time in April, and of course my husband was the one who got him to do it. We also planted a peach tree and an orange tree, and got to harvest some strawberries and red potatoes from the garden! Like I said, it was such a fun month!
Here's what's going on this month:
Starting the potty training journey with Little A. It has been a long time coming and I have kept putting it off because of Little R's birth and then colic and then we traveled. But now we have several months with nothing ahead but staying home so we are going to start. She can definitely do it, we just need to put in the effort. I'm making her a potty training sticker chart today and we have Sofia the First pull-ups and undies, lots of M&Ms, and the promise of a trip to Disney so she can meet Sofia, Elena, and Moana when she is successful. So we'll see how it goes!
Planning on figuring out a schedule for the next few months. Now that Little R is three months, I want to try and get on more of a schedule with his naps. All three of our kids go to bed at 7pm and wake up in the morning around 6:30 or 7am (with Little R waking up 2-3 times a night), but during the day I want to figure out a nap schedule. I think it will help us be able to do things at home and with friends easier. And it will be a little easier for everyone!
Heading to the gym! We got gym passes last month but I couldn't go until Little R was three months (childcare rules), so now that he is three months, we can go! I plan on going MWF in the mornings and maybe I can finally get rid of that extra weight I never lost after Little A was born almost three years ago. I was in the best shape of my life after Little J was born because I worked out consistently, so I want to get back into that. Also, I would LOVE to do a Disney run if we can match my husband's time off to one of them, so if I do I need to get in shape!
Hoping to learn more about my camera. One of my goals for last/this year was/is to learn more about how to use my camera. I have a nice DSLR but I haven't really put in the time to learn how to use it. I want to, but finding time to do everything is hard. So I am hoping that this month I can finally get on that.
Getting serious about quiet time. I don't ever have time to do anything for myself these days because any free time I have I spend working on the blog or with my husband after the kids are in bed. And now that we are going to try getting on more of a schedule and Little R is the only one who naps, I need to get serious and figure out how to do quiet time with Little J and Little A. He is 4 and she is 2 1/2 and I just some time every day for me. So I'm going to be searching my favorite blogs for tips and plans and if anyone has any ideas, send them my way! Because I need to figure this out!
That's what's going on for us this wonderful month of May! Make sure you follow me on Instagram to see more of what we do each day!