Overwhelmed by all those baby must-have lists? Here's a great list of 10 baby items you don't need! You might be surprised by a few!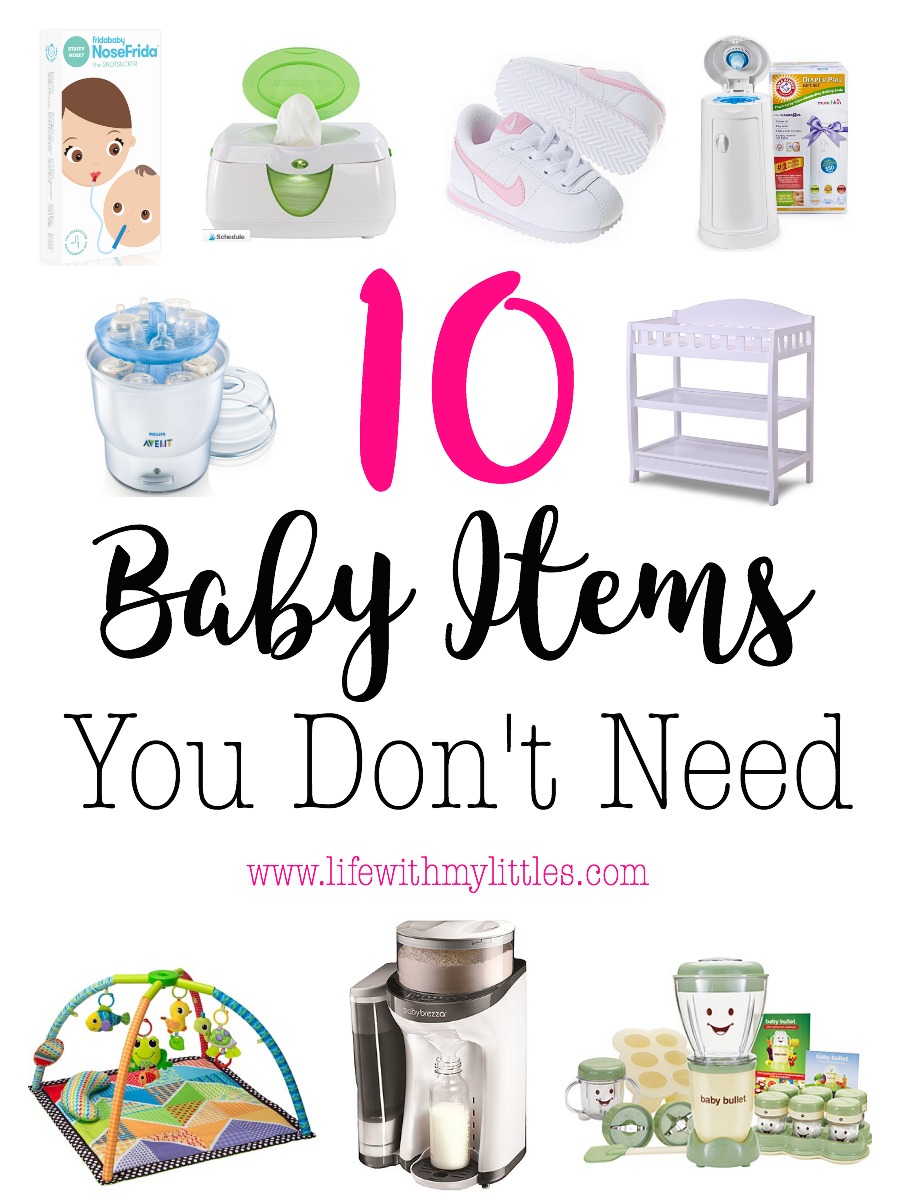 There are tons of lists out there that tell you things you "must have" for your baby (yes, I have a few). Most of the time, the authors claim that they just can't live without the things on their list and how those things have changed their lives and made parenting sooo much easier. Things that might be cute or sound like a good idea, but that aren't very functional, are completely unnecessary, or that you can get along with just fine. Well I've had three kids and not to brag, but I think I know a thing or two about what baby items you actually need, and what baby items you don't need. Today I'm going to share ten things you don't need for your baby.
1. The Nose Frida. Okay first of all, gross. Second of all, bulb nasal aspirators have been doing this exact same thing for years, you don't need to buy filters, and you won't get grossed out doing it. So no, you do not need to go buy a Nose Frida. I've never had one with any of my three and we've been just fine.
2. A wipe warmer. I see the appeal of these, and yes, I did use one for a while with my first baby, but they are so unnecessary. It's not mean to use a room-temperature wipe on your baby's bum, and they will be fine if the wipes you are using aren't warmed up. Do you warm up your toilet paper? No. Because that would be weird. Don't buy a wipe warmer.
3. A diaper pail. Yes, it's nice to have one of these. Especially when you have more than two in diapers. But throwing stinky diapers in your trash outside or tying it up in a plastic bag and throwing it away inside works just fine. I survived two babies before getting one (it was the one thing I asked for with my third) and my nose managed just fine. So unless you have extra cash to spend or a very kind mother, don't buy one of these.
4. Baby shoes. Guys. Just don't. They are cute, but so unnecessary. They might look cute, but they are a waste of money (said the girl who bought two pairs of baby Nikes for her son that he almost NEVER wore). Plus their feet grow so dang fast that they only get to wear them a few times anyway. Boooo baby shoes.
5. Baby detergent. Unless your baby has sensitive skin, you are totally fine using regular detergent for your baby's clothes. Yes, baby detergent smells super good, but it's really not a must-have.
6. Changing table. I have never bought a changing table. GASP. I know. We just use a changing pad on top of a dresser or a blanket on the floor. It works just fine, and we can continue using the dresser once our kids are done with diapers.
7. A bottle sterilizer or bottle warmer. Guys. Don't waste your money on something dish soap and hot water from the microwave can do.
8. A baby Keurig. The most ridiculous baby item I have ever seen that you absolutely do not need is a machine that is like a Keurig but makes bottles of formula. You really can't just scoop it and shake it yourself? I officially look down on you if you buy one of these. Shame.
9. A baby food maker. I get it if you want to make your own baby food, but just use a blender or food processor. That's basically all a baby food maker is. Don't go spend money on something you basically already have just because it has the name "baby" in it.
10. A playmat. I'm sure some babies like these, but we've had one for all three of our babies and none of them has liked it much. My kids have liked their bouncers and jumpers way more, and I would recommend one of those 1,000 times over a playmat.
Yes, babies do need a lot of things, but there are lots of baby items you don't need (even if that popular mommy blogger says you do need them). Be smart about what you buy for your baby, don't get overwhelmed, and use common sense when you are preparing. And if one of these things on your list is something you still want, then by all means go for it. Unless it's the baby Keurig. Never do that.