Currently December 2018: What's going on this month for Life With My Littles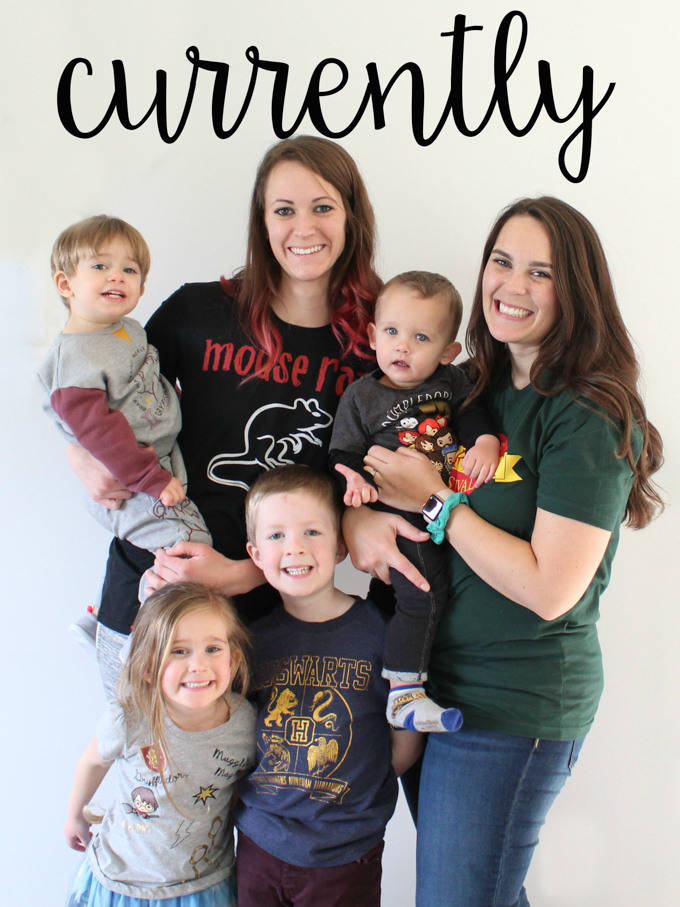 It's December! Not only is it the last month of the year (whaaaaaat!?), but it's the month of Christmas! It took me a while to get excited about it already being so close to Christmas, but I'm there now, so yay! November was a fun month for us! My parents, my sister, and her two boys came to visit for Thanksgiving (my brother-in-law had to work), and oh my heavens, we had a time. My nephew who is 17 months got sick on Thanksgiving morning (barfing and pooping) and then my mom got sick that night, and then on Saturday my dad got sick, got dehydrated, had a seizure, and went to the hospital in an ambulance. They were supposed to leave the next morning at 7am so we had to reschedule their flights so they left on Monday afternoon. Luckily my kids didn't get sick, and we deep cleaned after they left so I think we're in the clear. It was good to be together but next time, we're not going to do it at our house! I also found out that my toe is indeed fractured, not sprained like I had previously thought. I was wearing a post-surgical shoe for a few weeks, but I've been trying to start weaning myself out of it. I ran last Monday and today and felt okay, so that's good news. I just need to go slow at first before I start running 4x a week again! I also switched the color of my hair from pink to purple, so now I've got purple ends! It's been so fun having colored hair, but the length has been driving me crazy so I'll probably chop it off at the end of the month or in January.
Here's what's currently going on with us in December:
Training for a half marathon! Well, as soon as my toe is 100% better. I've been wanting to do one for a while since I've already done a 10K and it's kind of the next step. I'll give more details as it gets closer, but I'm super pumped and also crazy nervous. 13.1 miles is a dang long way to run, and the farthest I've ever run was 6.54 miles. So double that, and I'm there. It's going to take a lot of work but I think if I really train I can do it! And I'm going to!
Taking time off (like I do every year) at the end of the month. I always take the last two weeks of December off, and this year is no exception! When you're self-employed the only time you get off is the time you give yourself, so I have to actually let myself have time off. You might think that being self-employed would be easy and you could just take time off whenever you want, but I've only taken two weeks off so far this whole year (back in June), so I'm due for another two weeks! So don't worry if you don't see any new posts for two weeks, because in January I'll be back with something extra special!
Working on a special January series. So back in October I asked people on Instagram a few questions. I asked what the hardest part of motherhood is, what an area they'd like to improve on is, the biggest stress in their life and what would help, and what kinds of blog posts they'd love to read. I got some awesome answers, and realized that they were actually all pretty similar! So I've got a big eight post series coming in January to help with all of those things that were brought up. I don't want to give away too much right now, but it's going to be amazing and super helpful for any mama!
Shopping for Christmas gifts. I love giving gifts. Not like in a Leslie-Knope-gift-giving-is-a-sport kind of way, but in a I-just-love-giving-gifts kind of way. I was having a hard time deciding what to get people this year (I'm usually done or almost done with all my shopping by December 1st), but I started with coming up with stocking stuffers and then decided to do the wear, want, need, read thing for the kids, and that helped narrow it down. I have a big surprise coming for the husband, but now my problem is coming up with gifts for all the other people in our family (parents, siblings, niece and nephews). We'll get there, though!
Mailing Christmas cards! Hooray! I actually designed them and ordered them and got them before Thanksgiving (because I just love Christmas cards that much!). I went with Shutterfly again for like the fifth or sixth year in a row, because they always turn out great and I love all the designs. We're only sending them to family members, but I still love doing it. I'm going to share them on my Insta soon, so keep an eye out!
That's what's going on for us this month! Make sure you check back each week for some more Christmas posts before I take time off and then in January for my new awesome AMAZING series for mamas!