Looking for some stocking stuffers for moms? Not sure what to put in your wife's stocking? Filling your own? Here are 30 festive and fabulous ideas!
This post contains affiliate links.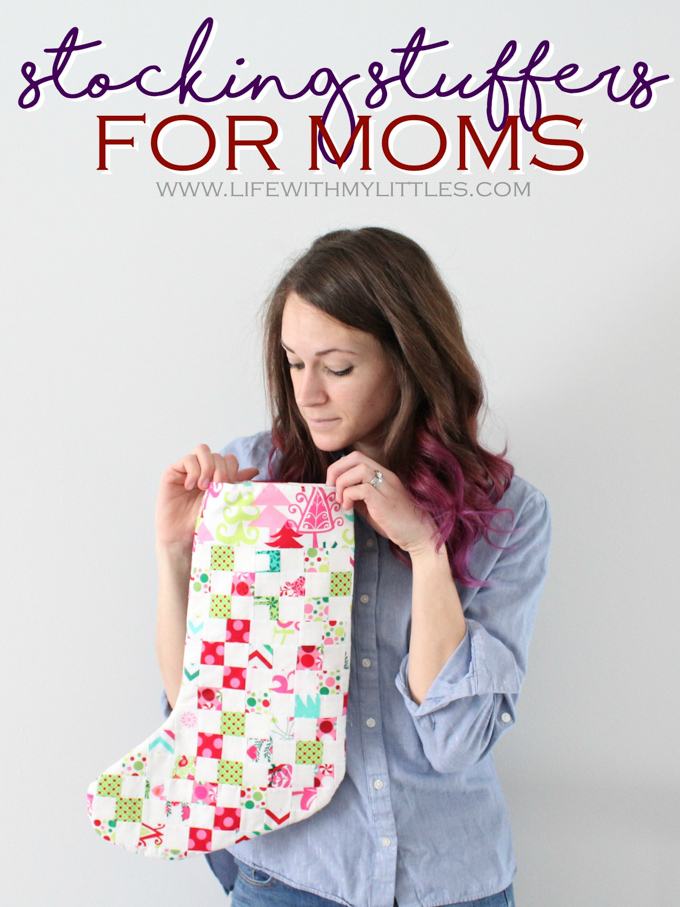 Alright, gentleman! Listen up! This one is for you! (Or if you're like me and you're a mama who fills her own stocking, you listen up, too!). Today I wanted to share a big long list of stocking stuffers for moms. I'm not going to give you a story or long introduction because I know you probably are just here for the stocking stuffer ideas, so let's get to it!
1. Stamped necklace or bracelet. My favorite place to get stamped jewelry is from Made By Mary. I have a stamped disc set and I love it. Get your kids' names, get her first initial, get your wedding anniversary, whatever is special to her.
2. Earrings. They don't have to be fancy, but oftentimes we don't buy ourselves things like this because we feel bad about spending money on ourselves. So buy some and stick them in her stocking!
3. Gift card for pampering. Some people think gift cards aren't personal, but if you get one for her to pamper herself, I promise she'll enjoy it. A massage, a trip to the nail salon, or even a haircut.
4. Anything to make cooking easier. A new whisk, an apple corer, a small mandolin slicer
, or even an avocado slicer
. I guarantee she's dropped hints on what she'd like.
5. Car mount
for her phone. Always a good idea, especially when you're navigating!
6. Lipstick. I know some women aren't big lipstick fans, but I've become a fan in the last year. My favorite affordable, long-lasting kind is Maybelline Super Stay 24 Liquid Lipstick
. It comes in great colors and has a lip balm/gloss attached.
7. Spray hand sanitizer. Another Bath and Body Works favorite is their spray hand sanitizer. Their regular PocketBac sanitizers are great too, but the spray one is so great to have in the car or diaper bag when you need one for small kids!
8. Toothbrush heads. If she has an electric toothbrush, replacement heads fit nicely in a stocking! I know it's not the sexiest idea, but it shows her that you notice the little things!
9. Socks. Comfy fluffy ones, bright patterned ones, or even basic white ones. Every mama has a style and every mama loves getting a nice pair of socks.
10. Minted gift card. Another great place to get her a gift card from is Minted. Minted has amazing cards for any occasion, but they have so much more! Calendars, stationary, custom or pre-designed art (even framed art!), home decor, napkins, and even fabric! She's bound to find something fabulous she'll love from Minted.
11. Bluetooth earbuds. A few years ago I got some Powerbeats Wireless
and I love them! They're awesome because there's no long cord to get tangled in and I use them every time I go to the gym.
12. Chocolate. Seriously, any kind of chocolate (or whatever her favorite candy is). Lindor Truffles
fit especially well in stockings. Just make sure you don't hang the stocking above the fireplace once it's in there!
13. Leggings. Black, patterned, or whatever she wants. I always stick one or two pairs of black Old Navy leggings in my stocking! They're perfect for sleeping in!
14. Mama shirt. I love shirts that relate to motherhood, and it's easy to roll up a shirt and tuck one into a stocking! My favorite shop for mama tees is Little Mama Shirt Shop (you'll find so many great shirts your lady will love!).
15. Massage oil
. As long as you're the one who's going to be applying it, of course! This one has to come with a free massage coupon!
16. Nail polish. Most of my nail polish I've had for years. It's nice to get a new one every so often! Pay attention to what colors she likes to wear and pick one that will go well with them!
17. Face mask. Every lady likes to pamper herself at home! Plus you can get these for cheap at Walmart or Target!
18. Candle. Make sure it smells good or there's really no point!
19. Fancy makeup. If your girl is into fancy makeup, buy some of her favorites and put them in her stocking! Even if she's not, you can look in her makeup bag, see what she uses, and buy some more!
20. Pocket lens
for her phone. Moms take a LOT of pictures on their phones, and getting her a little pocket lens to upgrade her photo game will not only make her happy, but will probably encourage her to send more pictures of your kids to you while you're away!
21. New phone case. Moms need good phone cases with kiddos around, and it's always fun to get a new one! Especially if the one she has is faded, stained, broken, or just old!
22. Popsocket
. I'm pretty sure I'm putting one of these in my stocking. Not only do they improve your grip on your phone, but they can act as a little stand to prop your phone up, too! You can get custom ones, patterned ones, or ones with characters or teams on them. Think about what she likes and find one that suits her!
23. Nice keychain. I love my Fawn Design Tassel Keychain. Fawn Design also makes Pouf Keychains, too! Anything to up her keychain game!
24. Tile Mate
. If your lady is one who loses her keys often, the Tile Mate is a handy little device that you attach to your keys and then using an app on your phone, helps you locate your keys (or whatever you attach your tile to). It's genius!
25. New gloves or hat. If you live somewhere cold, this is a nice one to include in her stocking! I just got myself this winter hat
and I love it!
26. Date night. Put in tickets to a show or event, a gift card for a nice restaurant, or a pair of movie tickets. It's easy to come up with something for this one!
27. Watch or fitness tracker. There are so many different unique and useful watches and fitness trackers out there, that there's really one for everyone. Whether it's an Apple Watch, a FitBit
, or basic wristwatch, this one is always a great idea!
28. Lotion. And I'm not talking from the grocery store, either. I always stick a bottle of good-smelling lotion from Bath and Body Works in my stocking. It's a simple pleasure that I really enjoy treating myself to during the holidays!
29. Planner. If she's a busy mama, a planner is a fabulous gift to receive! I love my Erin Condren LifePlanner, and since they're expensive, it's a tough one to buy myself. Hence, they make great gifts!
30. Razorblades. If she has a razor that needs new blades, these fit great in stockings! Another thing that shows her you're aware of things she actually needs and uses, even if it's not that sexy!
Filling stockings is so much fun. Hopefully this list of stocking stuffers for moms will help you fill your woman's stocking (or yourself, if you're the mama and you fill all the stockings!). Merry Christmas!