Not sure whether to use disposable or washable nursing pads when you're breastfeeding? Here's how to choose the right nursing pad, complete with some great descriptions of the benefits of both, and why you probably want to have some of each!
I received free product for this post. This post contains affiliate links.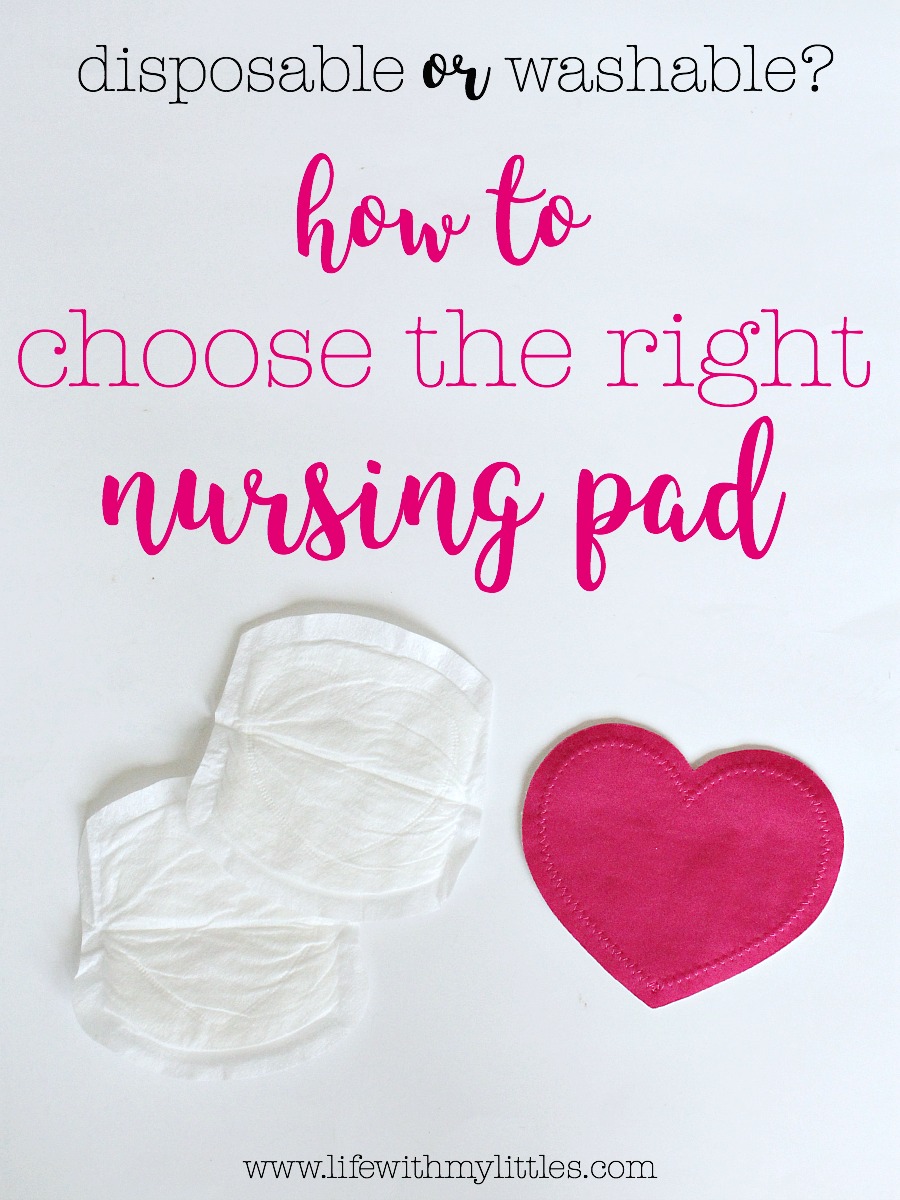 Even before we started trying to have kids, I knew I wanted to breastfeed my babies. There's nothing wrong with formula-feeding, I just knew that I wanted to breastfeed if I could. So I did a lot of research about how to breastfeed, common breastfeeding problems and solutions, breastfeeding essentials, and the best breastfeeding products. As I was doing my research, I realized that one thing a breastfeeding woman cannot go without is a nursing pad. I also learned that there were two types of nursing pads–disposable and washable. But how was I supposed to know which one to use?
Now that I am on my third baby, I am well aware of the benefits and uses for both types of nursing pad. Both types are great, and most women use a combination of both. Depending on preference, you may want to use both or one exclusively. Today, I want to talk about the great things about both types, and how to choose the right nursing pad for you.
Disposable pads are great when you have a newborn and your milk is first coming in. Personally, I go through a lot more nursing pads in the beginning of breastfeeding than when I've been nursing for a few months, and I prefer to use disposable pads during this time.
Disposable pads also have liners to prevent you from leaking through and getting your clothes wet. This makes disposable pads perfect for when you are away from home for more than a few hours.
Disposable pads are also, obviously, disposable. You don't have to worry about any extra laundry or reusing them because when they are full, you can just toss them in the trash. This is a big perk for an already busy mom like myself. This also makes a great choice for any traveling that my family does while our baby is breastfeeding.
If you're exercising or doing any type of athletic activity, you might want to opt for a disposable pad too, because they usually have two sticky adhesive tabs on the back so you can stick them inside your bra and they won't move around, even if you're doing jumping jacks or jogging around the track.
A lot of women also prefer to use disposable nursing pads at night when they are more likely to leak. But this is just a matter of preference, and you may prefer to use a washable overnight pad (which I will mention later).
I really like the Bamboobies Ecopure Disposable Nursing Pads
because they are made with a unique bamboo viscose top layer that is soft on the skin and is naturally antibacterial and antimicrobial. The inner core is also certified sustainable by the Forest Stewardship Council, so you don't have to worry about the environmental impact of using them! They also have a cute heart-shaped design that traps milk and makes them less likely to leak. They are thin too, so they are less visible, which is always a bonus when you're nursing and want to remain discreet when you're in public!
Disposable nursing pads definitely have their pros, but washable nursing pads are a great choice, too.
One of the best places to wear washable nursing pads is when you're at home. I personally think they are a little more comfortable than disposable pads, and I like to be comfy at home (t-shirts and leggings for days!). Wearing them at home also is perfect because once your pads are wet, you can easily grab another pair and toss the wet ones in the laundry.
Washable pads are also great if you are using nipple cream because it doesn't stick to the pad as much as the disposable ones do. And because they are softer, they are gentler on sensitive nipples.
Another reason to choose washable pads is that they save money in the long run. If you plan on breastfeeding for a long time, having a good stash of washable nursing pads is a good idea. Even if you use disposable pads when you're out-and-about, you can use the washable ones at home and that way you won't go through as many disposable ones and you'll save money! And I think everyone would love to save a few dollars, right?
Washable pads also come in overnight versions, which would be great for heavy leaking, or, obviously, sleeping. You can definitely use washable pads all the time if you wanted and just have some thicker overnight ones for going out in public. Again, it depends on your preference!
Bamboobies Washable Nursing Pads
are the pads that made Bamboobies famous. They are the original pads that Bamboobies sold and were created by a mom of three. They are higher quality than a lot of other washable pads, and they are super soft (and way cute!). The top layer is made of ultra-soft bamboo rayon velour with cotton and polyester which makes them really comfortable. The middle layer is extra absorbent and is made with a hemp/cotton blend. The backing of the pads are made of polyester with TPU waterproofing to provide leak protection. And the regular washable pads are heart-shaped to cup the breast for a smoother silhouette. Plus, the bamboo they are made with is eco-friendly and wicks away moisture to keep you feeling dry. It's a win-win!
So which pad is right for you? It really depends on you and it can even depend on the day and the activity. Sometimes you might opt for a washable pad, and other times a disposable pad. It's a great idea to have some of both, even if you plan on using one a lot more than the other. I like both for different reasons, and you'll probably find you do, too. Either way, Bamboobies has got you covered (literally)!
Whatever you decide, good luck breastfeeding! And don't forget to check out more awesome breastfeeding posts here.