These five worst things to say to a pregnant woman are awful! Don't ever say any of these to someone who is pregnant!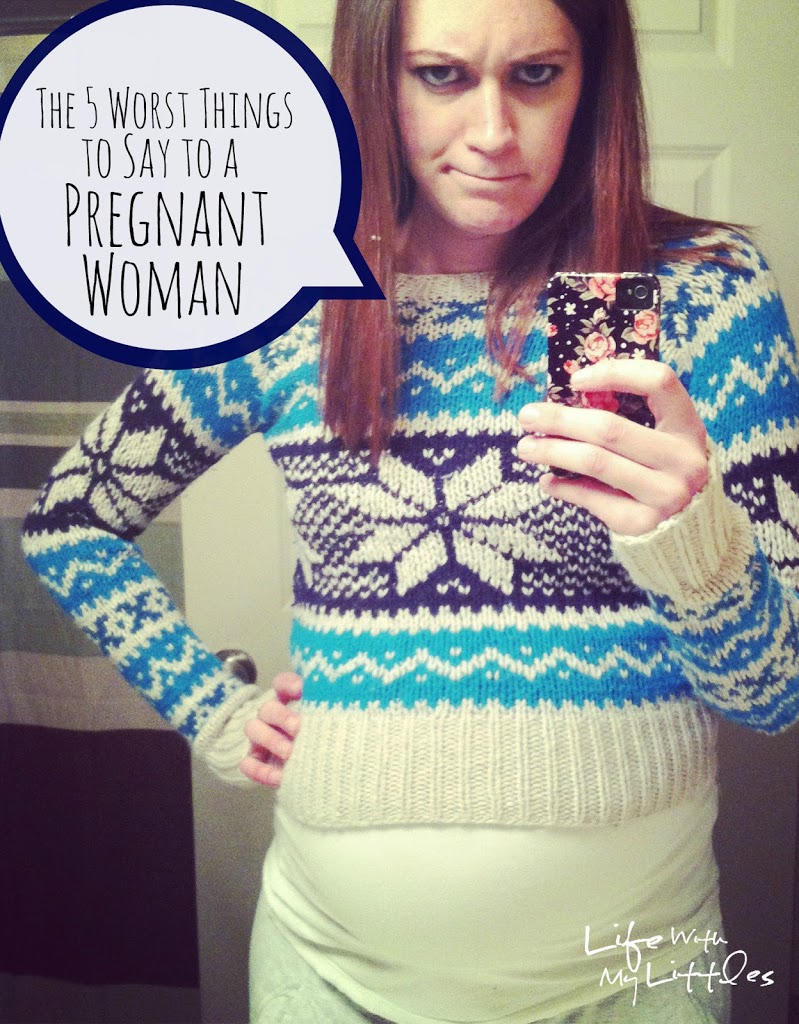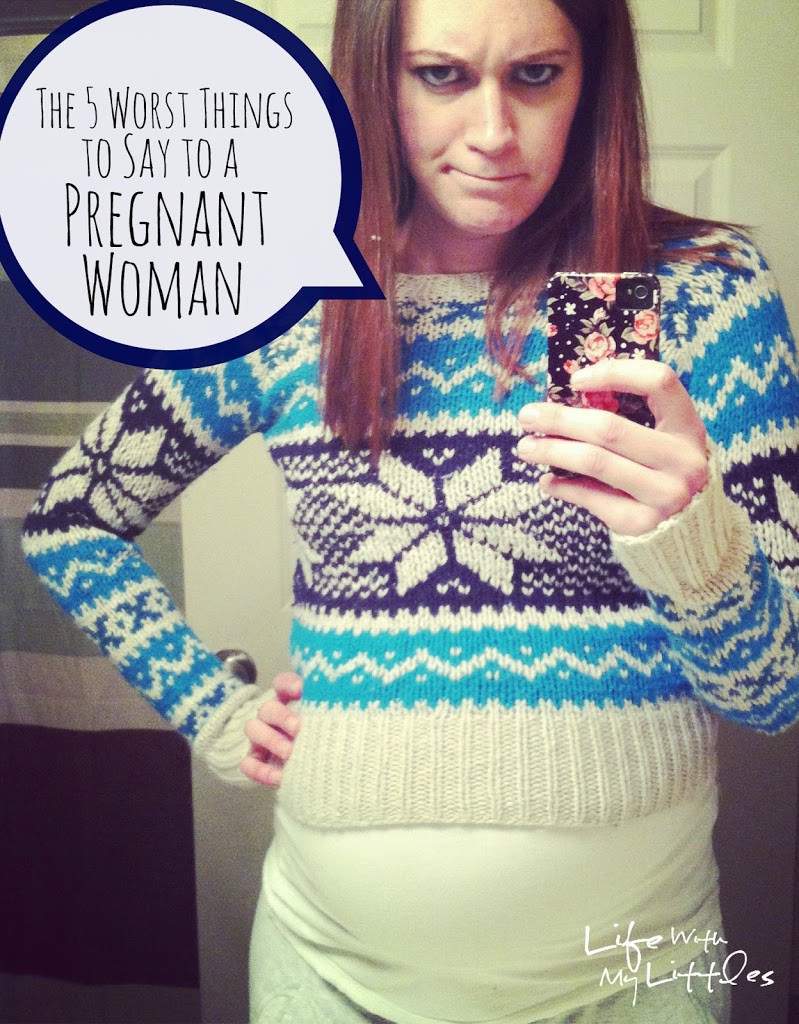 For some reason, people don't always use common sense when speaking to pregnant women.
I don't know if people just forget what it's like to be pregnant, forget that you are still a person, or they haven't experienced pregnancy, but sometimes people do not think through what they say to you when you are pregnant.
Now that I am on my second pregnancy, I have gotten my fair share of interesting and inconsiderate comments. I know that people don't do it on purpose, but there are some things you just should not ever say to a pregnant woman.
I talked to a few of my friends and have compiled this handy guide to help people know what not to say to a pregnant woman.
The Worst Things to Say to a Pregnant Woman
Before I go on, the first thing you should know when addressing a pregnant woman is that she is still a woman, and even though she is pregnant, she does not like any references to her weight gain. I think that is totally justifiable, especially since you are already a little more sensitive when pregnant. Nobody likes to get bigger, even if there is a good (cute baby) reason for it. That being said, here are the top 5 worst things to say to a pregnant woman:
"You're getting so big!"
Yes, dear family members, this one is for you. Yes, every time you see me I am going to be bigger. Babies grow, and since baby is in my tummy, my tummy is going to grow. But it still hurts a little to be told you are getting big (unless you are a little kid).
"You look ready to pop!"
When you say this to a pregnant woman, it implies that she is almost done with pregnancy (or maybe that she is a balloon).
But oftentimes, she still has several weeks or even months to go. And then when she is almost done with pregnancy, it just reminds her that no, she has not delivered her baby yet and yes, she is miserably uncomfortable. Especially after the due date.
"Are you having twins?"
Again, this implies that the pregnant woman is huge. And since the likelihood of having twins is only 3.3%, it's probably best to just assume there is one baby in there.
Also, don't ever follow this up with "are you sure?" Never ever, folks.
"You are a lot bigger this time around."
This deals with second or more pregnancies. Saying this makes the pregnant woman think that you think she looked better with her first pregnancy (even if that's not what you mean, a pregnant woman's mind works differently).
Yes, she might be bigger with her second or third pregnancy, but don't point that out. It's not very nice.
"How long do you think it will take you to lose the weight?"
When you are pregnant you do not want to think about having to lose the baby weight. Especially if you gain 50 pounds (yes, I did).
Even if she's at the gym walking or is generally a very fit, thin person, don't say it.
Yes, a pregnant woman can be more sensitive than she needs to be and she can look further into comments than she needs to, but she is growing another human being so she can think whatever she wants and be as sensitive as she likes.
Pregnancy is rough, so let's just say nice things to pregnant women! Don't remind them how big they are or how long they have to go until the baby is born. Trust me, they are well aware.
I also wanted to recognize a few honorable mentions:
"You don't look very big. Are you eating enough?" Yes, like a pig. Thanks for the concern.
"Can I touch your belly?" Especially coming from strangers. Pregnant ladies still need personal space.
"Your belly looks like an alien."
After baby is born: "She only weighed how much? You looked way bigger than that!"
"When are you calvin' out?" I especially feel for my friend whose father-in-law keeps asking her this. Not a cow.
Bottom line: if you aren't sure what to say, ask yourself if a woman who wasn't pregnant would take offense. If she wouldn't, it's okay.
Special thanks again to my friends who contributed to this list of the worst things to say to a pregnant woman!