Asking someone when they are going to have kids is the worst possible thing you could say to someone going through infertility. Here's why.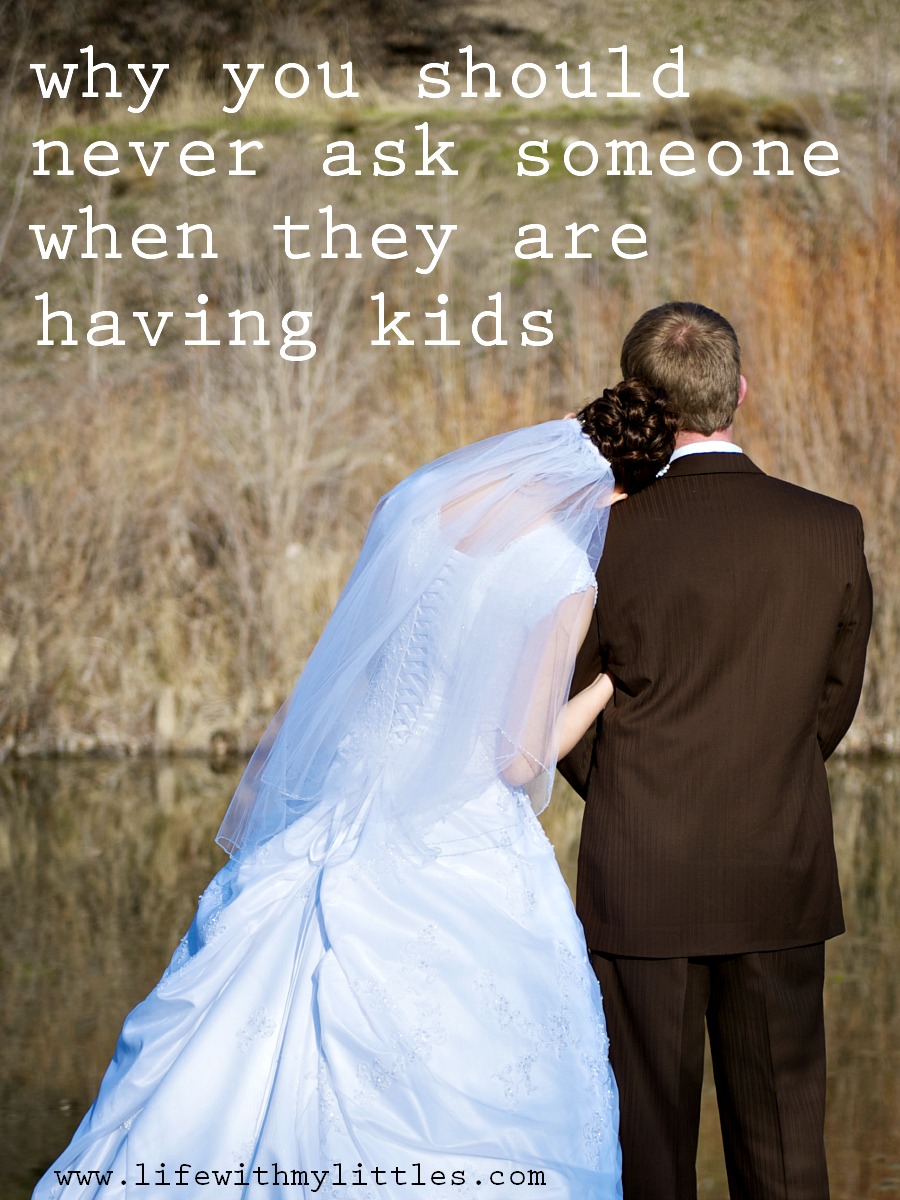 You don't really think about it until you've experienced it yourself. But after several months of trying to get pregnant, anyone asking you when you are going to have kids feels like a slap in the face.
For someone who is trying everything they can to get pregnant, having someone even casually mention the fact that they need to start their family is enough to start a waterfall of tears. While outside you may be keeping it together, inside you are completely falling apart.
It took us 15 months to get pregnant with out first baby. We tracked my basal body temperature for months, I laid on my back with my hips propped up after trying, we were tested for different problems, and we prayed morning and night for the blessing of a child. In the end, it took a round of Clomid and an IUI for us to finally get pregnant with our little boy 15 months after we started trying. It was one of the hardest things we've ever done.
But that's not something you mention in casual conversation. When someone asks "how are you?" you don't unload the stress you've been feeling for months, or even years, about how much of a roller coaster trying to get pregnant has been.
You worry if something is wrong with you, or you've done something wrong and are being punished. You fear that you will never be able to experience pregnancy and holding your own newborn baby in your arms. You cry every time you get your period, and every time you see a baby or a pregnant woman, you have to hurriedly rush away to stop your emotions from getting the best of you.
Put yourself in that woman's shoes. Imagine someone comes up to you and after talking for a while, they ask you when you are going to start your family. They tell you that you should start soon because you've been married for a while. You know that they are judging you for something you have no control of. But you can't tell them about the battle you've been having with your own body because if you try you are just going to break down. So you try and be casual and brush it off with a "oh, I don't know, we'll see," and then try to quickly change the conversation.
Are you the person that is asking something they shouldn't? Are you the one judging people for not having kids?
You are not the one who decides when someone should have kids. Having children is such a personal decision. It is between a man and a woman, and nobody else can tell them when they should start their family. There could be other things going on in their lives that you have no idea about that might make having a child impossible at the moment. Everyone is dealing with trials, and most of the time, they are far more difficult than the ones you are going through.
When we were trying to have a baby, I was an emotional wreck. It felt like I was bipolar because I would get so much hope every time I would ovulate and then for two weeks I would be excited and optimistic and then reality would hit with my period each month and I would be miserable for two more weeks. And then it all started over again. Month after month.
So please, I am begging you, stop asking other women when they are going to have kids. Stop judging them for having a job instead of having kids, or traveling instead of having kids. Stop judging each other for things you know nothing about. Because while you might think someone has their priorities mixed up, they might be going through the biggest struggle of their lives, or maybe they aren't and they just aren't ready for kids. Either way, it's not your decision, and you have no place to push them.
The point is, never ask someone when they are going to have kids. Because to someone struggling with infertility, that is the worst possible question you could ask.