Three toys to help with teething to make it better for you and your baby!
I received free product in exchange for this post.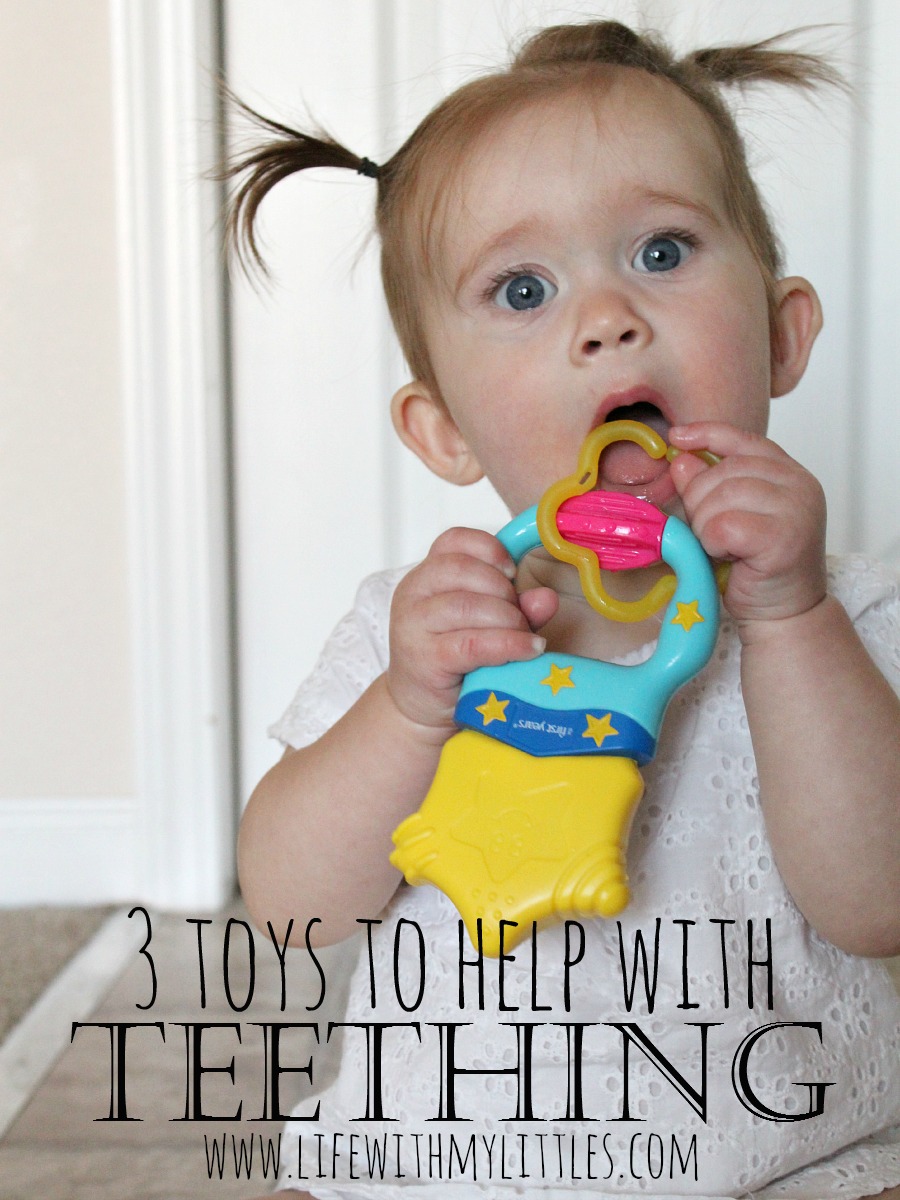 Teething is rough. In the last two months, our daughter has gotten five teeth and has one more coming in. Needless to say, she has been extra grumpy. She drools so much that she soaks through bibs in a few hours, she cries and is super clingy and whiny, and she has not been sleeping super well. It's been rough.
So I have been looking for a way to help her out and make her little mouth feel better. Besides cold things and medicine, nothing was helping up until two weeks ago. I had a chance to try out three teething toys from The First Years, and they have made a definite difference in Little A's mood!
Today I want to share these three toys to help with teething so that I can help other moms help their babies and their painful little gums!
The Star Power Teether is my favorite of the three toys. The yellow star vibrates when Little A bites down on it, and each point of the star has a different texture, so she can find the one she likes.
It's easy for her to hold and still bite on, and it has a fun little spinning part that also has little texture bumps and ridges so she can chew on something else if she wants. It's a great toy with lots of features and Little A loves it.
The Bristle Buddy is super cute and ours is even shaped like a hedgehog! It has nobby bristles that help massage Little A's gums.
The bristles give your baby a sensation similar to that of a toothbrush, and it's super lightweight so it's easy for Little A to hold on to. She loves getting her teeth brushed, so it's no wonder she loves the Bristle Buddy!
The Buzzing Bee Massaging Teether is the third toy we got to try out. Again, awesome! When she bites down on the little antennas, they vibrate and help soothe her little gums. And the shape of the toy makes it easy to get to her molars when she starts getting those eventually.
I think Little A's favorite part about this toy are the fun little rings that surround the bee's body. They have even smaller tiny rings on them that add in another texture for babies to bite on. And they make it easy to hold on to, too! The Buzzing Bee Massaging Teether has so many different features and materials that it is perfect for any preference a baby might have.
Since we have started giving these teething toys to Little A, she has been a little bit happier! I mean as happy as a baby who is getting teeth can be. It's nice that we have something we can keep in the diaper bag when we are out that we can just grab when she starts getting cranky. I brought all three of these toys to our family reunion this week and Little A was not nearly as fussy as I thought she would be. And one of her teeth is right about to break through, so that's saying something!
Good luck with your teething adventure! The good news is, it doesn't last forever!