If you're wondering what sponsored posts are and why bloggers and influencers do them, here's a great explanation! Next time you see #ad or #sponsored, you'll know why it's there!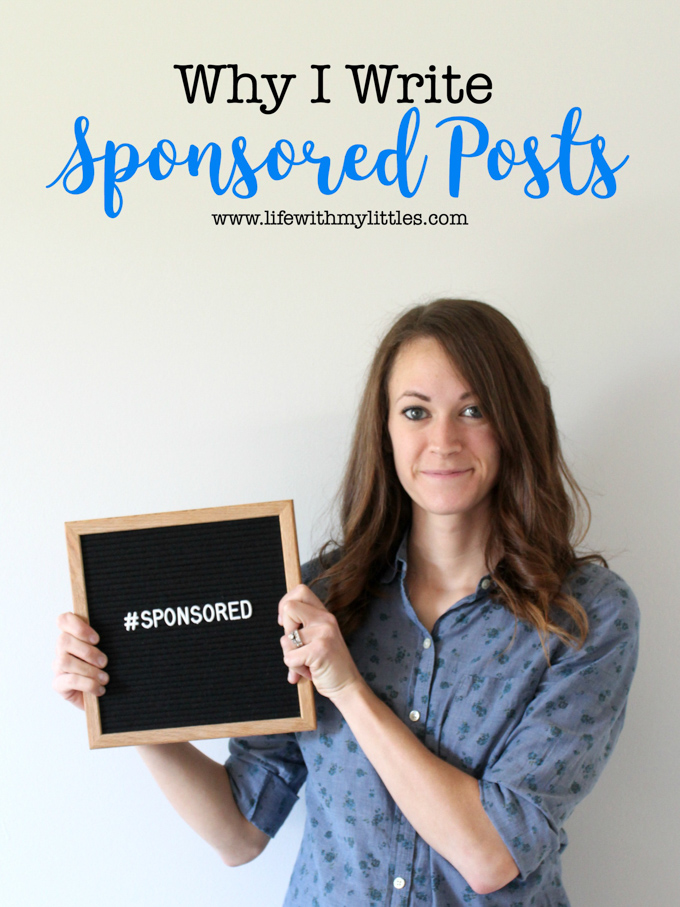 You may or may not have noticed, but last month, I had a lot of sponsored posts go up. I had approached a lot of companies I wanted to work with, and a few approached me wanting to work together, too. It wasn't intentional to have a bunch go up so close together (I usually try to space them out), but it happened.
Like I said, you may have not even noticed. I really try to fill my sponsored posts with quality tips and content and make them more than just a review or product endorsement. If you didn't notice, awesome! That means I'm doing a good job at my job! And if you did notice, well that's fine, too. I only work with brands that I really, truly recommend, and I'm happy to share with you! But I wanted to take a minute and tell you why I write sponsored posts so you can understand more of what I do here with Life With My Littles and why I do it the way I do.
I started Life With My Littles in 2013. Mamas, I've been blogging regularly for over five years. Of course, back then, my blog was more craft-focused (until I realized I was so bad at that), but still, it's been over five years. When I started my blog, I had no intention of turning it into a business. I had no idea that it would grow and turn into a way to support my family. When I started it, my husband was in his second year of medical school, we were already wildly in debt and taking out the max amount of student loans to pay for everything (medical school is super intense and there's no way you could have a job during that time), and we had one little guy at home who was five-months-old. I just wanted to share things I was learning with other mamas like me.
Flash forward five years. We've moved from Iowa to Idaho to Texas to Minnesota. My husband has graduated from medical school and is in his second year of his three year family medicine residency, and we have three kids, ages 5, 4, and 1. Yes, my husband is getting paid during his residency, but it's barely enough to cover our living expenses, let alone pay down his massive student loans from medical school.
And that's where this blog comes in. As I've grown, I've been able to find new ways to monetize my content. Most of the money I make comes from ads, but I also do sponsored posts as a way to make money. Thanks to the money I make and the people who keep coming back to my blog, we're already starting to pay down my husband's student loan debt, a little at a time.
Call it a business, call it a side-hustle, but this little place I created to share what I was doing in my life has grown into a helpful resource for millions of parents. In the last year alone, over 4.7 million people viewed my blog. If you don't want to do the math, that's about 391,000 parents a month. It goes up and down each month, but that's an average. To give you a better idea of what that looks like, we live in Minneapolis, and the population here is 413,000, so that's almost all of the people in this massive city looking at my blog each month. That's an incredible accomplishment and honor! And that's why I care so much about it and the sponsored posts I write.
So what is a sponsored post? The way I define a sponsored post here at Life With My Littles is a post that I'm partnering with a company to share. It usually involves working with a brand about a specific product or service, or place, and I share a few talking points provided by the brand, as well as why I personally like the product, service, or place. Sometimes I get free product and sometimes I get paid, but it's a way for brands to get in front of a new audience. Like I said earlier, I am very picky about the companies I work with. I only work with companies I support and have personal experiences with, that I think you guys will like, that are affordable, and that have made my life easier, more fun, or more fulfilling. For that reason, I turn down more than 3/4 of the companies who approach me. I really do care about sharing good stuff with you guys (I promise I'm not just selling out)! A lot of thought, time, and energy goes into each post I write, whether it's sponsored or not.
Life With My Littles has been a huge blessing in our lives because it has provided me a way to help support our family while staying home and being with my kids each and every day. It's so much more than a blog to me; it's my passion and kind of like my fourth child.
So mamas, if you see a post where I'm talking all about how fab Pampers are, or how much we love playing with Barbies, please don't scroll right through. Your engagement helps me continue to share things I love, support my family, and be at home with my kids. And seriously, it means the world to me! Thank YOU!