Helping your baby feel swaddled in love with every touch just got easier with the newest Pampers Swaddlers! They are 2x softer and protect your baby's skin better than ever! Check out the new changes here!
This post is sponsored by Pampers. I am a proud member of the Pampers Baby Board.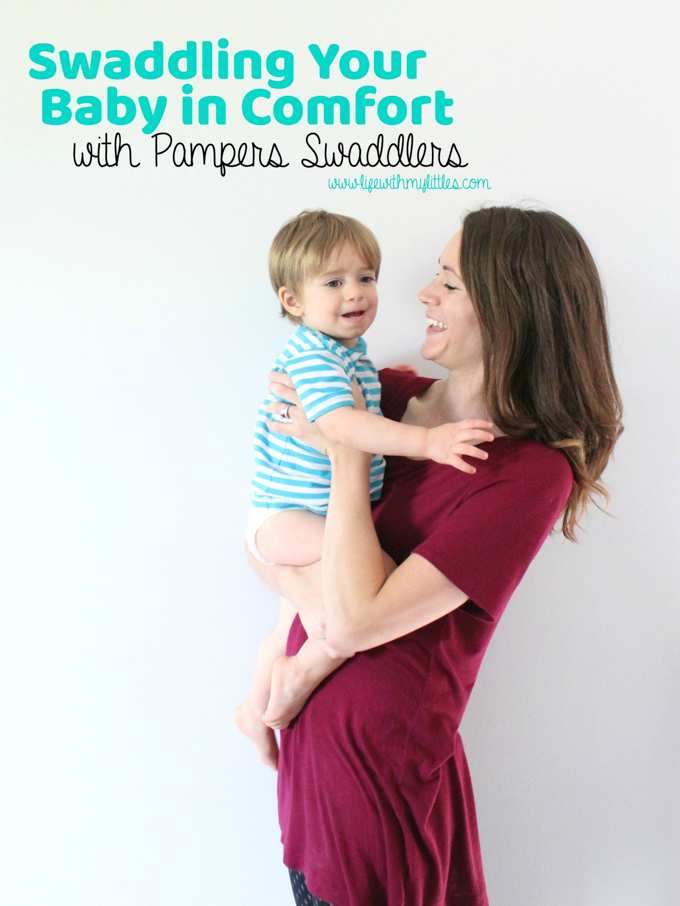 It's no secret that I love Pampers diapers. I haven't been shy in telling you guys how much we love them, even since our oldest was a baby. In the last year, Pampers has come out with a new line of diapers and wipes (Pampers Pure) and made some pretty amazing changes to their existing lines of diapers (Baby Dry and Cruisers). You know a company really cares about the product they put out there and the people they're serving when they're improving diapers that are already the best on the market!
Pampers Swaddlers have been the first diapers each of my babies have worn. They're absorbent, fit snugly and don't leak, they're super soft, and with that yellow indicator line, they're perfect for new parents! No wonder Pampers is the #1 choice of hospitals, nurses and parents (including me!).
And guess what! Pampers Swaddlers are the latest line to get an upgrade. They're now softer and more comfortable than ever, and that's a big deal! Every parent wants their baby to be surrounded by comfort and love from the moment they're born, and nothing touches a baby's skin more than diapers. Think about it! They wear diapers nearly 24 hours a day, 7 days a week! So don't you want their diaper to be as soft as possible? YES!
Baby skin is so sensitive and soft. And even as a toddler, our youngest still has the softest skin in our family. As a parent, you of course want a diaper that's going to be just as soft and gentle so it won't harm or irritate their skin. Having a soft diaper absolutely matters, so I am thrilled that a diaper I already thought was soft and perfect for babies (or toddlers, in our case!) is now 2x softer, offering the softest comfort and best protection ever! They're seriously blankie soft, and they gently wrap your baby in Pampers' best blanket-like softness. There's a reason they're called Swaddlers, mamas!
You'll know your'e getting the new Swaddlers by the Blankie Soft Heart Quilts™ picture on the package. They no longer have Sesame Street characters on them (which my kids never got into, so fine by me!), and instead they have cute new designs!
What do they mean by "heart quilts?" Well, look at the inside of the diapers! This absorbent layer is made of breathable mesh and patterned with heart quilts! Pampers Swaddlers still have up to 12 hours of protection with their unique Air Channels™ that allow air to reach your baby's skin, helping keep them dry and comfortable.
So how does it work? Well the top sheet is dual-layered! The outside resists liquid and the inside draws liquid inside. Basically, this special sheet absorbs wetness and then keeps it inside, keeping your baby's bum dry! They literally pull wetness and mess away from the skin. These new Swaddlers keep your baby's bum virtually 100 percent dry. How amazing is that?
I even tested it by pouring water on top and then feeling it, and then pouring some more on top and feeling it again. Guys, it really does work! I could tell the diaper was wet, but my hand didn't get wet when I touched it. It was amazing! No more worrying about irritation from a wet diaper! Which also means that your baby will sleep longer and wake up happier. Even if your baby pees at night, they'll still wake up feeling dry! Hooray!
Babies should feel swaddled in love with every touch, and that includes the touch of their diaper. Thanks to Pampers and their team of hardworking innovators, you never have to sacrifice softness for protection!