If you're not sold on the world of LEGO yet, here's a great post about why every kid should have a LEGO set! Seven reasons why your child (and you!) will love them!
This post is sponsored by LEGO. I received free product in exchange for this post.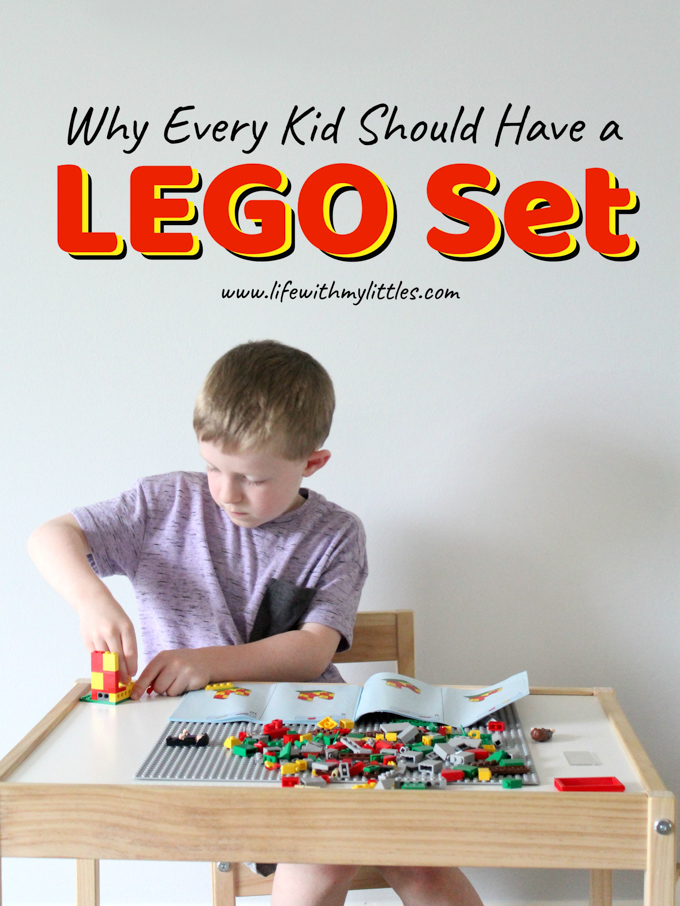 When our oldest son was one, he got his very first LEGO set. It was the DUPLO Number Train, and he loved it. It took him a while to figure out how to play with it other than just hitting the bricks together, but once he figured it out, I knew we were in the LEGO world for good.
A few more DUPLO sets and years later, LEGO came out with a Cars 3 LEGO Juniors line. My oldest son got a set with Miss Fritter, Lightning, and Cruz, and he absolutely loved putting it together. He was only 4 but he needed very little help from us to put it together. It was his first set of little LEGOs, and it would hardly be his last.
Now our son is 5, and together with his 4-year-old sister, we have amassed quite the collection of LEGO bricks. From Star Wars to Moana to Cars and now Harry Potter, these kids love their LEGOs.
And after watching how into building and creating they get, I think there are several reasons why every kid should have a LEGO set (or ten!). If you haven't gotten sucked into the world of LEGO yet, here's why it's absolutely worth it:
1. LEGO sets feature characters they love (and characters you love!). Besides the awesomeness of the LEGO City and LEGO Ninjago sets, there are so many other sets with fun characters your kids already love. LEGO has collaborated with Disney and the collections that have come out in the last few years have been incredible! The princess sets, the Star Wars sets (my youngest carries around our Chewbacca minifigure all the time), the Marvel superhero sets, Disney Junior sets, Cars sets, and even The Incredibles sets. And it's not just Disney, either! You can buy sets with characters from Jurassic World, DC Comics (like Batman!), Transformers, and Harry Potter! We were lucky enough to get Aragog's Lair and the Quidditch Match sets, and they are incredible! As a long-time Harry Potter fan, I appreciate all the little details! Even Harry's scar shows through his hair perfectly! And the Marcus Flint minifigure looks EXACTLY like the character in the movie! It's so funny! If you're not sure your child will enjoy a LEGO set, start them off with one featuring a character they love. They'll be hooked!
2. LEGO sets encourage teamwork and independence. When your kids are younger and just learning how to follow the instructions to build their sets, you work together with them, side-by-side, helping them find the right pieces and put them together the way you're supposed to. You work as a team, and they learn skills that will help them play well with others. As they get older, they'll start building the sets independently. They'll learn from their mistakes and correct them as they go. And yes, they may still come to you and ask for help sometimes! My son was able to set up most of the Harry Potter sets on his own, but he needed my help a few times. Any toy that encourages both teamwork and independence is one I'll happily buy my kids!
3. LEGO sets encourage creativity. Do I even have to explain this one? Your kids can follow the directions or they can build anything they like! My kids are constantly bringing me new things they created to show me. And they're impressive! They usually involve cars or spaceships or houses for those cars or spaceships, and it's so fun to see what they create.
4. LEGO sets help improve fine motor skills. Since you obviously use your hands and fingers a lot when building with LEGO, they're a great way to help your child's dexterity! Putting tiny pieces together and taking them apart requires a lot of work with your fingers, and it can definitely help improve your child's fine motor skills!
5. LEGO sets can teach kids how to follow directions. Since each set comes with a little set of step-by-step instructions, your child will learn how to carefully look at each step and follow the directions. Of course they're always able to build whatever they want with the LEGO bricks, too, but if they need some practice following directions, LEGO sets are great for that (especially the first time they build a set!).
6. LEGO sets encourage imaginative play. With all the incredible sets that are available, your child will have no problem building something they love and will want to play with for hours. My son loved pretending that the Harry Potter minifigures were really playing quidditch and that Ron and Harry were really running away from giant spiders. Every set will encourage your child to play something new, and it's so much fun to see what they'll come up with! My son most often makes cars or spaceships to fly around, and my daughter likes to make little characters that she pretends are alive. It's fun to watch, and it's fun to play with them, too!
7. LEGO sets encourage problem solving. We run into this at least once every time my son builds a new set. He'll accidentally miss a step or do a step wrong, and then a few steps later, realize it and have to go back and figure out what he did wrong and try to fix it. Or he'll have an idea of what he wants to create in his head, and he has to figure out a way to build that with the bricks that he has on hand. It keeps his mind active and teaches him a skill that will help him throughout his life.
Mamas, if you're not sold on buying your child a LEGO set by now, I don't know what else I can say! Yes, I've stepped on a LEGO or two, and yes, it hurts as bad as you've heard, but I would step on 100 LEGO bricks to watch my kids build and create and play with their LEGO sets. Every kid should have a LEGO set because they really are such a unique, engaging toy for children that they'll play with for hours and love for years. And make sure you check out the new LEGO Harry Potter sets, in stores and online now!