Tips for going to the Wilderness Resort with young kids! A GREAT post to check out before heading to Wisconsin Dells. 28 tips for visiting with babies, toddlers, and preschoolers!
I received discounts in exchange for this post. All opinions are my own.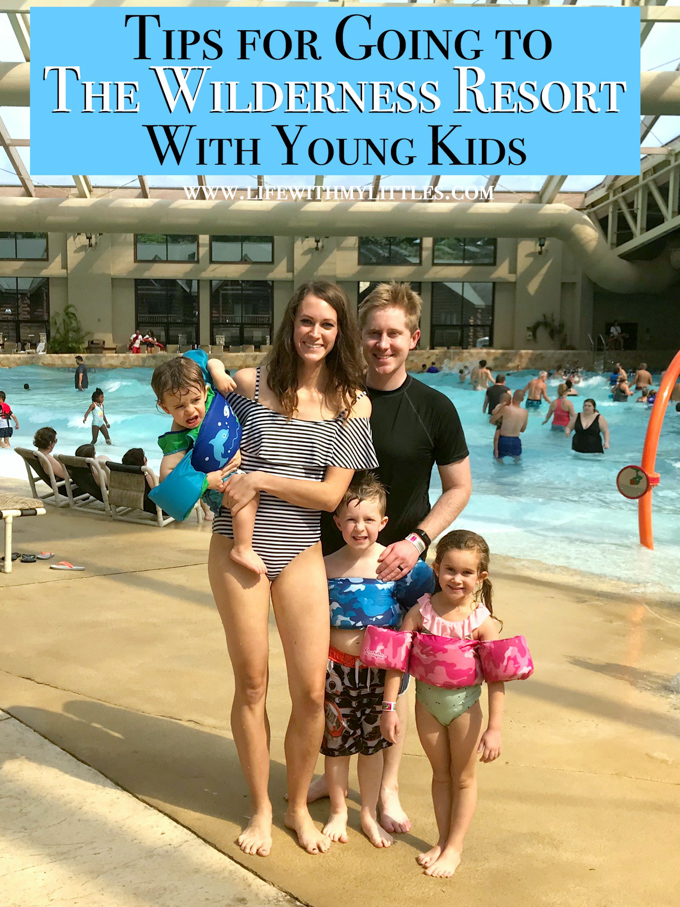 Two weeks ago we had an end-of-the-summer hoorah and drove to Wisconsin Dells, the waterpark capital of the world. It's an amazing little town with tons to do and the best waterparks in the country. Our best friends recommended the Wilderness Resort, and I am SO GLAD they did! It's an incredible resort with three waterpark properties to stay at, eight waterparks (four outdoor, four indoor), and a bunch of amazing attractions! It's America's largest waterpark resort, and we had such a fun time. If you ever visit Wisconsin Dells, I highly, highly recommend staying here. Unlike other waterpark resorts, they have things to entertain toddlers, preschoolers, and school-aged kids of all ages (rather than just one waterpark for young kids). And if you are going with young kids, it definitely will take some planning to have the best time you can because there's so much to do. Today I wanted to share some tips for going to the Wilderness Resort with young kids, since that's what we did, so you can have as fun of a time as us!
1. Bring grandparents or friends. There's a reason this is the first tip! My parents came along with us, and it was great. They were able to help watch Little R so we could go on some of the bigger slides, and they even watched all three kids while my husband and I went on slides together! We also had Little R and Little A go to bed early one night, and my dad stayed with them in the room while my husband, mom, and Little J and I all went and did some attractions. It was the perfect set-up, and it allowed us to do as much as we could while we were there.
2. If you're awake and ready, go to the daily duck races. I mean if you have young kids, you probably will be. Every morning there are duck races that kids can participate in. Check your schedule to see where and when. We didn't get a chance to go, but I know my kids would've loved it! Winners even receive a prize!
3. Bring more than one swimsuit. Assuming you're going to be there for more than one day, bring a second swimsuit! My daughter and I both have two, so we brought them so each day we were able to have a completely dry suit! My sons only have one, so they had to wear slightly damp suits the second and third days. This is also a good idea if you plan on swimming in the morning, doing some attractions in the afternoon, and then swimming again in the evening!
4. Bring floaties if your kids are really small. We brought our Puddle Jumpers floaties for all three kids, and I'm glad we did because I wouldn't have let my youngest son have so much freedom without it! Wilderness Resort does provide life jackets, but the smallest ones still would've been big on our 19-month-old. I'd say bring them and then if you don't need them, at least you know you were prepared! Also, all kids under 48 inches are required to wear floatation devices at Wilderness on the Lake, just FYI if you head over there!
5. Don't pack towels. When you check into your room, you get one "towel card" for each person in your room. I LOVED this. At each waterpark, they had a towel desk (some of the waterparks had two) where you hand them your towel cards and they give you one towel per card. Each time you're done, you can trade them back in for cards and that way, you don't have to carry around wet towels! You can even trade them in for dry towels after you get out of the water. Anyway, don't pack towels. You won't need them and they'll just take up space.
6. Bring empty water bottles or sippy cups for your kids, and make sure you fill them often! The Wilderness Resort has a great deal where you can buy a souvenir drink cup for $7.99, and then all refills are 99 cents. Assuming your kids don't drink soda, I recommend bringing water bottles or sippy cups. There are drinking fountains all over, so you can refill them easily when you need to!
7. Plan for nap time. If you have a child that still naps, make sure you think about that when you plan your day. If they'll nap in the stroller, great, but if not, make sure you take them back to the room to nap. Our youngest won't nap in the stroller, so we left him in our room with my parents and he had a nice, long nap and was happy the rest of the night. If there's one thing I've learned about vacationing with kids, it's that they still need naps if you want to have a good evening with them!
8. Bring a light stroller for the walking. Speaking of strollers, make sure you bring one that's pretty light. There are a few places where it's easier to go down one flight of stairs than finding an elevator to take. And if you have a small child with short legs who either doesn't walk or who walks MEGA SLOW like mine, you absolutely have to bring a stroller. The Wilderness Resort is huge (more than 500,000 square feet), and you are NOT going to want to carry them around the whole time! My husband got over 20,000 steps one day, just to give you an idea of how much walking we did!
9. If you have kids who can't sit in a tube by themselves, look for the green double tubs that have mesh bottoms. I didn't realize this until the second day, but some of the green double tubs have a mesh bottom on one side so kids who are too small to sit in a tube by themselves can sit on the mesh and still enjoy the lazy river! Little A LOVED having her own side of the tube to herself!
10. Plan out what you want to do when you get there, but be flexible. With eight waterparks and a bunch of amazing attractions, it's a good idea to prioritize what you want to do and make a plan! We decided not to go over to Wilderness on the Lake (even though I've heard Cubby's Cove Indoor Waterpark is PERFECT for young kids), and even without that we didn't get to do everything we wanted to! It would probably be easier to plan if you go in the fall or winter when the outdoor waterparks and attractions are closed, but still, there's so much to do. So make a plan.
And if your kids happen to fall in love with one of the waterparks, be flexible and let them play there longer than you had planned! We had planned to check out all the waterparks, but only went to Wild WaterDome, Klondike Kavern, Wild West, and Lost World because our kids didn't want to leave those parks! The kids loved Lost World because of the dinosaurs, and slides (there's even a slide on the lazy river!).
We also went to Wild West twice and Klondike Kavern twice. They both have body slides, tube slides (double and for 4 people) and big play structures with tipping buckets in the middle that are perfect for older kids, and little areas off to the side for toddlers to play in. Klondike Kavern also had a lazy river that we all floated for a while!
We didn't love Wild WaterDome, but only because it's mostly a massive wave pool (the biggest in the country, actually!) with a small area for younger kids on the side, and our kids got bored with it fast. If you have bigger kids who like wave pools, it's probably more fun! The big Wisconsin Dells tube is there to take pictures with, though!
11. Do the waterparks during the day and attractions at night. One thing we planned on that worked great for us was to do waterparks during the day and then attractions in the evening. That way we were able to shower and get dressed before dinner and then we didn't have to change again later. This probably isn't that big of a deal for you if your kids can wash and dress themselves, but our two youngest still need help bathing and we didn't want to have to do it twice in one day!
12. Bring a waterproof phone case for pictures! I have a waterproof phone case that I brought to take lots of pictures, and it was perfect because I was able to get right in the water and get pictures and not have to worry about my phone getting wet or splashed. You can't bring any phones on the slides, so don't try, but I definitely recommend getting a waterproof phone case so you can capture lots of memories while you're there!
13. Eat at the Wild Canyon Cafe for breakfast. We didn't try their dinner, but the breakfast here was fabulous! And the best part is that kids 8 and under eat at the buffet for free when you purchase an adult buffet! Which is great when you have three kids because kids' meals are expensive and they add up fast. I suggest trying the donuts and waffles!
14. Check in is at 4, but you can get there as early as noon and enjoy the waterparks. We had to drive from Minnesota, so we got there around lunchtime, and it was perfect because even though our room wasn't ready, we were able to get our wristbands and start using the waterparks right away! I packed one bag that had all of our swim stuff, so we left everything else in the car, changed in the locker room, and just went and played! I highly recommend doing this so you can maximize your time there!
15. Check out as late as you can and then play until you have to go home. Along the lines of the last tip, to get the most out of your visit, stay and swim or do attractions for a few hours after you check out. Check out is at 11, so we put on our swim stuff, cleared everything out of our room, and went down to one of the waterparks with a bag of clothes so we could change when it was time to leave. They have showers in the locker rooms, too, so we were able to rinse off before getting dressed and then drive home after a few more hours of play!
16. Check the schedule for the WildKids Club. We didn't get to do anything in the WildKids Club, but they have several fun activities and crafts kids can participate in during your stay! You can create your own Stuff-A-Critter or design your own tie-dyed Wilderness t-shirt! You can get a schedule of activities when you check in, so make sure you look at see if there's anything your kids want to try out!
17. Bring sunscreen. Four of the waterparks are outside (they're closed from Labor Day-Memorial Day), and then there's one indoor waterpark (the Wild WaterDome) that has big glass windows that let the sun in. You're definitely going to want to bring sunscreen for those so your kids don't get burned! Yes, even in the winter! And don't forget to put it on well before you get in the water. Little J's sunscreen on his face washed off (my fault) and his little cheeks got burned.
18. Go any time of year. If you're planning a trip to the Wilderness Resort, you're probably wondering if it would still be fun to go during the winter. YES! Like I said, there are four indoor waterparks, and all but one are connected by indoor walkways so you don't even have to go outside if you don't want to. Plus, there are a bunch of arcades and attractions to do indoors that will keep you busy during the colder months. The Wilderness Resort is definitely one you can go to during the winter and not get bored at all!
19. Get the Fun Pass. Guys, these are absolutely worth the money, even with young kids. Our oldest son (he's 5) could do all the attractions on the pass, and our daughter (who is 4) could do all but 1. There's both an indoor and an outdoor Go-Kart track (kids have to be 4 or 36″ to ride with a parent, or in the kid karts on their own) that my kids LOVED. The Cosmic Go-Karts are outdoor, fast, and powered by gas, and the Wilderwoods Go-Karts are indoors, two stories, and they are electric. They drive differently, so it's fun to try out both!
We also had fun at the Marshall Training Lazer Maze where you can test your skills and see how good you are at avoiding the lazers (spoiler alert: we were horrible). Our oldest son, my mom, my husband, and I did the OK Corral Lazer Tag while the younger two were sleeping, and we had a blast. We told my son he won and he wouldn't stop telling people about it! My husband and I also took our oldest son on the Northern Lights Sky Ropes, which is an AMAZING ropes course in the Wild West Region of the Wilderness Hotel, located above the Glitter Gulch arcade. Even if you don't get the Fun Pass, it's well worth the $9 for 30 minutes! You have to be 48″ to do it alone, and kids under 48″ have to have an adult come with. Our son was pretty brave and did a great job!
We also tried out the Wild Abyss Mini Golf, which was indoors, and the Jurassic Mini Golf, which was outdoors. Our dinosaur-loving daughter loved the outdoor course, but was too distracted by all the dinosaurs to play! My dad, husband, and oldest son did the indoor mini golf and really enjoyed that.
The only attraction on the Fun Pass that I didn't like were the Wild West Bumper Boats, and that was because they are more spray-people-in-the-face-boats than actual bumper boats. My husband enjoyed them, though! The Fun Pass is only $29.95 plus tax, which I think is a great deal since you get to try everything out once. And you can upgrade them to unlimited for $19 more, which would be cool if you were staying an extra long time! Anyway, get the Fun Pass. Very worth it!
20. Check height restrictions before promising your littles they can do things. This is always one of my tips when visiting somewhere fun with kids because you don't want to tell them they can do something and then find out they can't when you get there! Some of the slides and attractions have height restrictions, so look them up before you go. No sad kids, please!
21. Visit the Timberland Play Park. YOU GUYS. This was the most amazing indoor playground! It's a massive 4-story structure that has slides, swings, and tons of tunnels and steps to climb. My kids had so much fun here! You have to be wearing dry clothes and socks to play, so make sure your kids have socks! There is a vending machine on the side of the play park that has socks in it, just in case! Anyway, you have to check this out. It's just for kids 12 and under (and parents with them), and it was definitely one of my kids' favorite things. We went right around lunch time and there was hardly anyone there! My mom even went in it with Little R and got all the way to the top!
21. Think about where you are going to stay. With several different options for lodging, make sure you think about where you want to stay before booking your trip. We stayed at Glacier Canyon Lodge (a condo resort), which we loved. It was super nice and our room had a bunk bed for the kids, two bathrooms, a master bedroom for my husband and I, and a kitchen. My parents stayed in the adjoining room, which even though it was a typical two-queen bed room, it was still super nice. And we had a great view of Lost World! One thing I really liked about staying at Glacier Canyon Lodge was that it was close to most of the waterparks, but it wasn't overly busy or loud. I'd definitely stay there again! Wilderness Hotel is another option, and it's the main resort. The rooms there are very similar to hotel rooms, so if it's just your family going and not your extended family (or if your family isn't huge), this is a great place to stay! Wilderness on the Lake is another place to stay, and while it's not connected to the main resort, there is a free shuttle you can take to access the main part of the resort and all the attractions and waterparks there. It's also a condo resort, like the Glacier Canyon Lodge. The resort also has several villas, cabins, and frontier condos, so it really just depends on if you're going for a quick family vacation, a family reunion, or a long visit to the Dells. We really did love staying in Glacier Canyon Lodge, though!
22. Bring a waterproof bag to put your stuff in at the waterparks. I brought a cheap little tote we got from a city event, and it was perfect. I just tossed in our room key, water, sunscreen, a few snacks and extra swim diapers and wipes for Little R, and the kids' goggles, and we were set! I didn't have to worry about anything getting stolen or ruined from a little splash, and it was nice not having to carry around my whole diaper bag!
23. Check the hours for each water park when you get there. Each waterpark has different hours, so make sure you look and see which ones open early and stay open late so you can play accordingly! I'm not sure if it's like this all year long, but when we were there, the waterparks opened and closed at different hours.
24. Ask for a portable crib and/or high chair. The bag on our pack 'n play is broken, which makes it super hard to travel with. I called ahead and asked if they had any portable cribs available to put in our room, and they did! So if you're traveling from far away (or just don't want to bring yours) call ahead and see if they can put a portable crib in your room before you check in. They even left us a nice high chair for Little R to use!
25. Try out Klondike Pizza. We ate at a few of the restaurants while we were there, but our FAVORITE was Klondike Pizza. Guys, it was incredible. I swear the cheese in Wisconsin really is better! Everyone in our family loved it, and they even have free delivery (so if you're in your room or at one of the waterparks, you can still try it!). It's right by Klondike Kavern, and you seriously have to try it. So good.
Well that's it! The Wilderness Resort is an incredible play to take your family, especially if you have young kids. There are so many things to do, and everyone will have a great time. We've only been home a few weeks and the kids are already asking when we can go again! Make sure when you go you use these tips for going to the Wilderness Resort with young kids, because I guarantee they'll help your stay go smoother!