Love this idea for simple toy organization for kids! And those Cars 3 toys look so fun!!
This shop has been compensated by Collective Bias, Inc. and its advertiser. All opinions are mine alone. #UltimatePitStop #CollectiveBias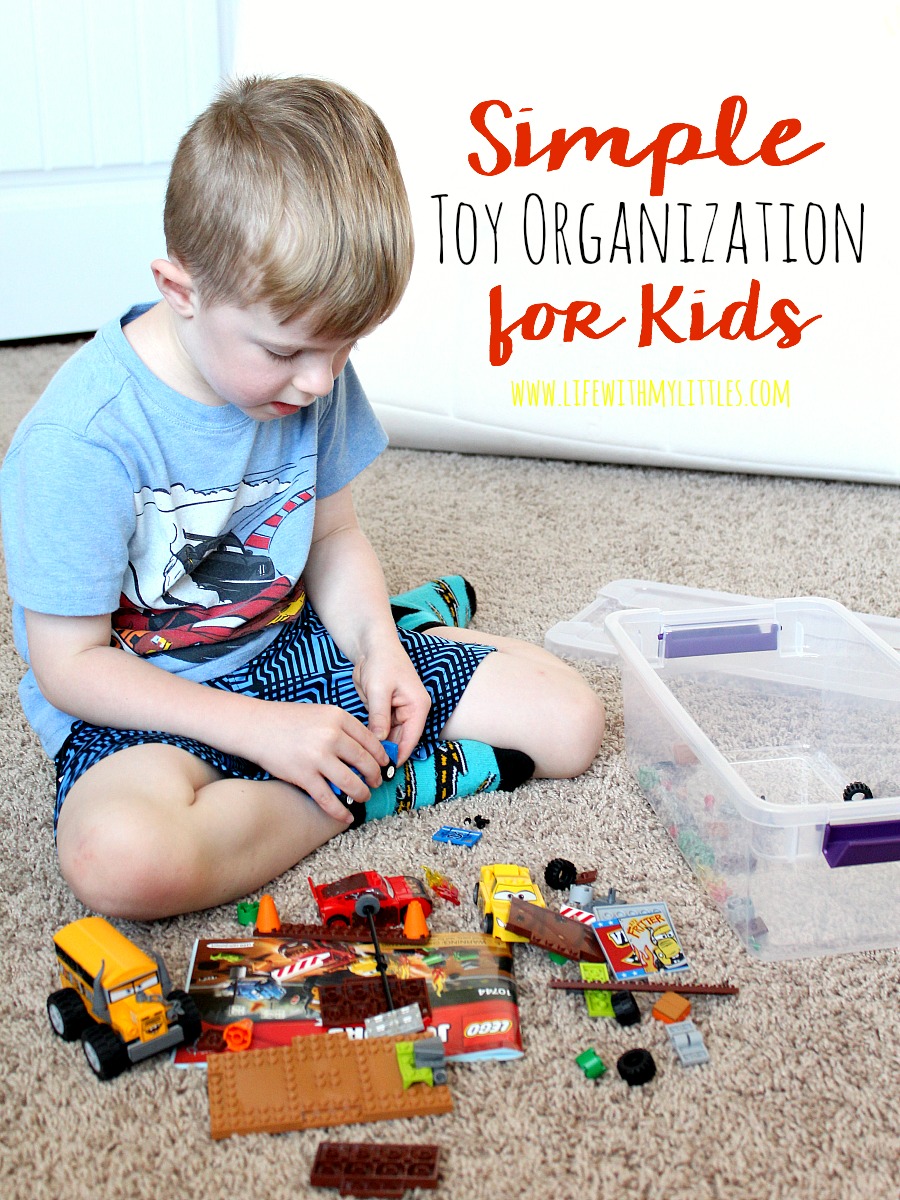 Today is a big day in our house. In fact, we've been counting down to today for months.
What is so special about today? Well today Disney•Pixar's Cars 3 comes out in theaters!
It has been so much fun watching my son get excited about the new movie. I'm so glad Disney•Pixar decided to release it now while my son is in the middle of his obsession. One great place to get new Disney•Pixar's Cars 3 toys is Amazon. Amazon is the Ultimate Pit Stop for Disney•Pixar's Cars 3, and they have all the newest, coolest toys, apparel, and even bedding!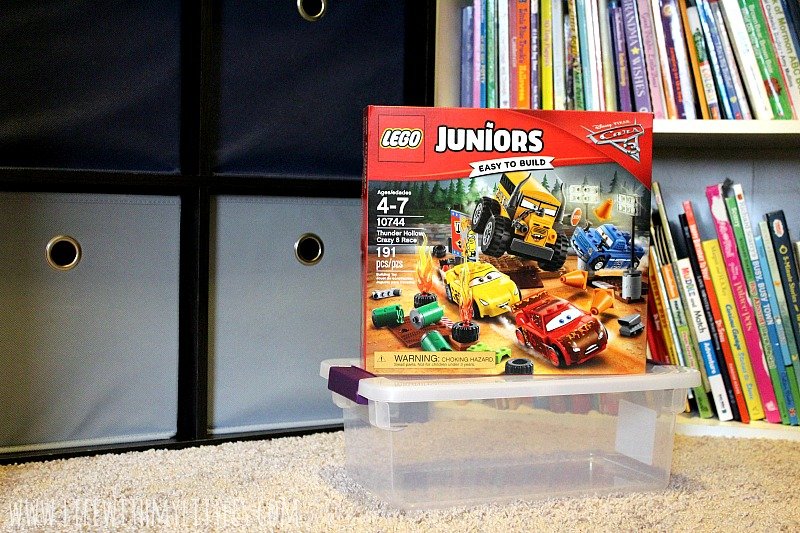 Little J recently got the new LEGO Juniors Thunder Hollow Crazy 8 Race Building Kit and we've been playing with it pretty much non-stop in our house. My son loves his Cars LEGO Duplo set he got for Christmas, but the LEGO Juniors are even better for him because they are specifically for kids 4-7. They are more challenging to build and give him more of a chance to follow the instructions. And since they have more pieces, he can also be a little more creative with what he builds!
He's been OBSESSED with Lightning McQueen for almost 2 years. His bedroom is Cars-themed, he has a Cars quilt I made him (along with sheets), he has Cars clothes and pajamas, he's had Cars cakes the last two years for his birthdays, he was Lightning McQueen for Halloween last year, and he has an insane amount of Cars toys. We even went to go see Lightning, Cruz, and Jackson when they came to our city in the Road to the Races Tour! I'm definitely not complaining, because I love Disney•Pixar's Cars, too. The characters are so endearing and I still tear up every time I watch the first movie (which is pretty often around here!). Guys, I know so much about the characters and plot of the new movie and it's just coming out today. Mom life, am I right?!
Anyway, it is so much fun building and playing with him. One of the themes of Disney•Pixar's Cars 3 is mentorship and how helping others makes you feel good. Helping him build with his new LEGO Juniors set has been a blast because it's new for him and I get to guide him a little bit as he learns how to build everything. It's incredible watching your kids learn something new and grow through playtime! And Little J loves making Miss Fritter chase Cruz and Lightning!
My husband loves building and playing with him, too. I love watching them play together as he guides and mentors our son. They have such a special bond, and it's amazing to see their relationship get stronger as he gets older.
Little J LOVES his new LEGO set and of course all of his new Disney•Pixar's Cars 3 toys. But he shares a room with his sister and since Little R was born, we don't have a playroom, so having a good system for toy organization is a must in our home, especially when the toys have lots of little pieces and losing any of them would cause a meltdown. And also because we need something easy that my kids can get out and clean up quickly.
Luckily, we have a few simple solutions that we use in our home for simple toy organization for kids.
The most helpful thing we do is to keep all their toys in the closet. They have a few bigger things (like Little A's kitchen and Little J's basketball hoop) that stay in their room, but everything else goes in the closet. Unfortunately, it was looking a little bit messy and unorganized. There were a few things that didn't have a place so they were just put in there wherever the fit.
Today I'm going to share with you how I cleaned it up and how you can organize your kids' toys in a way that is easy for them and for you!
All you need are a few fabric storage bins and a cube shelf (you can find them on Amazon!). Take everything out, get rid of things your kids don't play with, and decide what should go in what bin. We have bins for cars, tools, dress-up, blocks, you get the idea.
It looked SO MUCH BETTER after I went through and cleaned it all up. I got rid of random boxes and things that didn't fit or that were better somewhere else (like baseball bats in the garage!). The best part is, it's easy for my kids to find what they need and get out what they want to play with. And it's easy to clean up, too!
I also got a few clear storage bins, and I put his LEGO Juniors Thunder Hollow Crazy 8 Race Building Kit in one of them. It's the perfect size, and since it's clear he knows where it is. I opted for a lid for these since there are so many little pieces.
I know we're going to be playing with Little J's LEGO set for a long time, and I'm definitely not complaining because I love helping him and seeing his creativity as he builds new things. And if you're looking for new Disney•Pixar's Cars 3 toys (like this LEGO Juniors set, Disney•Pixar Cars 3 Crazy 8 Crashers Smash & Crash Derby Playset, or the Just Play Cars 3 Mack Mobile Tool) or any Disney•Pixar's Cars 3 apparel or bedding, make sure you check out Amazon first!
And don't forget to head to my Instagram because  because I'll be sharing some more about the new movie!!!
© 2017 Disney/Pixar