This white chocolate sprinkle caramel popcorn recipe is perfect! The gooeyness of the caramel, the sweetness of the chocolate, and the crunch of the sprinkles! It's so yummy!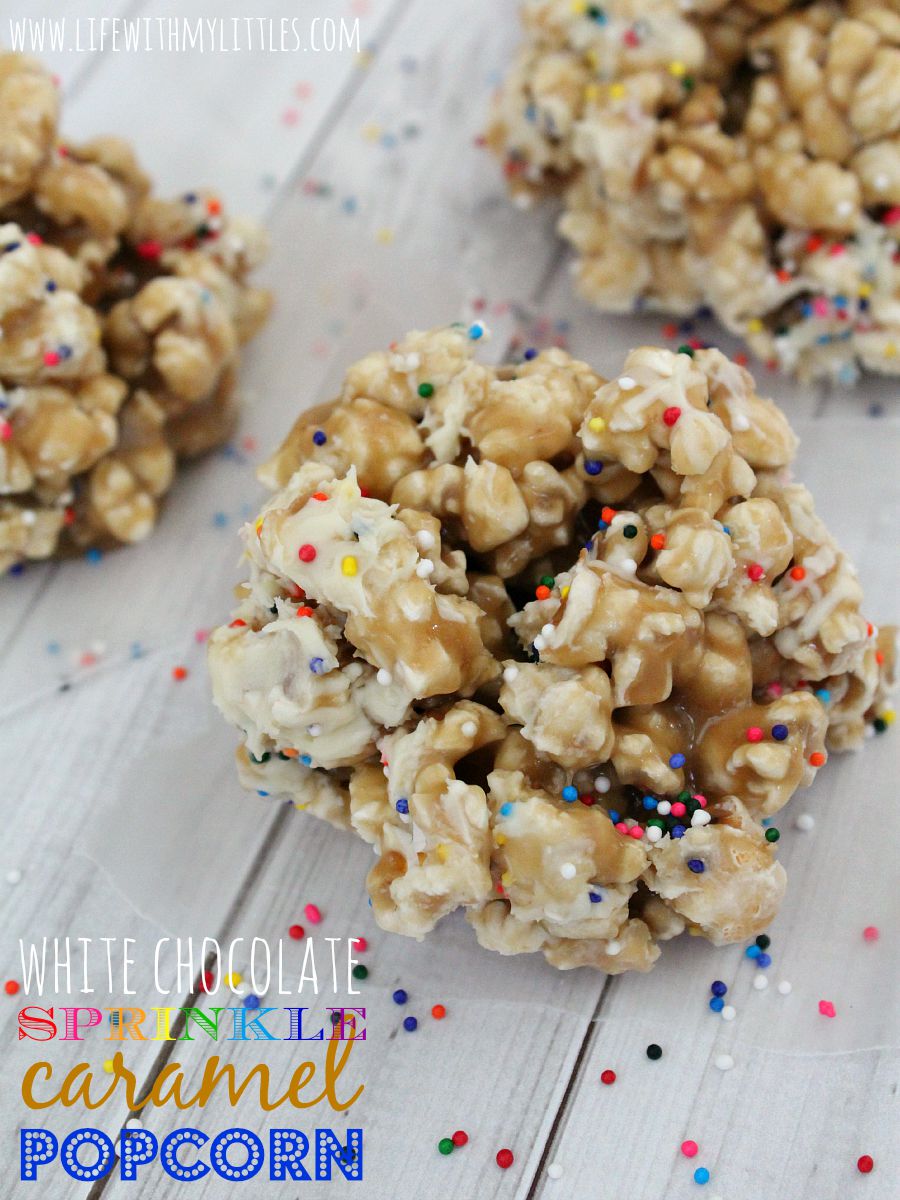 Tomorrow is Little A's first birthday party! I am so excited, and I have been working hard to make sure everything goes well. The party theme is rainbow sprinkles, and it is going to be so cute! For the party favors, I wanted to do something sweet and delicious to match the party food. I settled on white chocolate sprinkles caramel popcorn!!
This recipe is a twist on my mom's caramel corn recipe that she would always make growing up. I added some white chocolate drizzle and some Wilton sprinkles, and they turned out perfect!
The chocolate is perfect with the gooeyness of the caramel, and the sprinkles give it a little extra crunch! Plus it's so pretty!
And the best part is, this is a super easy recipe. Make the caramel, mix it with the popcorn, drizzle chocolate on top, and sprinkle sprinkles! Yum!
White Chocolate Sprinkle Caramel Popcorn
Ingredients
16 c. of popped popcorn
½ c. butter
2 c. brown sugar
1 c. light corn syrup
1 can sweetened condensed milk
4 oz. white chocolate
Wilton rainbow nonpareils
Instructions
Melt butter.
Add in brown sugar, corn syrup, and sweetened condensed milk.
Heat over medium heat until the sugar dissolves.
Pour over popcorn and mix well.
Spread out on a cookie sheet.
Melt white chocolate and drizzle over popcorn.
Sprinkle on nonpareils.
How simple is that? And it's delicious! I can't wait to give these out at Little A's birthday party!