How to take your own cake smash photos and have it be a success! These cake smash tips are so helpful! And the pictures are adorable!
I received free product in exchange for this post.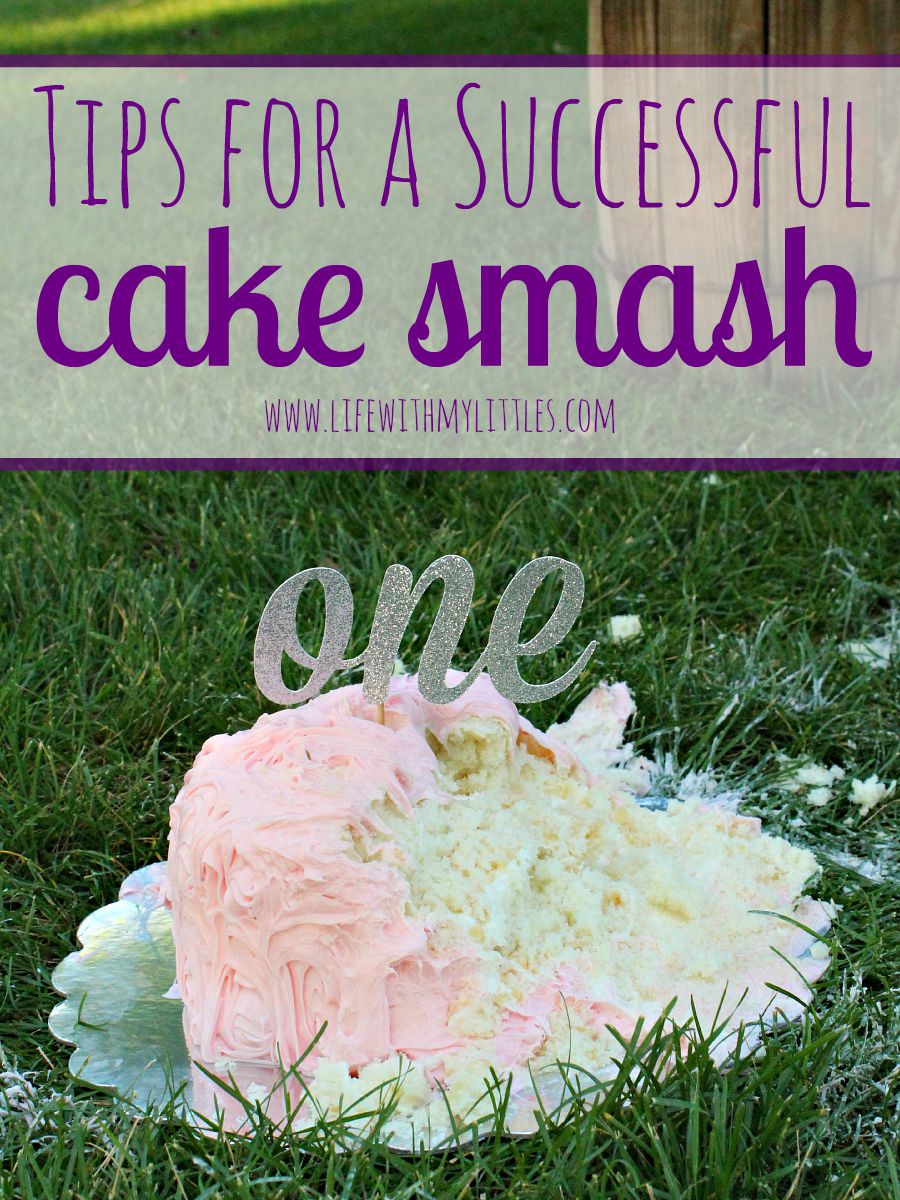 Last Friday, my daughter turned one! I wanted to do a special photo shoot for her to celebrate, so I set up a cake smash! It was so much fun! As soon as I set the cake down in front of her she went for it. She had so much fun playing in the frosting and I was able to get a lot of great photos to remember it. I'm glad I did it myself because I really enjoyed setting it up and watching her smash her cake!
If you are going to do your own cake smash photos, there are definitely some things you need to know before you start! Here are my top cake smash tips so that you can get the best pictures of your one-year-old, too!
Preparation
Pick an outfit that will be okay if it stains. Don't have your baby wear a dress that is a family heirloom, because it is probably going to stain in the cake smashing process. Buy something cute but not too expensive. Little A's lace romper is from a shop on Etsy. Tutus are cute, too, and you could also do a little diaper cover if you have a boy. I thought about a lace diaper cover for Little A, but I wanted her birthday pictures to match her newborn pictures, and also, she's got a chubby belly that is cute and distracting haha.
Bring a change of clothes, a towel, and some water for your baby. You're going to want to take off her clothes after the smash and clean her up before putting her in the car to go home. It's hard to wipe frosting off with baby wipes (lesson learned), so I recommend bringing a towel and some water to get it wet with so you can wipe her off after the smash. And if you don't want her to go home naked, bring a change of clothes!
Don't bother with a cake stand for the photo shoot. I didn't even try using one, but I've heard from several other people that cake stands can be a recipe for disaster! Your baby could knock it over, or worse, break it. So just skip the cake stand and put the cake on a high chair or on the ground.
Plan the background and have a few props, but keep it simple so that the focus is on your baby. We used an old chair, a trunk, and a barrel, and it was perfect. We were able to take some cute pictures before the cake smash with the props, and then they were a nice background during the actual cake smash.
Use a small white cake with colorful frosting. If you aren't good at cakes, BUY ONE. Besides your baby, the cake is going to be the focus of your shoot, and you want it to look good. Don't use chocolate cake because it will look gross when combined with your baby's drool. And use some colorful frosting! You want a little bit of color in your shoot.
Top the cake with something cute. I got this ADORABLE "one" silver sparkly cake topper from Mika's Party Shop on Etsy. It is perfect, and it's going to be even more perfect for her upcoming birthday party! I love how it turned out in her pictures. Use something like this or a simple candle for your pictures. And check out Mika's Party Shop on Instagram!
Wear an outfit that you don't care about getting cake on. Because you are going to have to pick up your baby when she is covered in cake, and chances are, you'll get messy, too! You aren't going to get through a photo shoot without touching your baby. And when she's all covered in cake and frosting, you might get a little bit on you, too!
Do the smash somewhere with easy cleanup. Obviously we did our pictures outside, but you can also do them inside on an easy-to-clean floor (like vinyl or hardwood). You aren't going to want to clean up a big mess when you're done, so do it somewhere that won't take long to clean up.
Make sure your baby is well-rested and isn't starving before the shoot. Yes, you want her to smash and eat the cake, but if she's starving, she's going to be grumpy. And if she is tired, she's going to be grumpy, too. And duh that won't make for good pictures. You want her to be happy and smiling in her pictures! So if she's recently napped and had a little food, she's going to be good to go!
The Shoot

Take some before pictures of your baby. Before you bring out the cake, take some pictures of her in her cute outfit and with some balloons or something. If you need some ideas, you can check out this roundup post of first birthday pictures. Do something simple and quick so that she will have all her energy for the cake smash!
Make sure the icing is at room temperature for the shoot. You want it fluffy and soft so it will make a big mess. If it's been refrigerated, it won't smash easily and she might get frustrated and stop trying to smash the cake. So you want room temperature frosting and cake!
Take a before (and after) photo of the cake, without your baby in it. If you spend money on a cake, you want to take a good picture of it before your baby destroys it. And when you're done, you want to take a picture to show how much damage your baby has done. It makes for good pictures!
Take constant pictures the whole time, and get lots of different angles. I moved around and tried to get a few different angles of Little A while she was enjoying her cake, and I also pretty much took pictures the entire time! By the end of our 10-15 minutes, I had taken 289 pictures. Yes, that's a lot, but I captured every moment and got a lot of great pictures! And don't only take pictures of baby's face. Get pictures of her messy legs, her hands in the cake, and even her cute booty crawling away!
Don't be too sad if your baby absolutely hates the cake and won't touch it. When we tried to do a cake smash for my son, he crawled up to his cake, touched it once, and then wouldn't touch it again. He started crawling away, and that was the end of the cake smash. And that happens. You can try putting your baby's hand in the cake yourself or try feeding some of it to your baby. And if that doesn't work, it's okay! If you take pictures before the smash, then it won't be a complete loss! And you'll have a good story!
Good luck with your cake smash! I hope you (and your baby) have a lot of fun!
If you need some more ideas for first birthday photos, check out this roundup!