Whether it's a runny nose or a cough, having a sick baby is the worst! Here are some tips on what to do when your baby has a cold.
This post contains affiliate links.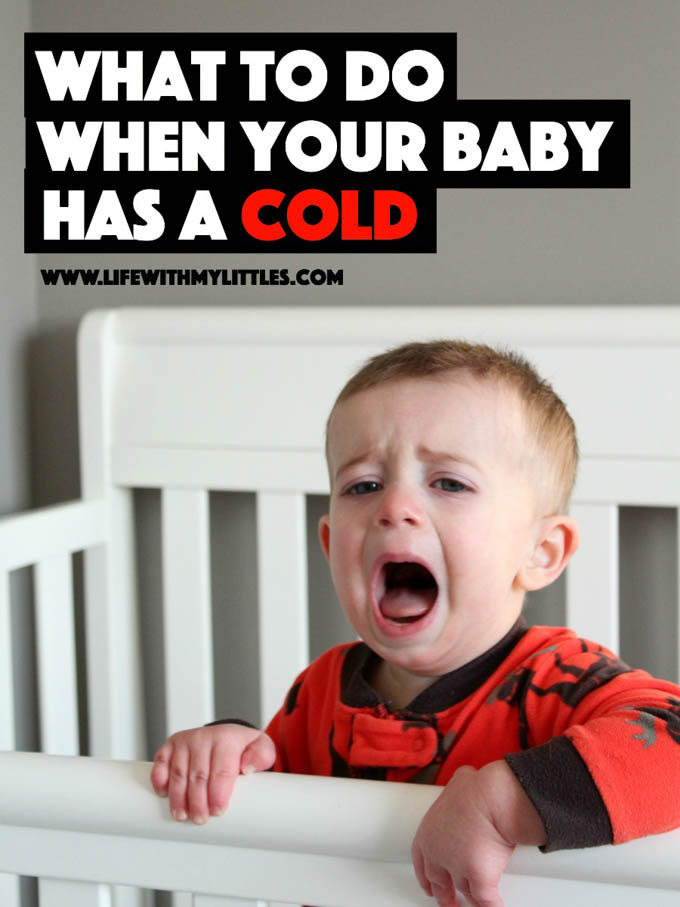 Cold and flu season is in full swing, and we have not been very fortunate this year. We've been on a vicious cycle of passing colds around the entire family, getting better, and then having it start all over again. But with a husband who works with sick people all day, a child in preschool, and the kids going to childwatch at the gym three times a week, I guess that's what happens.
Currently, Little R has the worst cold, and every time I hear him cough it breaks my mama heart. I just want him to get over it and start feeling better!! Today I'm going to share our top tips for what to do when your baby has a cold, because if your family is anything like ours, you're going to need these!
1. Use a cool must humidifier. When your air has more moisture in it, it helps ease congestion and helps you breathe easier and cough less. I like to run a humidifier in my son's room at night when he has a cold, and it makes a difference. We have this humidifier
and this humidifier
, and in the past we've used this one
, and they've all been great (Vicks humidifiers are awesome).
2. Make sure they stay hydrated. Unless your baby is on the older age and knows how to drink water, make sure they stay hydrated with breastmilk or formula. You don't want them getting dehydrated on top of having a cold!
3. Use Vicks BabyRub Ointment
. Another product we love to use when our babies get colds is Vicks BabyRub Ointment. It's basically like mentholated Vaseline, and it's great to rub on your baby's chest or back to help them breathe easier. We even use it on our older kids when they get colds!
4. Don't expect medicine from the doctor. Generally it's not required to get evaluated by a doctor for just a cold, but if you're unsure (or a first-time parent!) then it's definitely okay to go and get some peace of mind. Personally I'm not going to take my baby in to the doctor for just a runny nose and a cough because I know the doctor won't give him any antibiotics. But if your baby has a fever or difficulty breathing, definitely take him in because you don't want the cold to turn into something worse.
5. Use tissues with lotion in them. If your baby's nose is runny, make sure you get tissues that have lotion in them like these
. You don't want their poor little nose to dry out any more than it is, and using tissues with lotion will make all the wiping you're going to do a little more bearable.
6. Use a bulb nasal aspirator or NoseFrida
. Obviously your baby doesn't know how to blow their nose, so you may have to manually get some of those nasty boogers out of there. We've used a bulb aspirator a few times, and I know some people swear by NoseFridas (I haven't personally used one, but if sucking your child's boogers out doesn't gross you out, you should try it). Anything to help alleviate that poor stuffy nose!
7. Stay in your PJs and give lots of cuddles. I don't know about you but my son just wants to be held when he's sick. So don't go anywhere, sit down, and just snuggle that sweet baby. Stay in your pajamas and watch a bunch of Netflix. Don't worry about getting laundry done or doing dishes, because today your baby needs love!
Having a cold sucks, and it's even worse when your baby is the one with the cold. Hopefully these tips help you survive and know what to do when your baby has a cold. And hopefully the rest of cold and flu season goes by quickly! I'm so ready for spring!