Currently January 2018: What's going on this month for Life With My Littles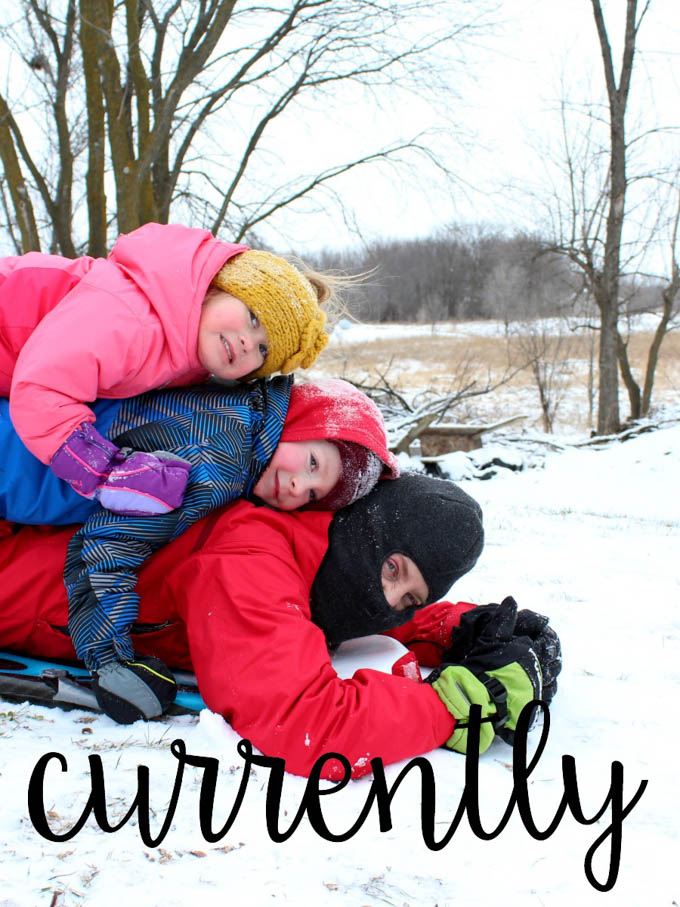 Happy New Year! You may have noticed that I took two weeks off at the end of last month (at least I hope you did!). I love blogging, but it's sometimes hard for me to separate my work life from my personal life, and I just needed to take some time off! It was super nice and definitely needed because we had a very busy month!
My whole family came into town (as in my parents, my sister, her husband, and my nephew) and stayed with us for Christmas. They actually left two days before Christmas, but we celebrated it early. My husband had to work Christmas Eve and Christmas Day anyway, so the kids asked Santa if he could come a few days early so they could celebrate when Daddy was home. And of course, he said yes! Anyway, we had a great time with them here because we have only ever all been together a few short times. We went to the Mall of America twice and on a double date with my sister and her husband. Lots of fun!
Also, we moved into our house! It has always been my dream to live in a house with very light grey, almost white walls, and I convinced my husband to let me paint the main floor and upstairs living area before we moved in. I love it so much. It took a lot of work because I did like 99% of it myself. I chose the color Spring Thaw by Pittsburgh Paints, and it is gorgeous. Our home is so bright and light and it's just perfect. We moved in on Saturday and we're slowly getting settled. I love having our own space again! It's really hard going from owning a home to renting again. Renting is the worst (especially when something breaks every month and there's a million mice coming and pooping on all your kitchen utensils!).
Today for my currently post I wanted to do what I did last January and add my goals for the year! I figured it was pointless to do two separate posts for currently and goals, so I'm combining them into one! Let's get started!
Currently
Decorating our new house! I am so excited about this one. I very much believe in only having decorations that you love, so I put a lot of thought and time into what I decorate my house with. Not just pictures, but all the little accents, too. I just got a new navy and white accent chair, and I bought the cutest curtains from Target. It's definitely a work in progress, but I love it!
Organizing everything. This kind of goes with decorating, but on a different level. Since we just moved into a new house, I really want to make sure things have a place and that they make sense. I personally know where things are, but my husband rarely is on the same page. I have an odd system to my organization, and I want to make it a little easier. So I am going to be working on putting things away where they make sense and making sure closets and cupboards and everything look nice and neat. We have a lot of storage space in our new house, so I want it to be organized!
Finishing my book! It's currently in the hands of my editor, and then when she gets it back to me I'll make the final edits and publish it! I have a date set in my head that I want to release it on, but I need to make sure I'll be able to get everything done on time before I tell you guys. Once I have the publish date I'm going to do a blog post with all the details and what you can expect from the book. I've gotten great feedback from my test readers, and I can't wait to share it with everyone! In the meantime, you can check out what it's about here.
Collaborating with Pampers! You may have noticed that at the top of one of my recent posts it said "I am a proud member of the Pampers Baby Board." YEAH. There's a Pampers Baby Board, and I'm on it! I actually was asked to join last August, and it's taken a while for things to become official, but I was so honored and excited to be invited! We've used Pampers with all three of our kids, and I absolutely think they are the best diaper, so to be working with Pampers on a professional level is a big deal to me! I love Pampers and I'm excited to be able to feature them more on my blog!
Now let's review my goals for last year and share some of my "professional" goals for this year!
Maintain income: CHECK. I haven't actually calculated the numbers, but I know that my income is very similar to last year, if not slightly higher this year.
Publish my book. MOSTLY CHECK. I'm basically there, you guys.
Continue posting twice a week: CHECK. This is the sweet spot. I know some bloggers publish more often, but with three kids under five and a very busy husband, I've got a lot on my plate.
2018 Goals
Update pins. I'm working on updating the Pinterest pictures for my blog posts so that they look nicer and more appealing. If you aren't a blogger you might not think that's a big deal, but I've got to compete against a bajillion other pins on Pinterest, so mine have to look good!
Get book in national bookstore. Yeah. I'm dreaming of Barnes and Noble, so I'm dreaming pretty big.
Maintain income. I'm happy with what I'm making so I'd like to just maintain it.
Continue posting twice a week. Like I said, the sweet spot.
Make 5 videos. I really like making videos for ya'll, but they are a lot of work to write a script, shoot, and edit. I have a really good one in mind that I want to make, so it's on the agenda for the year.
Well that's it! 2017 was a great, crazy, super busy year for us with a lot of changes (we added a person to our family, sold a house, moved basically from Mexico to Canada, and bought a new house. I'm hoping that things might slow down for a while now that we're in our new house and we don't have any big plans on the horizon, but life's not really like that, is it? Happy New Year, mamas!