I like hanging out with my kids, too!! I love this post! Sometimes I feel the same way when people ask me if I need a solo trip to the store!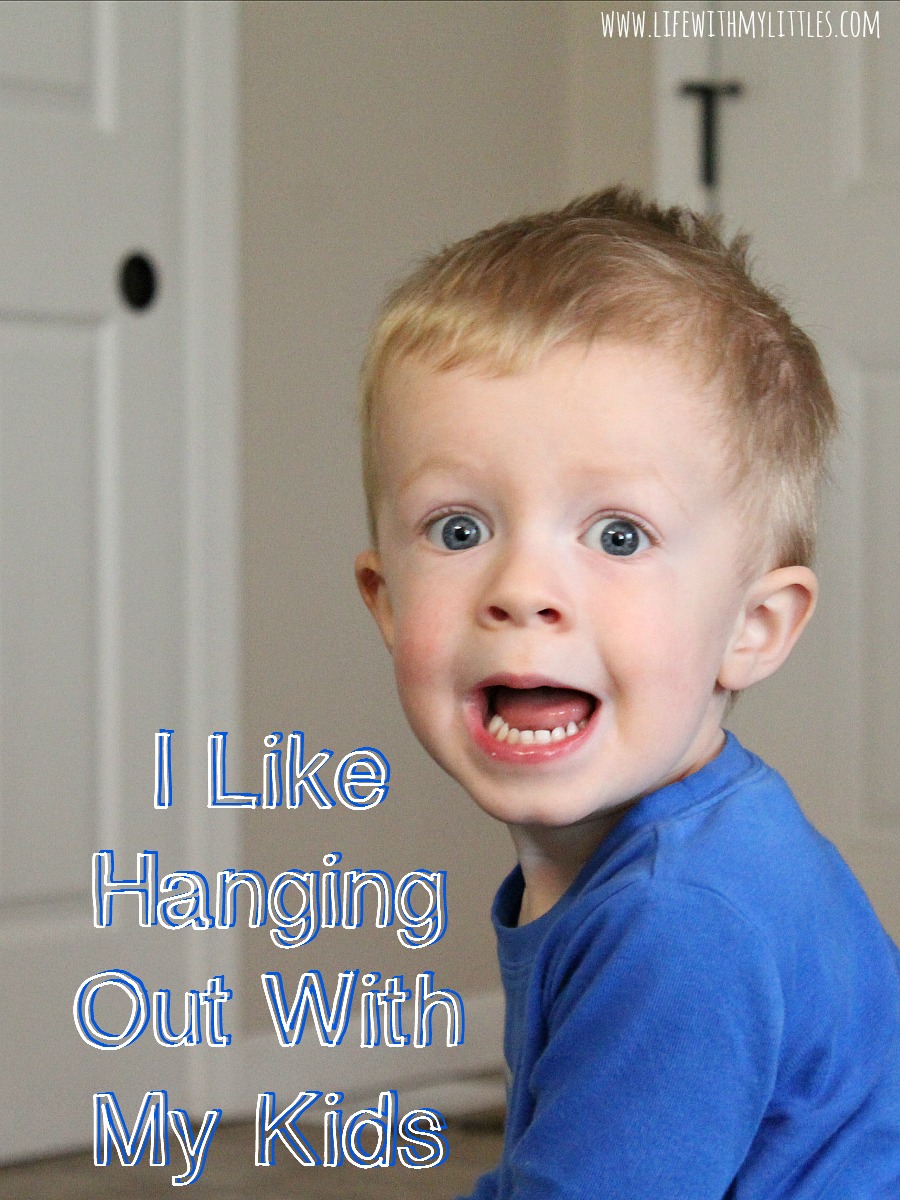 For some reason, people always assume I want to take a break from my kids. I frequently get offers from friends and family to watch my two toddlers while I go run errands by myself.
And I totally get why that would appeal to some people. Strolling the aisles of Target unimpeded by a crying baby in a shopping cart or a toddler trying to hide in all the clothes racks is definitely less stressful than bringing them. And some days I am exhausted by 5pm and really want to put my toddlers to bed several hours early. They have an unmatched ability to cry inconsolably for hours and create sticky messes all over the house that even Mr. Clean would cringe at.
But I like hanging out with my kids. And to me, a solo trip to Target doesn't really sound that fun.
I like hanging out with my kids because they say funny things. A few weeks ago my son tooted and told my mother-in-law that something came out of his booty. Then he asked her if she loved it. How can you not like hanging out with a kid like that?
I like hanging out with my kids because they are fun. They are always asking me to play with them, and we are always pretending to be cars or puppies or driving trains in circles on the carpet. Yes, it's exhausting, but I would much rather be Princess Mommy than real mommy who has to clean the toilet.
I like hanging out with my kids because they give me someone to talk to. They always are willing to listen to what I have to say (even if my 16-month-old doesn't always know what I'm saying). And when they aren't around, I find myself thinking out loud and saying things to no one. It's nice to bounce ideas off your kids, even if most of their responses include references to Thomas and Friends.
I like hanging out with my kids because they do hilarious things that I don't want to miss. Sometimes my daughter will lay down on the floor or a blanket and just flop her arms and legs around. And I wouldn't trade the memory of my son trying to stand up on his tiptoes to pee in the toilet for anything. They are so innocent and careless and full of curiosity, and that makes for some super funny times.
I like hanging out with my kids because they say nice things and compliment me. My son tells me that I am his best little mommy ever and that he likes my hair almost every day (unless I pull it into a ponytail, which he always tells me he doesn't like). They're basically like tiny confidence boosters that follow me around. You can't pay for that kind of treatment.
I like hanging out with my kids because I can be 100% myself with them. I don't have to pretend to be cool, completely put-together, or super into fitness (I am none of those things). They like me for me, and I can always be who I am when I am with them and not worry that they are judging me for eating my entire Chipotle burrito.
Yes, my kids drive me crazy sometimes, but I like bringing them with me places. They make life a lot more fun, and I miss them when they aren't with me.
So no, I don't need a solo shopping trip or some time to myself. But thank you for asking.