Want a way to teach your toddler without them knowing they are learning? Tot school is the answer! Here's how to plan your weekly schedule.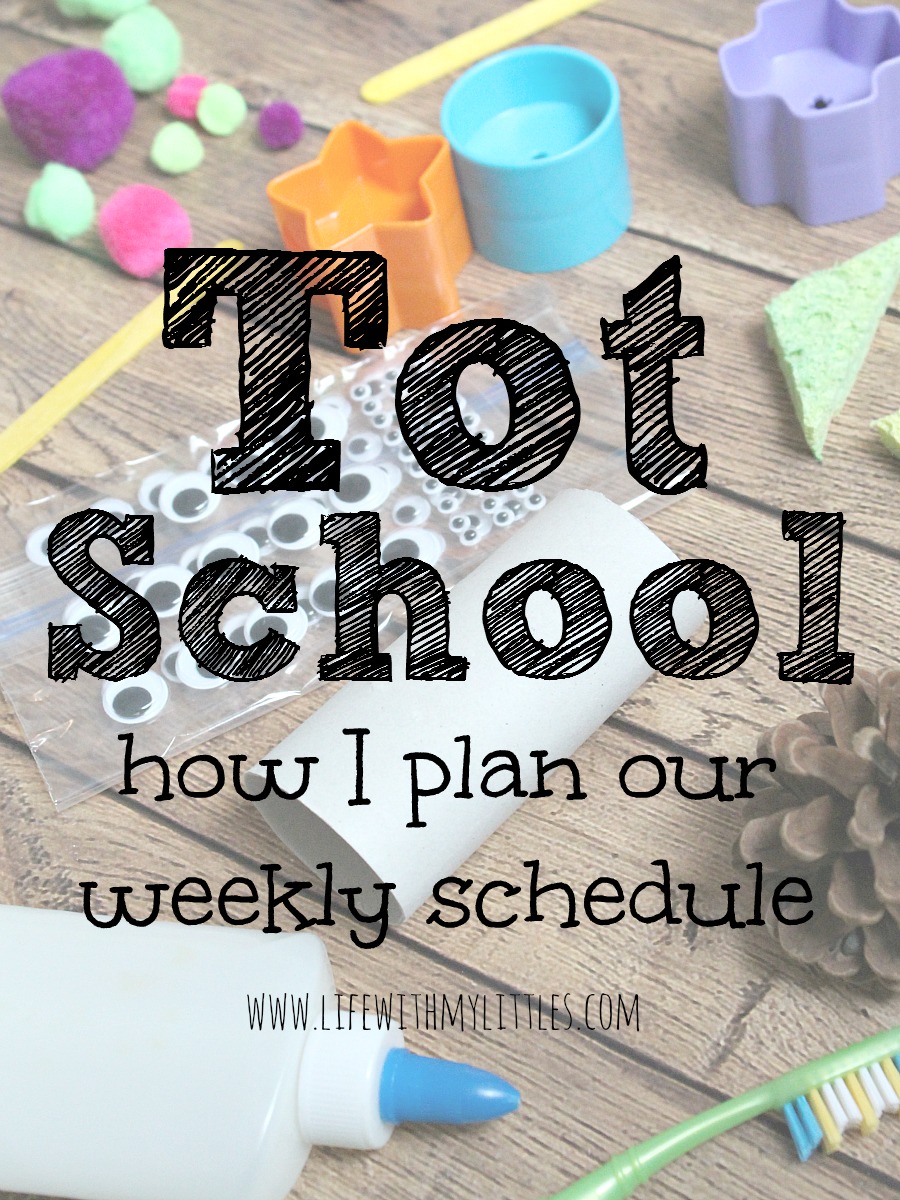 Two weeks ago I told you guys about Tot School and how much I love it. If you missed that post, first, go back and read it. Tot School is amazing because it's like pre-preschool and it's a way to guide your toddler's way in an organized way, but still teach them things. And the best part is, it keeps us from being bored.
I had a few friends ask me more about it and how I find themes and activities for each week, so I thought I would do another Tot School post with more of a focus on that. Because of course if you don't know how to plan your week then how are you going to even be able to do it? You're not. And obviously I want you to do it because it's amazing, so I'm here to help now!
First, let me give another little shout out to Let's Tot School for inspiring me to even start doing Tot School with my kids. She has an entire list of themes, and for each theme there is a corresponding Pinterest board with activities, books, and ideas of things to do that week. It's amazing, and I refer to that a lot when I am planning. So thanks for the inspiration and all your hard work!
1. Picking a Theme
The most important part of planning your weekly schedule is picking the theme. Let's Tot School has a ton of themes on her site, and I usually pick one from there. The theme can be broad or specific, and honestly you can do it for more than just a week if it's something your child struggles with. The first few weeks we did things like shapes, colors, and animals, but we've also done themes relating to the seasons and holidays. For example we did a fall theme with pumpkins and leaves in October, and we've had weeks dedicated to Halloween, Thanksgiving (and being thankful), and Christmas. Some of the themes we are going to do next month include trains and construction, and two weeks ago we did a week all about feelings. You can pick something specific, but it's usually better to pick a more general theme so you will have lots of activities and books to choose from.
Also, I think it's important to note that I do all of my theme-picking and planning on Sundays either during nap time or after the kids have gone to bed. I can focus on it and it really only takes like 20 minutes max. If you do it at the start of the week, you are ready for the week and all set to go!
2. Planning Activities
The next most important part (and basically why you are even doing this) is planning your activities. I usually plan one on Mondays and then two per day Tuesday-Friday. Some weeks we don't get to them all, and that's totally fine with me. And some activities only last like 30 seconds or are a total disaster (I quickly found out that my son HATES playdough) and that's okay, too. The longer you do it the more you get the hang of it and find out what works for you and your child.
So the way I pick my activities are first, looking through Let's Tot School's Pinterest boards if the theme I picked is one that she has a board for. Sometimes I find all my activities there, and sometimes I only find a few. But the good thing about Pinterest is that you can just search things like "Halloween crafts for toddlers" and tons of things come up. I try to pick things that aren't too complicated and that I think my son would like. Anything involving paint I know he'll love.
You can do crafts, songs, videos, TV episodes (when we did feelings we watched a Daniel Tiger episode about feeling frustrated), snacks (one time we made turtles out of apples and grapes), or games. Since you are in charge, you can do whatever you want to do. It's the BEST. I try to pick out two "letters of the week" but sometimes I forget. But it's a good idea if you want to help your toddler learn the alphabet and letter recognition!
Some other sites I love for getting activities are Busy Toddler, Munchkins and Moms, and I Heart Arts n Crafts.
And depending on what you pick and what's in your Tot School bin (read about what's in mine here), you might need to buy a thing or two when you go grocery shopping. I recommend putting activities that need those things at the end of the week so you can make sure you get them in time.
3. Books
I mentioned earlier that on Mondays I usually only pick one activity for us. The reason for this is that Monday is our library day and we go check out books that have to do with our theme for the week. We like doing it on Monday because we can read the books all week. Then when we go back the next week, we return them and check out new books! It's a great way to test-drive books to buy for your kids, and it helps them love reading early. Reading with my kids is one of my favorite things we do every day.
I look for books the same way that I look for activities: Pinterest. Just search Pinterest for your theme and add "books for toddlers" at the end. So like, "feelings books for toddlers." Super easy. I usually look at a bunch and then I write down ones I think would be good, and then bring that list to the library. If your library has an online catalog, you can see if the books are checked in the night before and it's a lot less frustrating when you go the next day.
I highly recommend having a full-fledged library card (which is free everywhere and you totally should have), then you can get as many books as you want. Also, sometimes libraries will let your kids get library cards, so even though my daughter is only 16-months, she has a library card (adorable, right?). Right now we can only check out two books per card since we aren't technically Idaho residents, but wherever we move next we are 100% getting full-fledged library cards so we can check out all the books.
Anyway, we read the books we get at least once a day until we return them. It's a lot of fun and like I said, teaches kids how fun it is to read from an early age.
Planning your weekly schedule for Tot School can seem intimidating and like a lot of work, but seriously, it's easy and doesn't take any more than about 20 minutes. And it's so rewarding and fun to do these little "guided play" activities with your kids. They are learning but they have no idea they are learning, and it's amazing! And if you want more inspiration, check out my Instagram where I like to post some of the Tot School activities that we do each week.
That picture above is the weekly planning schedule I made for the first Tot School post, and I thought I would share it here, too, in case you missed it before and now you want to use it for planning each week. I usually just use my planner, but I think as I start involving both kids then I might have to have more space!
Also, I know this post was information heavy and I apologize for that. And if you made it through this post, then thanks. You're a champ and I hope that Tot School goes great for you!
I hope you guys love Tot School as much as we do! Good luck!
To read more about Tot School, check out this post.