What I Learned in My Son's First Year: Tips to help you make it through your child's first year.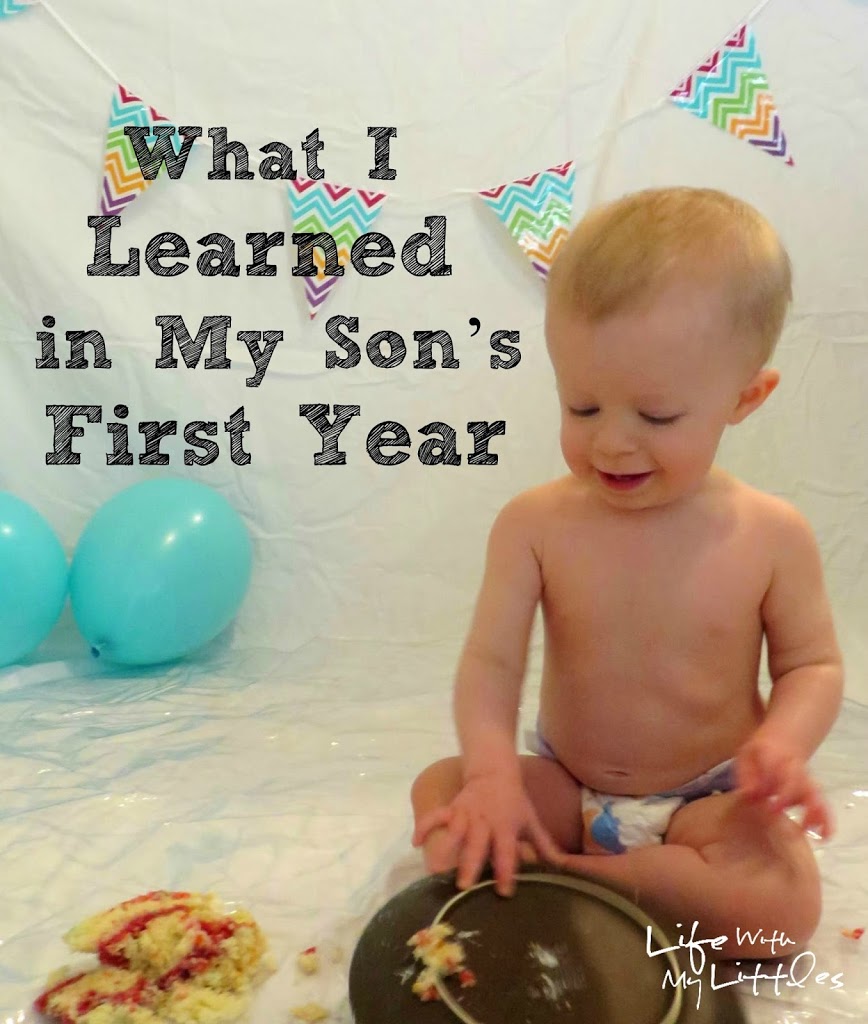 On March 6th, Little J turned one.I can hardly believe that one year ago we welcomed our sweet little baby boy into our lives. I know it is cliche to say but time goes so fast! It seems crazy to me that I have a one-year-old son. I don't think I will be getting used to that any time soon.
In Little J's first year we learned a lot about being parents, taking things one day at a time, and growing as people ourselves. I thought it would be fun to share with you guys 14 things I learned from my son's first year.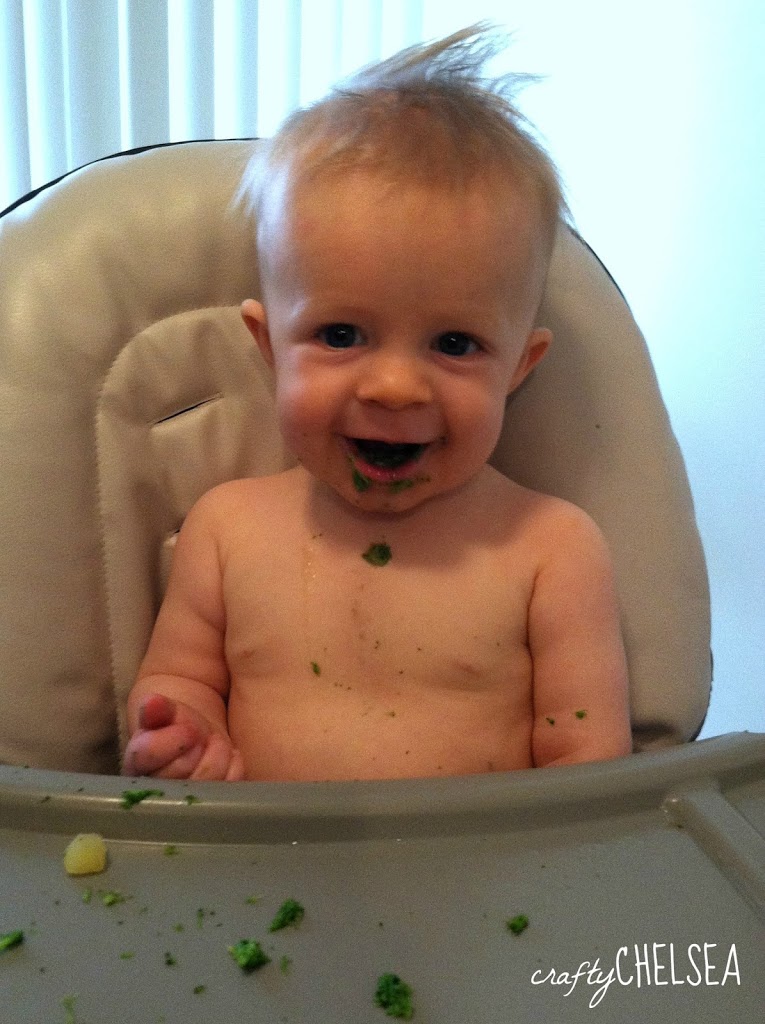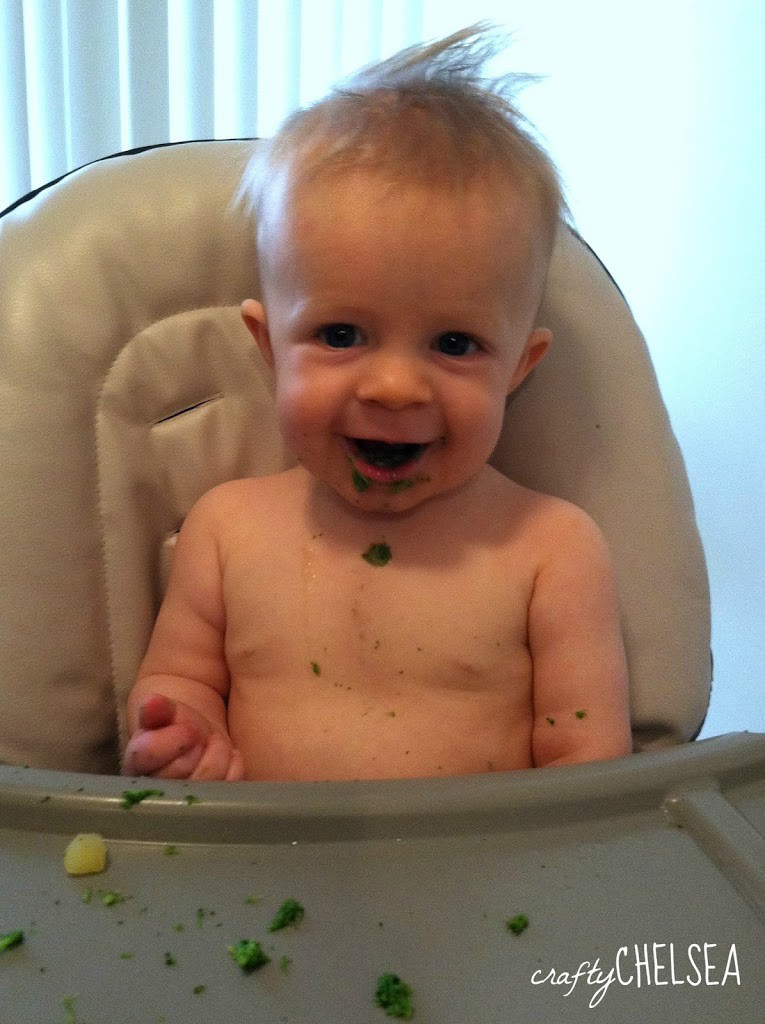 1. Messes are okay. Before our son was born, our house was always super clean. Nothing out of place, no crumbs anywhere, the carpet always looking freshly vacuumed. But with a baby, there isn't always time to clean up. Sometimes your baby will just want to play with everything, pull everything down, get every single toy out of the basket and spread them throughout the house. And as far as mealtime goes, messes are okay there, too! When we first started feeding Little J baby food I was always wiping his chin after every bite and making sure he didn't get it on his clothes or tray. Then I started to loosen up a bit and I realized that he's a little boy and it's okay to make a mess! If he wants to smash his peas all over his tray, that's okay. If every little bit of broccoli doesn't stay in his mouth, that's okay. Messes are just going to happen when you have a baby, and that's okay. One day they will be all grown up and your house will be clean and you will miss all those messes. So enjoy them.

2. It is okay if you don't get everything done in a day. I get great satisfaction from crossing things off of lists. So every week (sometimes daily) I make a to-do list of things I need to get done. Things that make the list every week include menu planning, laundry, ironing, vacuuming, that sort of thing. But sometimes I don't get everything done that I would like to every day. Some days I don't get anything done because I have a baby who needs my attention. And I have learned that this is completely okay! Don't feel bad if dinner isn't ready when your husband comes home or if you still have three loads of laundry to do before you go to bed. It's okay not to finish everything that you wanted in a day, because the most important thing is to spend time with your kids and be a good parent. Sometimes that requires passing on vacuuming one day, and that is okay. Just have fun getting to spend your time with a tiny little person who loves you more than anything in the world. That is what is important.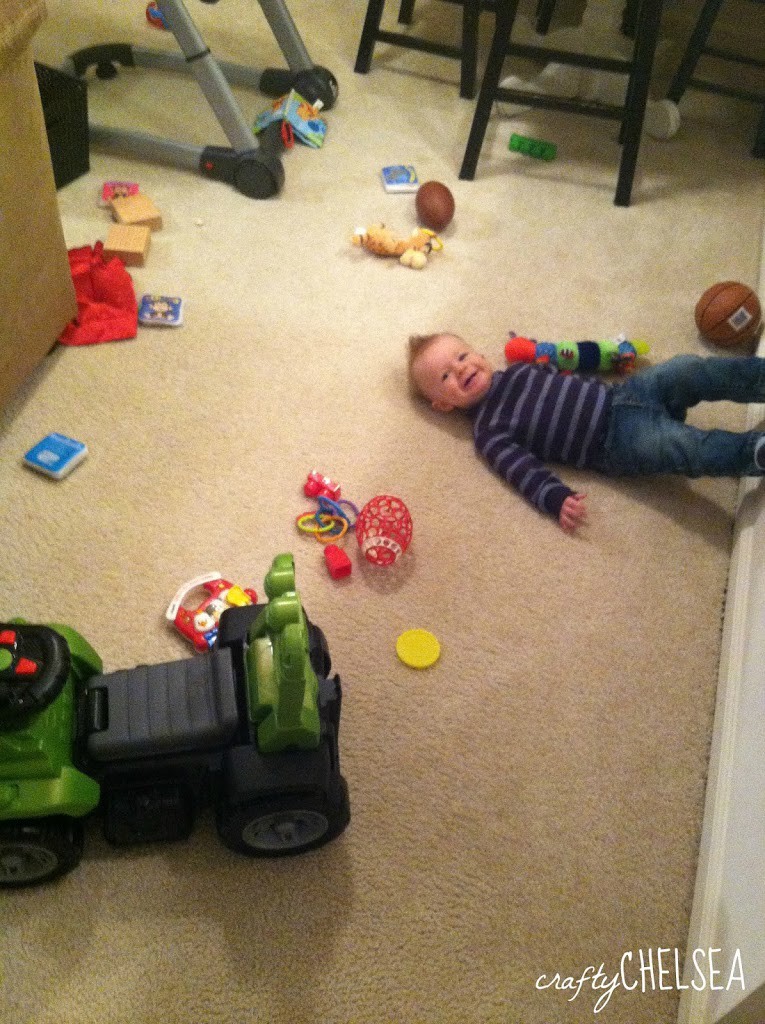 3. There will be hard days. As much as you don't want them to happen, some days you will just want to curl up and go to bed and never wake up. I'm not saying they happen often, but babies sometimes have bad days and cry and everything that can go wrong does go wrong. That is part of life. There are ups and downs to anything, and parenting is definitely no exception. Some days you will have three poopouts before you realize that maybe your diapers are too small. Some days your baby will not want to take any naps and as a result be super grumpy the entire day. But you have to take the bad with the good and even though there will be hard days, there are also perfect days that you wish you could freeze and live in forever. So look forward to the good days when you are trying to make it through a hard day, because they do end.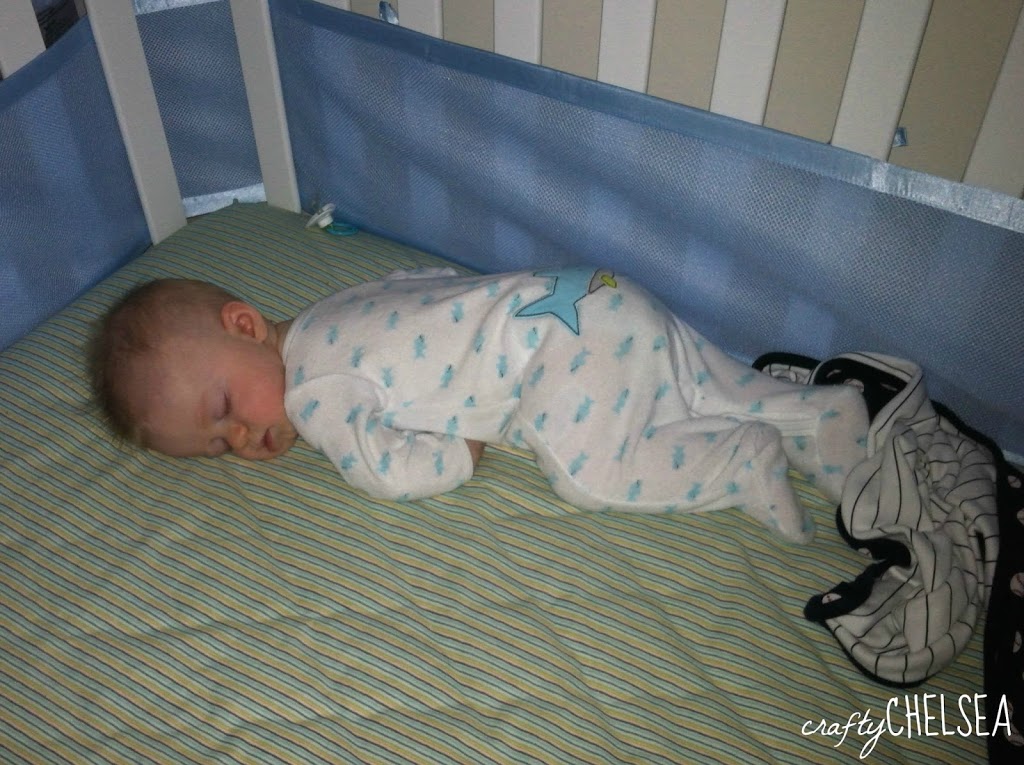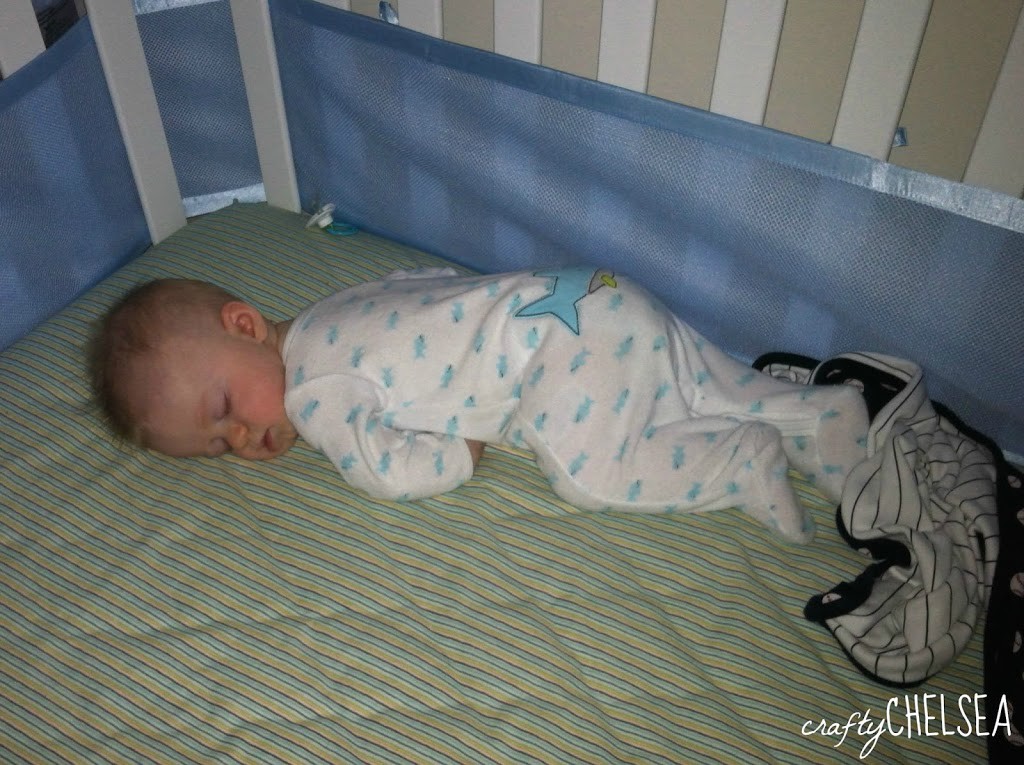 4. Use nap time efficiently. Seriously though. Nap time is such an important time to catch up on things you might need to get done, especially things you can't do when your baby is awake. I use nap time for crafting, blogging, showering, exercising, making lists, cleaning, and folding laundry. And sometimes you may need to use nap time to do something for yourself like paint your nails or take a long bath. Just do not waste nap time, because it won't last forever, and it really is an important part of the day.
5. Learn how to be patient. Okay, so this isn't something you can automatically learn, but I have definitely learned how to be patient in my son's first year. Patience was always something I struggled with before he was born, and then somehow, I have become a lot more patient. I can't tell you anything in particular that I did, but you can't always control a baby and you love them so I guess you sort of just get over it and grow to be more patient. So if you are pregnant or a new mom and you are wondering how you will ever become more patient, it will happen. I think you are just blessed with it now so that you can be tested once your kids are toddlers. I guess we will see!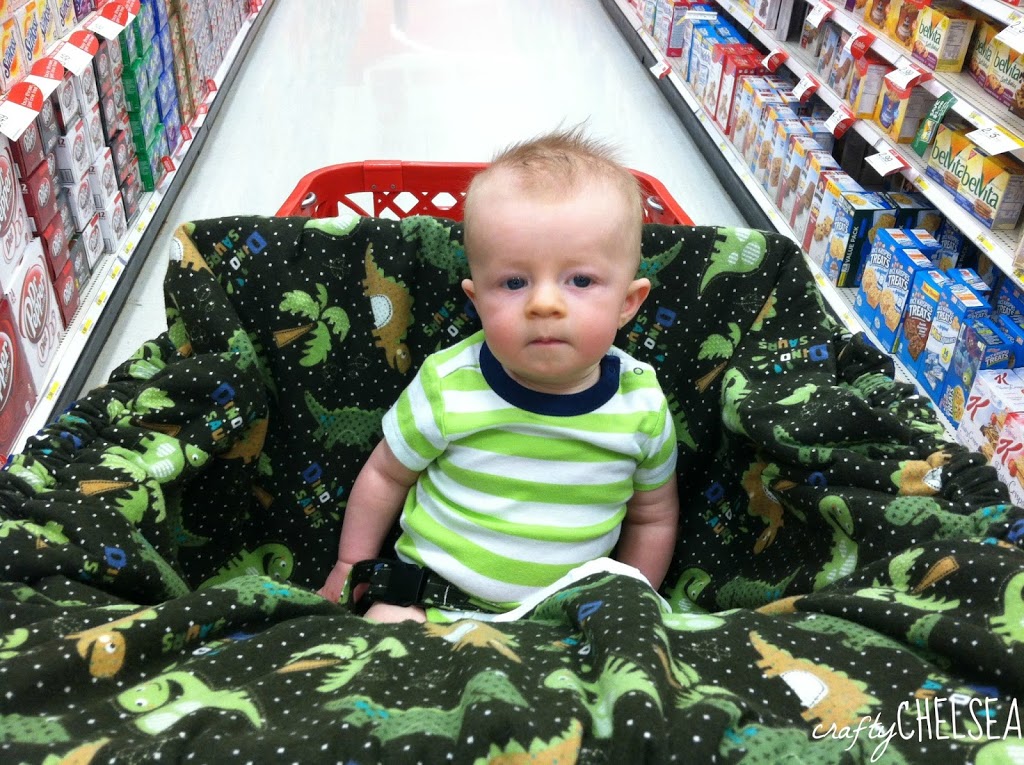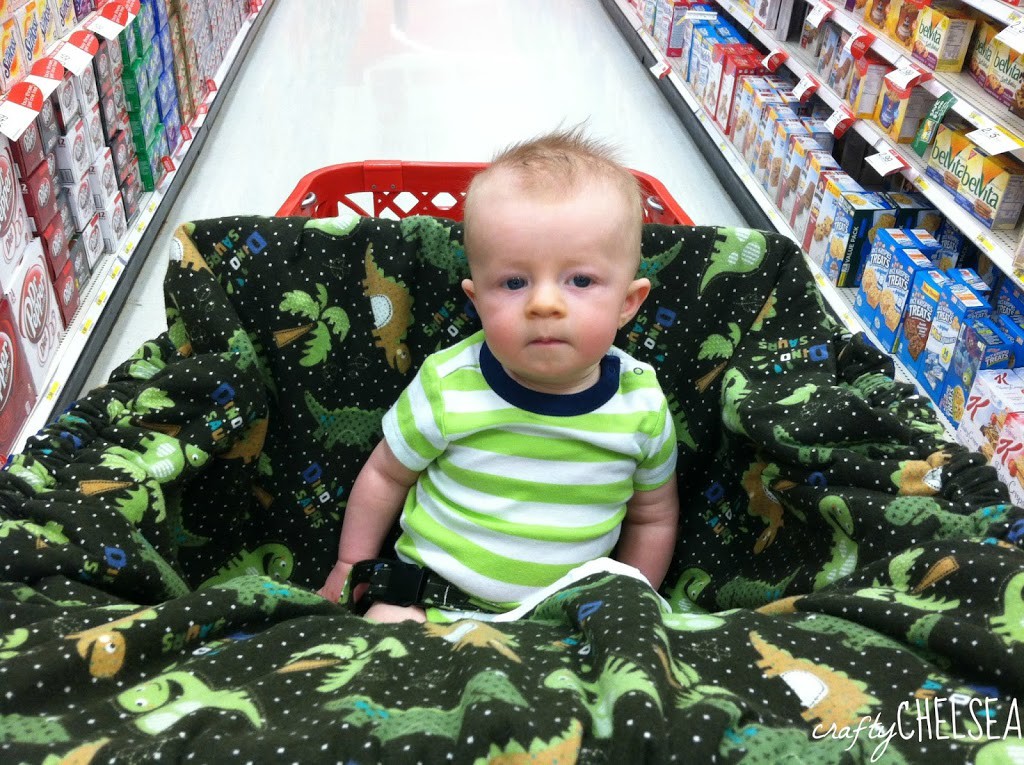 6. Don't worry too much about germs. I am a germaphobe. Yup. A big one. I won't touch door handles or shopping carts without thoroughly sanitizing my hands after and then washing them as soon as possible after. So having a baby freaked me out. Everyone wants to touch them and hold them and what if people are sick or what if someone sitting in your seat on the airplane sneezed all over and your baby can't touch it and oh my goodness! It gets bad. And I think it is okay to some extent to use hand sanitizer and to wipe down shopping carts and airplane arm rests when your baby is really little. But babies are going to get sick eventually and you just have to deal with it. I have learned to loosen up a bit if we don't have our shopping cart cover or if I don't wipe down the restaurant high chair before my son sits in it. There are germs everywhere and they are going to get on your baby and you just have to relax and let it happen. I am still working on this, but I am definitely better than I used to be!
7. Keep records. Record-keeping is super important when you have a baby. Write down those funny things that your baby did or when they took their first steps or what their first word was. Make sure you write down your birth story and write about the first time you took your baby to the park to swing. You are making memories and you don't want to forget them. A baby book is super helpful with this, and if you want something more unique, try keeping a memory journal for your kids! Anyway, just keep records. Because when you have your second kid I'm sure you'll want to compare everything to your first, and if you don't have things written down, you will be disappointed.
8. You can't protect them from everything. As much as you want to protect your baby from everything bad in the world, you can't. Your baby will fall while learning how to sit up and how to walk and will get scratches and bruises. They will get hurt every once in a while, and that is okay. You can't hold your baby tight forever, as much as you might want to. You have to let them learn and explore and fall down. Obviously make sure that they are okay when they do fall, but it's okay if something small happens while you turned away for a second. You can't protect them from everything, and that's okay.
9. Ask questions. I kept a notebook for the first few months of Little J's life where I would write down all the questions I had that I wanted to ask the doctor and each appointment. And after that, I would write down the questions on my phone so I could still ask the doctor. Ask your pediatrician, ask friends, ask your parents, ask other moms. When you have your first baby there are a lot of things you don't know and things that might happen that you have absolutely no idea what to do about. Write them down and then ask about them. But make sure you don't go to the wrong source for the answer. If you aren't sure if your baby should be eating something, don't go to some random discussion board online. That kind of question should be directed toward your pediatrician. So be smart, but use all your resources! It's okay to have questions because every parent has them!
10. Write things down. This is sort of similar to a few other things I have learned, but I'm making it a separate point because it applies to everything. If you need to remember to pick something up at the store, write it down. If you need to remember what day your husband has to work late, write it down. When you have another human being to take care of, you can easily forget the small things that you need to remember for yourself. So keep a notebook or notepad somewhere handy so you can write things down. It really does help!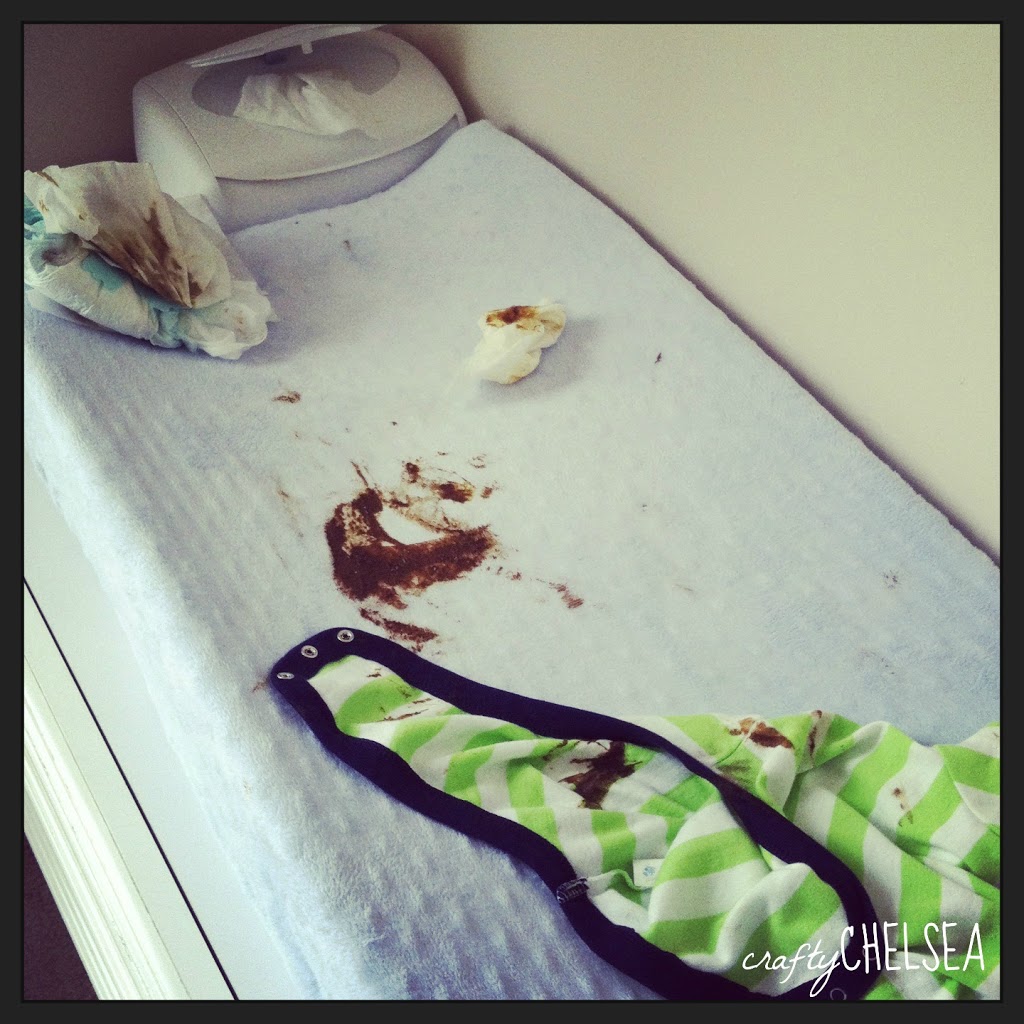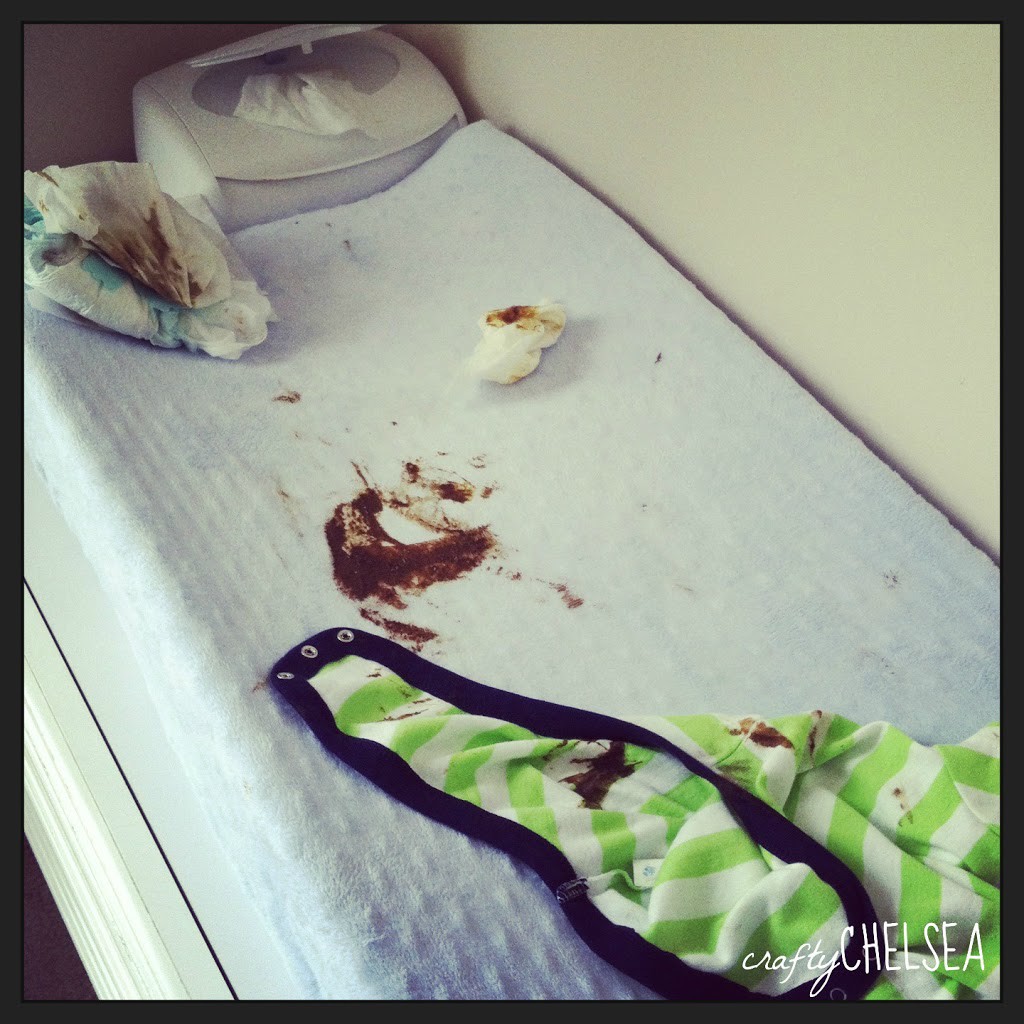 11. Pay attention to diaper sizes. Okay this may seem like a silly thing to mention, but there are different sizes for a reason. Each size is recommended for a certain weight, and if you aren't paying attention, your baby may grow out of one and then start having a ton of poopouts. Yes, speaking from experience, you need to make sure you know which size of diaper your baby should actually be in. I wish I had known this as a new mom because it would have saved me a lot of stain remover and messy diaper changes. So when you go to the store actually look at the weights the diapers are for and know which size your baby needs. It will help a ton!
12. Keep multiple outfits in the diaper bag. This ties right in with the previous point. Keep more than one back-up outfit in your diaper bag. It doesn't need to be a whole outfit, it can just be a little plain bodysuit. Why this recommendation? Well one Sunday at church Little J had a poopout. So I changed his diaper and his outfit to the one outfit I had in the diaper bag. Then about an hour later, he had ANOTHER poopout. So what is a mom to do? Well I had to take him home in just a diaper in his car seat so I could get him another outfit. Lucky for me we only live about five minutes from church, but what if we had been somewhere farther from home? Bad. So now I always keep multiple outfits in my diaper bag, even though Little J hasn't had a poopout in several months. Always be prepared.

13. Buy the big stuff gender neutral. What do I mean by big stuff? Like the crib (sort of hard to not be gender neutral), the car seat, the stroller, the pack n' play, the high chair. Those things. Because what if you get all cute pink ones and then your next baby is a boy and duh, you don't want them sitting in a pink car seat getting confused for a little girl. We made sure that all of the big things we bought were gender neutral so if our next baby turns out to be a girl, we wouldn't have to go buy everything all over again. It's a money saver.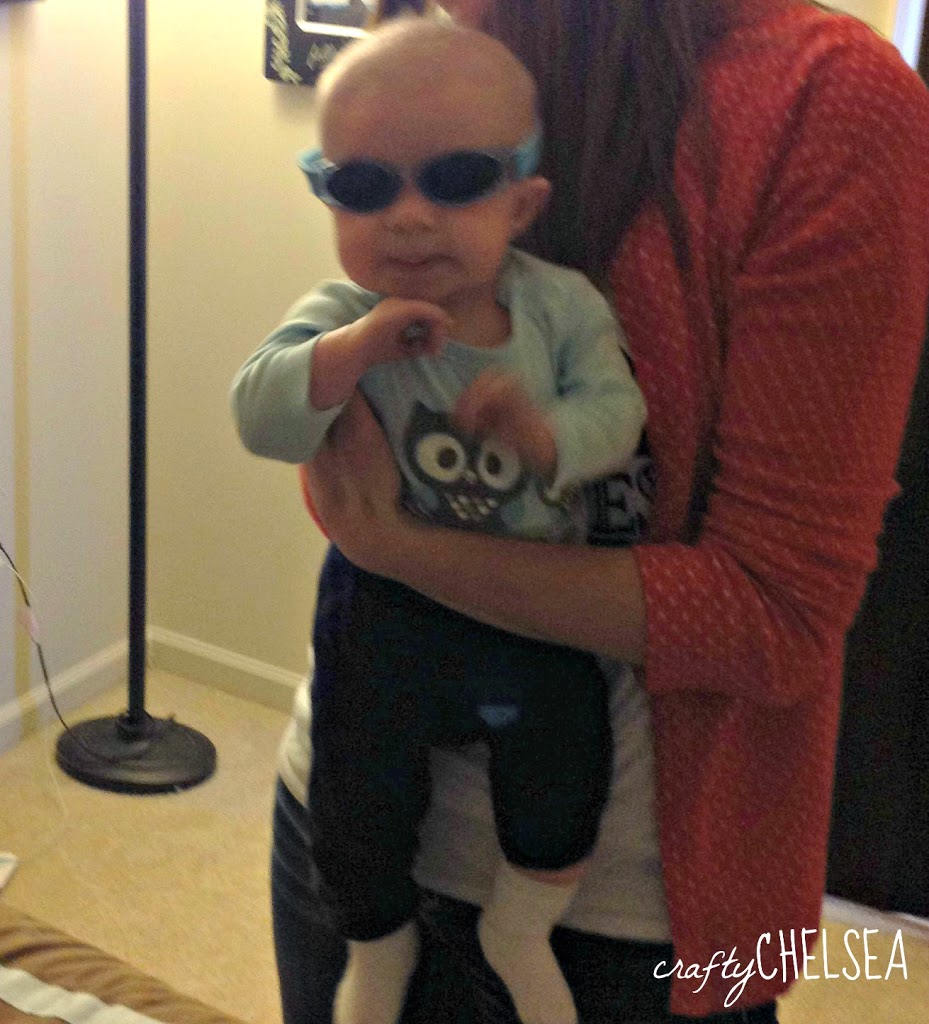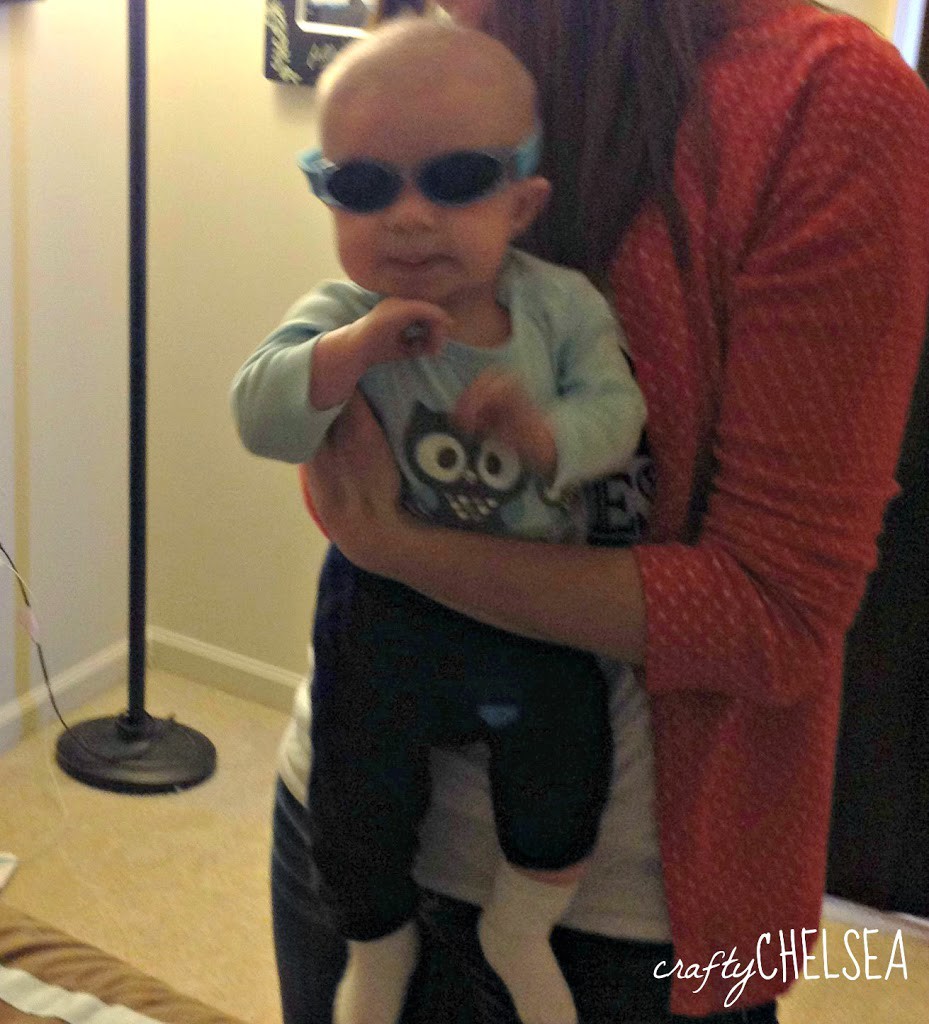 14. Don't buy stupid things. But really. You might see some really cute baby sunglasses one day at the store and think "These would be perfect for the pool!" No. They are not. Babies hate things like that and won't even let you get them on their face before they cry and rip them off. And they will look weird on your baby anyway. If you are wondering "will I regret this purchase later?" then don't buy it. You will save at least $6 and be so much happier later. Trust me.
Well I hope that you at least learned one helpful thing from what I have learned during my son's first year. It has been a crazy year, but better than I ever could have imagined. He has brought us so much happiness and we have all grown so much. I am sad that he won't be a baby anymore, but I am also excited to see him learn new things and explore as a toddler. Happy birthday Little J!