Not excited about being pregnant? Here are 11 ways to cope with a surprise pregnancy to help you find peace with your pregnancy and prepare for the road ahead.
This post contains affiliate links.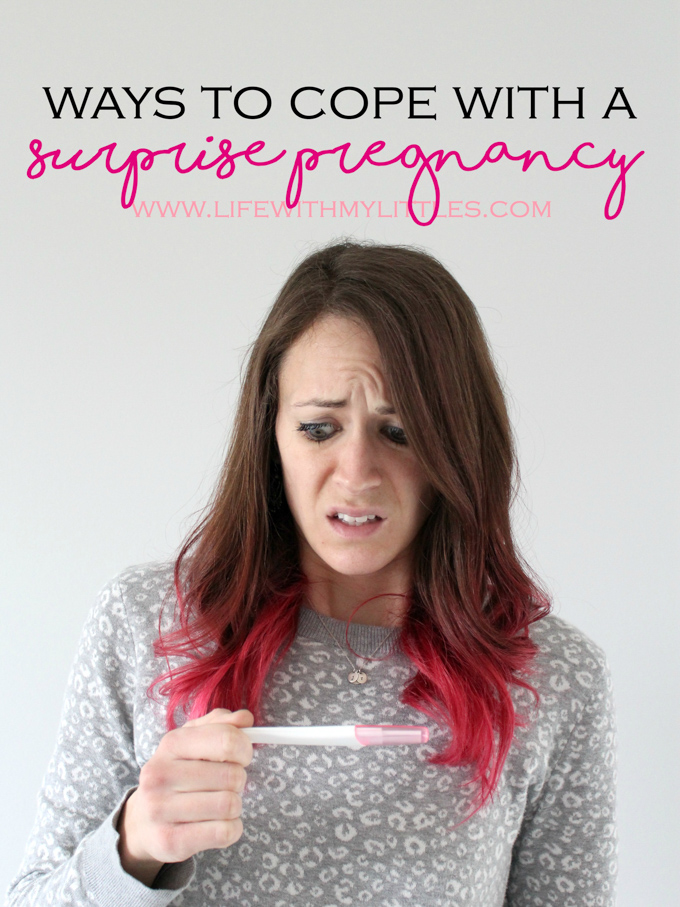 The week after we got back from my husband's medical school graduation, I took a pregnancy test and found out we were going to have another baby. We were happy with the two kids we had, had just moved to Texas and bought our first house, and were not planning on having another baby for quite a while. My sister had been trying to get pregnant for over a year, we had been actively preventing getting pregnant, and yet here I was with a baby growing in my belly.
I had an incredibly difficult time accepting that we were going to have another baby, let alone feeling excited about his arrival. It didn't seem fair, we weren't ready, we had other plans, we had just moved across the country, my husband was about to start a demanding new job, we already had two kids under four, I was already busy, and on and on. There were lots of reasons why we had a hard time feeling joy about our surprise pregnancy.
That's what I want to talk about today. This post is for people who find themselves pregnant and are struggling with feeling excited about that baby. I've been there, it's incredibly hard, and I hope that if you're in that situation, these ways to cope with a surprise pregnancy will help you feel a little more peace about what's coming.
1. Try to accept that it's happening. If you're actively preventing pregnancy or it wasn't at all on your radar, finding out you're pregnant can be hard to believe. But whether you believe it or not, it's happening, and you better come to terms with it fast. The sooner you do, the sooner you'll be able to figure out what to do and how to best prepare yourself and your lives.
2. Make a plan. The next step is to figure out what comes next. Decide what you need to do for yourself and your baby (here are 14 suggestions) and make a plan. That might include what you're going to do financially, with your job, or with schooling. One thing that helped me was to decide where we were going to have our baby sleep when the time came (since we had just moved into a new house and had other plans for that room).
3. Don't give up on the plan you had before. Just because you're having a baby doesn't mean you can't run a half marathon or get your degree or a promotion at work. Despite what a lot of people think, children are absolutely not the end of your dreams. You might have to get a little creative in achieving your dreams and the plans you had before, but you can absolutely still do them with a baby on your hip. Pregnancy is not the end of your life, it's the miraculous beginning of another's
4. Remember you're not the only one who's experienced a surprise pregnancy. Besides me (because as much as I love our youngest, he was definitely a surprise), there are thousands of other mamas out there who have had surprise pregnancies and carried on with their lives. I'm sure you can find a message board on a website like whattoexpect.com or thebump.com, and there are also several books written about surprise pregnancies (like Tiny Blue Lines
or A Bump in Life
). They might help you find some peace knowing you're not alone.
5. Accept that you might just need some time before you feel happy about it. Guys, if you're not thrilled right away, it's okay. That doesn't mean that you won't love your baby or be excited to meet him when the time comes. Sometimes it takes a while for the excitement to kick in. That's 100% okay, so don't feel bad about it.
6. Focus on the positives. Besides the obvious one (there's a human growing in your belly!), try and look at the positives of having a baby. They're adorable, they smell good, you can snuggle them, you get to dress them in tiny clothes, you get to see what a 1/2 you and 1/2 your spouse/boyfriend/baby daddy looks like, you get to become a mother (the best job in the world, and that's a fact, not an opinion), and your body is creating a tiny little life! Pick just one positive and try to focus on that. It will help remind you why having a baby is something to be celebrated, not dreaded.
7. Feel the feels. Yes, you should try to look on the bright side and accept that it's happening, but it's also good to just feel those feelings. Let yourself feel stressed out or upset or scared or unsure. Feel them, acknowledge them, and then work through them. You don't have to pretend to be excited when you're not.
8. Express yourself. Whether that means writing down how you feel, telling your husband or mom or sister, expressing how you feel and being honest about it will help. Sometimes it just takes saying it out loud to help you to be able to breathe again.
9. Get an ultrasound. One of the first things you should do when you find out you're pregnant is schedule a doctor's appointment. They won't always offer an ultrasound, but it helps you be able to accept and realize your pregnancy is real when you see that tiny little dot that's a baby on the screen.
10. Look at baby clothes, baby shoes, and nursery decorations. Baby things are stupid cute, and looking at them can help you feel a little more excited about having a baby to buy them for. Some of my personal favorite places to shop for babies are Lulu and Roo and Sweet N Swag.
11. Try meditation. If you've never done a meditation before, it might sound dumb, but this is one thing that I did that really helped me calm my anxiety when I was pregnant with my third baby. I tried to find the actual meditation I used but couldn't, but I'm pretty sure I just searched "pregnancy meditation" on the podcast app and found one that was a few minutes long. It focused on being grateful for a healthy baby and visualizing a healthy pregnancy.
Don't feel guilty if your first instinct isn't to jump up and down. That's not everyone's first reaction. Sometimes instead of celebrating you cry on the floor of the bathroom and wonder what you're going to do. That's okay. You have eight more months to get excited and prepare to bring a tiny little person into the world (and that tiny little person is going to be incredible, just like our tiny little surprise is!). Hopefully these eleven suggestions on how to cope with a surprise pregnancy will help you feel a little more grounded and ready for your soon-to-be baby. And of course, congratulations, mama! Babies are the best!