Tired of your kids getting toys for Christmas and only playing with them for a few weeks? Here's a great list of 24 non-toy gift ideas for kids to help you come up with ideas of what to get them! Send it to your family members so they'll be on board, too!
This post contains affiliate links.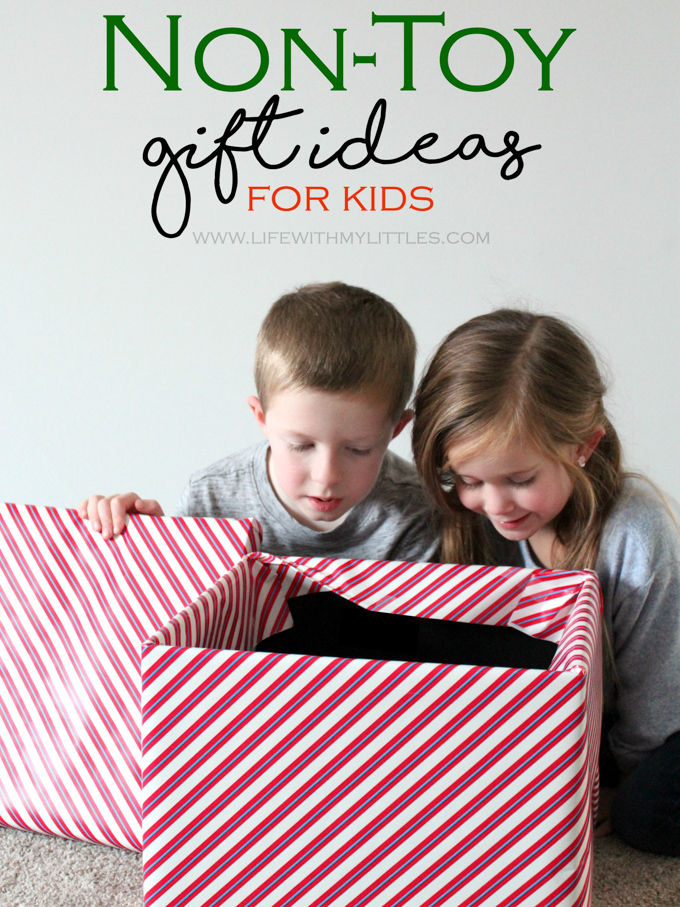 This year we've decided we're putting our feet down. Every year our kids get way too many toys, play with them for a few weeks, and then they get stuffed in the closet never to see the light of day again. It's frustrating, creates clutter, and is a big waste of money. So this year, my husband and I have decided that our kids can each get one toy from Santa, and that's it. NO. MORE. TOYS.
And as great as that sounds, you (or our family members!) might be wondering, "Well, what else can you get a kid for Christmas?" I'm glad you asked, because today I'm sharing TONS of great ideas. There are so many other options besides toys, and honestly, each of the things on this list would still make our kids happy to receive!
1. Clothes. That's pretty broad, so I'll be more specific. Nice school clothes (especially pants because kids are somehow always getting holes in their pants), pajamas, shoes, or cute matching sibling outfits. Some of my favorite small shops are Lulu and Roo (the CUTEST little matching outfits), Taylor Joelle (if you have a little girl, you'll love them!), and Sweet N Swag (moccasins for $20!).
2. Experiences. Tickets (to things like Disney on Ice, sporting events, bowling, trampoline parks, or other things you don't normally get to go to that your kids would enjoy), a gift card to a paint-your-own pottery shop, a one time pass or membership (to a zoo, children's museum, or aquarium), or even a vacation to Disneyland (use code "LITTLES" for $10 off your package with the amazing Disneyland deal company Get Away Today).
3. A sleeping bag. My kids LOVE using their sleeping bags
. Even if you don't go camping very often (or ever), they're handy to have on hand!
4. A backpack. If your child isn't in school yet, a little backpack is such a fun gift! My two older kids both have little Mackenzie backpacks from Pottery Barn Kids and they love them.
5. Books. What parent would say no to their child getting books? We've been really enjoying beginning reading books (like these Star Wars beginning readers
and these Cars Step Into Reading books
. 5 Minute Stories
books are always good, too!
6. Coloring books or art supplies. My kids LOVE coloring and doing art, and we run out of paint and construction paper and supplies pretty often. Crayons are a good gift (they break all the time!), as well as stickers, washable paints, googly eyes, or pipe cleaners.
7. Science kits. Depending on the age of your child, a science kit would be a fun, educational gift for your child! You can get a book with different experiments or a kit with everything you need for one or two experiments. Either way, you're encouraging learning and showing kids how fun science is!
8. Accessories. My kids love wearing accessories. For girls that can include bows, headbands, earrings, or bracelets, and for boys, belts, hats, and ties are always winners!
9. Fun socks. Last year my mother-in-law got the kids the twelve days of socks for Christmas, and my kids LOVED every pair. They wore them throughout the year! What little kid doesn't love socks with their favorite characters or fun designs on them!?
10. Subscription boxes. I actually haven't ever tried any of these personally, but I did a little research and read great reviews on these four subscription boxes. Kids love getting mail, and when they get mail that helps them learn and grow, parents are happy, too! Check out Amazon STEM Club
, Girls Can! Crate, Kiwi Crate, or Koala Crate.
11. Classes or a season of lessons. Kids' cooking classes, a kids' art class, dance lessons, basketball lessons, pretty much any kind of class or lesson you could take. They can be expensive and it's an awesome gift idea that won't even clutter up your home!
12. Kid-sized suitcase
. One of my daughter's favorite things she's ever gotten is a Sofia the First suitcase. We got it from our Disney Preschool Playdate last year, but she LOVES it. It's come in handy on so many trips. If you're a family who travels (on planes or on the road), a kid-sized suitcase is a perfect gift!
13. Magazine subscription. This year my mom got my two oldest each a magazine subscription. They've loved getting them in the mail and flipping through them each time we get a new issue. There are lots of fun magazines for kids (like Highlights
or Preschool Friends
).
14. Games. We're a game family, so we love getting games. We recently realized that we don't have a ton of kid games, so this is one that's at the top of our kids' lists! Games like Trouble
, Sorry!
, UNO
, or Life Junior
are all perfect for kids!
15. A butterfly kit. Does anyone else remember doing these in school? My son's kindergarten class actually did one this fall and it brought back memories from when I was little! And guess what? You can buy a kit on Amazon
!
16. New hooded bath towel or robe. This is maybe a little shameful to admit, but my kids have been using the same towels for at least 4 years now. My oldest son has one I made him when he was about 6 months, and same for my daughter. Little R is still using the hooded shark baby towel we bought. But new ones would be such a great gift! And you'd always know which towel went to which kid!
17. Fubbles
. Normally I hate bubbles (so sticky, always spilling, a giant mess), but at my youngest son's speech therapy appointment a few weeks ago I discovered Fubbles. They're basically spillproof bubbles and whoever invented them is a GENIUS.
18. A piggy bank. Target always has adorable character piggy banks, and Amazon
has cute traditional ones. Kids love storing their coins and bills from Grandma and Grandpa in them!
19. Fishing/gardening/camping supplies just for them. I know that covers a lot of things, but depending on what type of outdoor things your family likes, it can be different. My kids LOVE having their own fishing poles and gardening gloves and tools. Plus it helps them learn new skills early!
20. Umbrella. My kids always complain about my umbrella not reaching them when it rains, and I know they'd love getting their very own little umbrellas
.
21. A scooter. One of my kids' favorite gifts was this Micro Mini Kick scooter
. The older two actually both have one and they are probably one of the most used gifts they've ever gotten! They're especially fun for kids who can't ride a bike yet, but still want to ride something outside!
22. A helmet. Going along with a scooter, a helmet is a great gift! They can be kind of expensive so gifting them to a child is actually pretty helpful!
23. A bike. Bikes are also great gifts for kids! My oldest got this Lightning McQueen bike
when he was 3 and loved it until he grew out of it this summer. We've got it in the attic for our youngest to use when he's a little bigger!
24. A basketball hoop. Whether it's a real one in your driveway or a little plastic indoor hoop (our kids love this Fisher Price one), a basketball hoop is a great, long-lasting gift that will grow with your child!
Hopefully those 24 non-toy gift ideas for kids will help you out this Christmas (or for birthdays, or whenever else your child might be receiving a gift!). I know I'm forwarding this post to my family members!