Love these 12 ways to encourage kids to play outside. Such great ideas to get kids to be active and have fun outdoors!
I received discounted product in exchange for this post.  This post also contains affiliate links.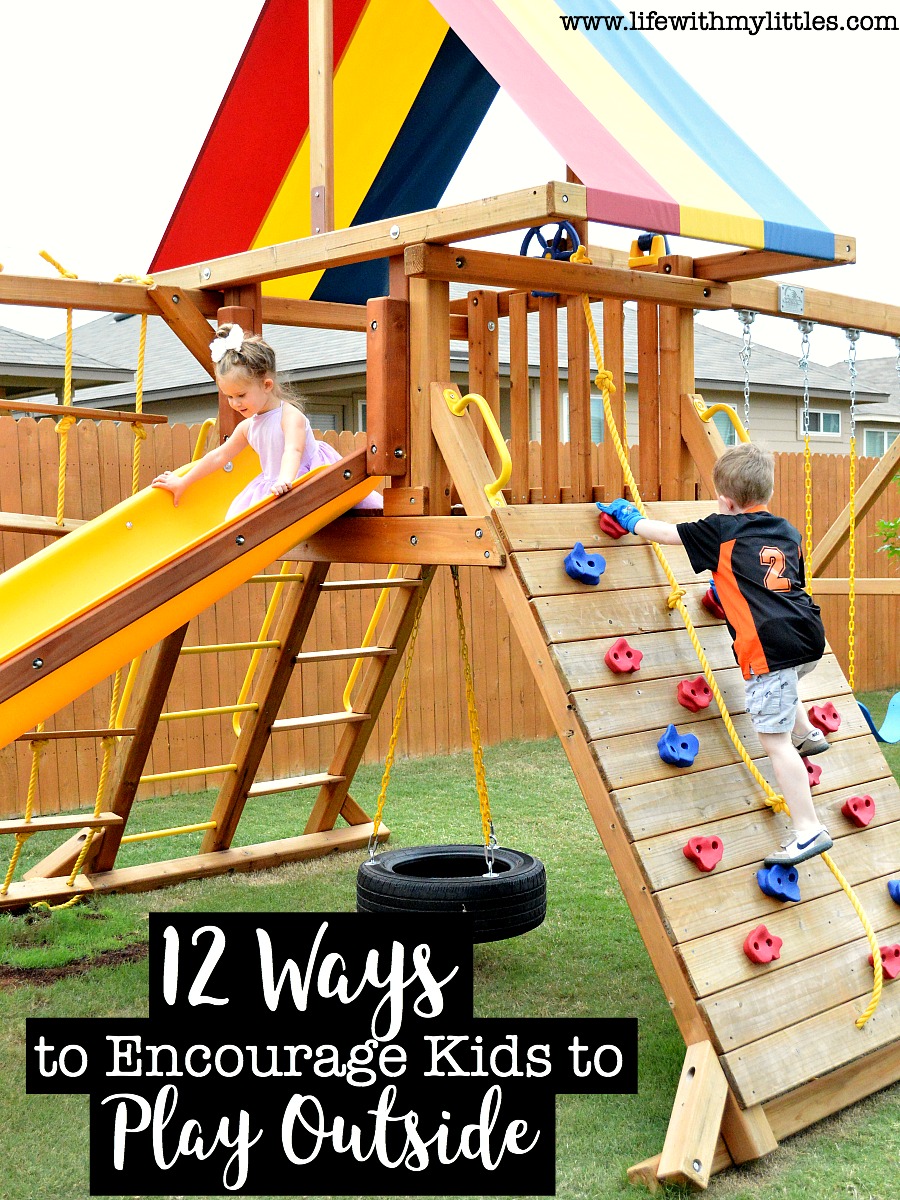 One of my favorite things about living in Texas is that we can almost always be outside. We have played outside every day the last month, and it has been wonderful. Sometimes I play outside with my kids, but I also like to put them in the backyard and let them be free with the things they have back there. Because of this, I have figured out lots of different ways to encourage kids to play outside. They really can do something different every day, and you should never heard your kids say "I'm bored" outside! If you need some inspiration, here are 12 ways to encourage kids to play outside:
1. Have a picnic. One thing we like to do in the backyard is have a picnic! We have an outdoor blanket
that we lay down in the grass and then we bring out lunches outside! It's a good way to spend time together and a great way to make lunch fun! My mom also got the kids a Little Tikes picnic table
that we have on the patio and they love eating there, too! Although Mom and Dad don't fit there!
2. Ride scooters/bikes/tricycles. Little J has a Micro Mini Kick Scooter
and he is ALWAYS riding that thing outside. He also has a tricycle that he shares with Little A, and he has his very own Lightning McQueen bicycle he's learning to ride. Little A has her own Frozen scooter that she's slowly figuring out, too. They love racing each other on the sidewalk in front of our house, and I love that they are being active outside!
3. Play with chalk. I'm not a huge fan of chalk because I basically have to give my kids a bath every single time they play with it, but if it's bath night anyway, I am cool with them playing with it. It's an easy way for them to be creative, and who doesn't love coloring in an outline of themselves!?
4. Get a playground in your backyard. Hands down my favorite thing we've gotten in our backyard is our Rainbow Play System (and we have a legit garden, so that's saying something!). We've had it for almost two months now, and it has been amazing. Since the day we moved into our new house my husband and I have wanted to get a playground for our kids, and oh boy, it's worth it.
The kids love riding the tire swing together, going down the slide, and climbing up the climbing wall. And if Little A could swing all day, she would. I wish I could tell you the number of times I hear, "Mommy, can you swing me?" because it's probably around 100.
I remember how much fun I had on my Rainbow playground growing up, and I feel so lucky that my kids now have one, too! We've invited lots of their friends to come play with them, and when we had our Disney party a few weeks ago, the playground was a big hit.
Having a Rainbow Play System is a great way to encourage imaginative play, too. Our playground is either a pirate ship, a cruise ship, a castle, or some other kind of boat. Not to mention it's a great investment for our home!
We also spend a lot more family time outside because of our playground. When my husband gets home from work every day, the first place the kids usually take him is in the backyard to swing them or catch them on the slide.
We also have a little baby swing for Little R once he gets big enough, and I know Little J and Little A will love pushing him in it!
Getting a Rainbow Play System is definitely one of the best ways to encourage kids to play outside! Since getting it my kids have played outside for longer amounts of time, which means I get some time to myself! You can learn more and find a location near you here. And make sure you check out the bottom of this post for an exclusive Rainbow discount just for Life With My Littles readers!
5. Play sports. Our son has played soccer and t-ball, and consequently, we have a soccer ball and a t-ball stand, bat, and glove in our backyard. Little J loves to kick the ball around, and when my husband is home, he helps him with t-ball. Plus it's easy just to keep some balls in the backyard so your kids can play with them!
6. Play with ride on cars or monster trucks. For Christmas a few years ago my mom made Little J a Batmobile out of a cozy coupe
. It has since lost its Batman decals, but the kids and their friends always love pushing it around the backyard. We also have some little derby cars the kids made and a Mega Bloks Dump Truck
that is frequently filled with dirt or rocks. Small monster trucks that are specifically for the backyard are also great to have on hand.
7. Eat popsicles. Hopefully it's not just me, but I won't let my kids eat popsicles in the house. So when they get popsicles, they know they get to eat them outside. And it lasts them a while, so it's another easy way to encourage them to play outside.
8. Go on a scavenger hunt. Last year I made a super easy toddler scavenger hunt that my kids love doing outside. We look for bugs and leaves and rocks and spend time together doing it. It's a fun way to be outside with a purpose instead of just letting your kids have free play.
9. Get your child a bug catcher kit. For my son's birthday a few months ago my parents got him a bug catcher kit kind of like this
. It came with a little bug house, a net, some magnified containers, and a little scooper. Both of my kids love running around our yard trying to find and catch bugs. And when we do get them and put them in the bug house, they love sitting and staring at them. So far we've caught ladybugs, a mosquito, and these weird potato bugs that hang out in our garden. My son even likes it so much that we signed him up for a bug class this summer.
10. Go for a walk. Another super easy way to encourage your kids to play outside is to just go for a walk! It's free, you don't need anything, and you can have fun pointing out different things to your kids along the way.
11. Play with water toys, run in the sprinklers, or fill up a kiddie pool. One of the first things we bought for our yard after moving to Texas and buying our first house was a plastic kiddie pool. You can find them for less than $10 at pretty much any store during the summer, and my kids love theirs. We also like to use water sprayers in the pool and let the kids run in the sprinklers when we water the grass. Easy and a great way to cool off!
12. Blow bubbles. Growing up I loved playing with bubbles. One time my parents got us flavored bubbles
and we were outside for hours trying to catch them in our mouths. Of course regular bubbles are great, too, and if you want something super easy, you can try a bubble machine
to minimize sticky bubble messes all over your hands.
It's easy to encourage your kids to play outside, and we love spending time in our backyard. I want my kids to always want to be outside, which is why I try so hard to provide fun activities and toys for them to keep them busy outside! And of course, our Rainbow Play System helps a lot, too! You can check them out on Facebook or visit their sales page here.
Now the moment you've been waiting for! My friends at Rainbow are offering an exclusive $100 discount off accessories and a free name board with the purchase of any Rainbow system to Life With My Littles readers from now until June 30th, 2017! Isn't that amazing? Just print out this little coupon below and bring it in and you'll get the deal. What can I say except, you're welcome. Sorry, Moana on repeat over here. But for reals go check them out! And get those kids outside!