This no-churn graham cracker ice cream recipe is so good and easy! It tastes a lot like a copycat BYU Creamery Graham Canyon ice cream, but made at home!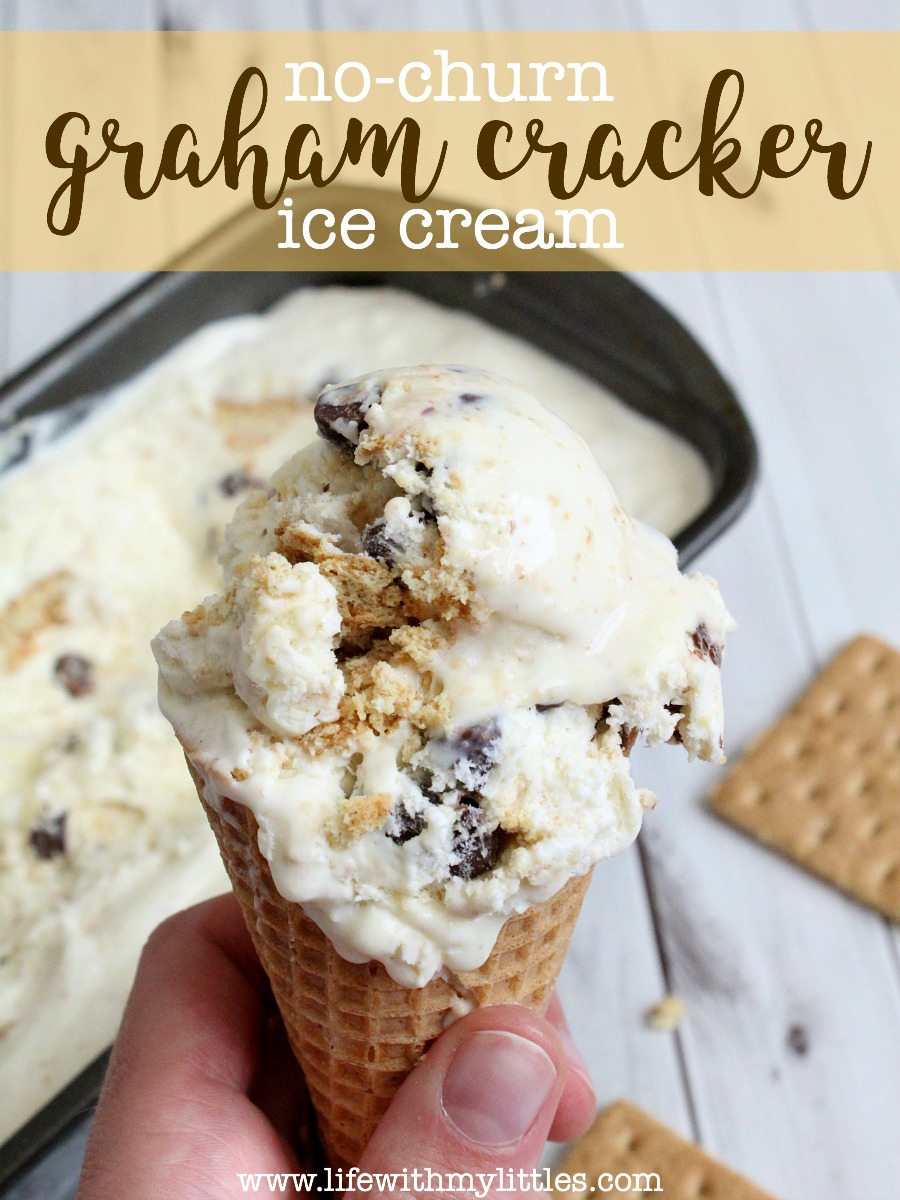 My all-time favorite ice cream ever is from the BYU Creamery, and it's called Graham Canyon. It tastes like heaven, it's creamy, crunchy, has chocolate pieces and a graham cracker swirl, and I think the recipe must've been divinely inspired. Anyway, it's fabulous. But unfortunately, it is only sold in Provo, UT.
So my ice cream-loving self decided to come up with a similar version that I could make quickly, easily, and cheaply at home. And oh boy, this no-churn graham cracker ice cream turned out AMAZING! Everyone in my family approved and it was gone in three days.
It's not quite the same as the Creamery version, but it's a very delicious copycat. The actual version has honeycomb candy in it and I used chocolate chips, but if that's a deal-breaker for you then you can try this chocolate honeycomb candy recipe my friend Katie came up with.
I seriously will be making this on repeat this summer since it is so stinking hot in Texas and it just makes me want to eat ice cream all day. But can you blame me? Ice cream is amazing. And this recipe is no exception.
No-Churn Graham Cracker Ice Cream
Ingredients
2 cups heavy whipping cream
1 14 oz can sweetened condensed milk
1 cup finely crushed graham cracker crumbs
4 graham crackers, broken up into chunks
½ cup milk chocolate chips
Instructions
Using a hand mixer, whip up whipping cream until stiff peaks form.
Gently fold in sweetened condensed milk and graham cracker crumbs.
Stir in graham crackers and chocolate chips.
Pour into 9x5" loaf pan and freeze for at least 4 hours.