This free printable toddler morning chart is the perfect way to help your toddler get ready for the day! Three different downloadable versions and you can customize it with your own colors! This is such a great way to encourage independence and end morning tantrums!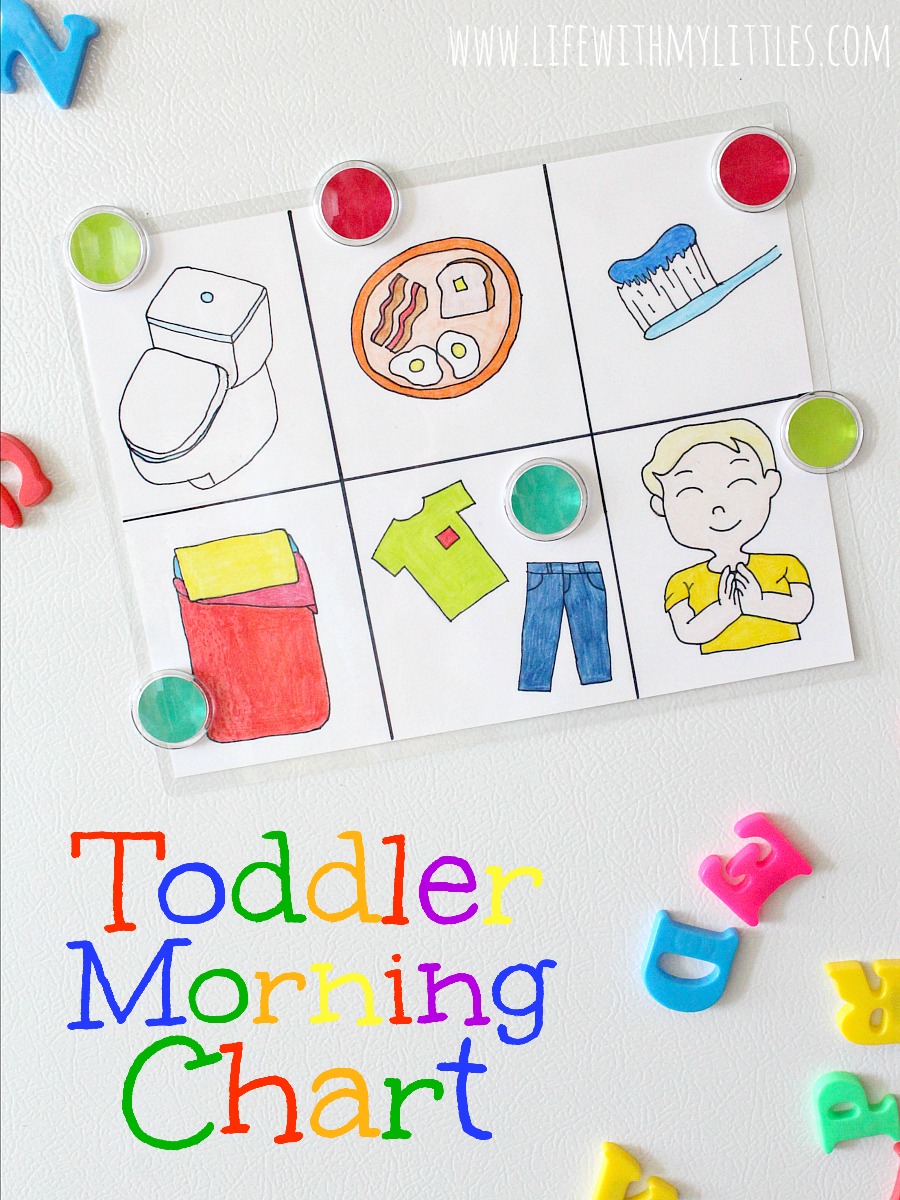 If asking your toddler to get dressed or use the potty in the morning results in a full-blown temper tantrum every day, then this post is for you.
For a while we were really struggling with doing simple tasks in the morning and I was on the receiving end of a lot of tears and mean words. Who knew that asking a toddler to get dressed in the morning was such a huge request?
So I decided to come up with a fun, new way to help encourage him to get ready in the mornings without any screaming, crying, or fighting. After a lot of searching on Pinterest, I finally came up with a solution: a toddler morning chart.
The things my son does every morning are use the potty, eat breakfast, brush his teeth, make his bed (still working on this one), get dressed, and say prayers. By throwing in a few things that were super easy (like eating breakfast) I made it seem like, "oh yeah, it's easy to do the things on this chart!"
And let me tell you, most mornings, this really works! After my son does one of the activities on his chart, he runs into the kitchen and marks each task. It helps encourage independence and makes him feel good that he is doing what he is supposed to.
Our chart is laminated and taped to the front of our refrigerator, and then Little J uses little magnets to mark each task every day. It is super easy to put together, and it really has helped make our mornings go smoother!
Now before I share the link with you, let me tell you this took me a lot of time to draw (aka, I spent a lot of time looking at pictures on my computer and then drawing them by hand), so PLEASE do not use this for anything other than your own personal use. You can link to it or share it with people, but DO NOT sell it or claim you made it or anything. I will be very grumpy with you.
So the printable is actually in black and white so you can color it to match your child's bedding or hair color and stuff. I thought it would be more fun for toddlers to actually see "their things" on the chart. And also, there is a girl version and a boy version of the chart with the morning prayer, and then there's a third version of the chart with no prayer in case you aren't religious or just don't want to put that on your chart, and you want to put something else. It's really up to you how you want to do it. Which is part of the beauty of it!
To download my free toddler morning chart printable, click the buttons below:
I actually had a lot of fun making this, and laminating it only cost like $2, so it is a super cheap little project! I hope that it helps out you out if you are struggling with establishing a morning routine for your toddler, because it sure has helped us!